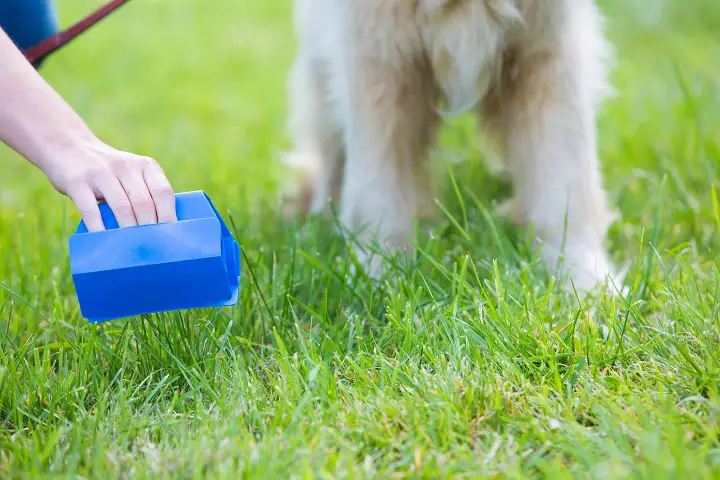 Owning a dog is something that brings with it bundles of joy.
Unfortunately, dogs also produce piles of poop that need cleaning up.
The EPA classifies dog waste as an environmental pollutant, so if you walking Fido in public and he unloads, do your duty and clean it up.
In order to eliminate the mess left behind by Rover, you should consider exploring the best dog pooper scoopers.
As you know, dog waste can contain a laundry list of viruses and bacteria, so you should adopt a hands-off approach to cleaning it up.
Cleaning up behind your furball in the street is a no-brainer, but how about at home in the yard?
Well, you'll obviously want to take care of that, too. Dog poop attracts flies as well as smelling bad and rendering your yard a minefield. As an added kicker, you'll also preventing your dog from eating his poop, a disgusting but innate behavior.
If you have no idea what you're looking for with pooper scoopers, here are some important points to consider on the buying trail:
Type of pooper scooper: A jaw scoop, also known as a jaw clamp pooper scooper, is one of the most popular types. This is a device you can use one-handed by pulling the handle. With durable springs in place, this device is extendable fully if you're picking up larger piles of waste, or only midway if you're picking up smaller piles of poop. These poopers scoopers are lightweight yet durable. They can be used with or without bags. The other main type of pooper scooper is a bin and rake assembly. This two-piece variant allows you to pick up more waste. The pieces typically snap together to streamline storage. This kind of pooper scooper is not as portable and best reserved for use in the yard
Build: You should look for a pooper scooper that's built and capable of lasting a year or two, not falling apart in your hands after a few weeks
Portability and weight: You should look for a scooper that's lightweight and easy to carry around if you plan to take it around the neighborhood. If you're using it in the yard at home, it still pays to look for one that's not so heavy it will burden you
Ease of use: You should think twice about any pooper scoopers that are flagged as being awkward to use. With so much choice at your disposal, why compromise yourself?
To help you clear up behind your pooch hands-free and with minimum effort, explore our collection of the best dog pooper scoopers out there.
Barkva.org is reader-supported. When you buy via the links on our site, we may earn an affiliate commission at no cost to you.
The 12 Best Dog Pooper Scoopers
1.

Our #1 Pick:

Arm & Hammer Bin and Rake Pooper Scooper
Features
Rake and bin
5 pounds
5 x 8.4 x 5.2 inches
First up and our overall favorite pooper scooper comes from Arm & Hammer, the company world-famous for their baking soda toothpaste. How does their foray into the pet space shape up, then?
Well, this is a two-piece design with a rake and bin. If you were looking for something portable to take with you on your morning walkies with Rover, this is not for you. Anyone who needs a durable solution for poop in the back yard, read on.
The rugged bin is designed to swivel fully, giving you a great deal of freedom when you're on waste duty.
Thanks to the 32-inch handle, you can keep well away from your dog's business while confidently scooping it up into the bin provided.
As an added kicker, you'll get a pair of proprietary scented waste bags thrown in.
Both components snap together for streamlined hanging storage when not in use.
Things We Like
Rugged rotating bin
Handle extends to 32 inches
2 scented waste bags
Things We Dislike
Capacity could be improved
---
2. Nature's Miracle Jaw Scoop for Dog Waste
Features
Jaw scoop
1 pounds
33 x 8.1 x 8 inches
Nature's Miracle has been producing first-class pet products for decades, and they bring all that expertise to bear here solving that perennial bugbear for all dog owners: waste disposal. How does this pooper scooper fare?
The first selling point of this scoop is the way you'll be able to use comfortably on a range of surfaces from grass to concrete. If you have mixed surfaces in your yard – and who doesn't? – you'll confidently deal with poop wherever it lands.
The scoop is straightforward to use even if you're a new dog owner.
Thanks to the smooth surface of the scoop, you won't be faced with any messy clean-up once you've ditched the poop.
There are some errors in the listing for this product with it labeled antimicrobial. This refers to the pet wipes this company produces rather than this pooper scooper.
Now, while this scooper looks remarkably durable, we found some isolated complaints about build quality and a disappointing lifespan from the unit. We would suggest you do your own due diligence here.
Things We Like
Ideal for all surfaces
Lightweight
Non-stick for easy clean-up
Things We Dislike
Build quality disappointing
---
3. Dogit Jawz Pooper Scooper
Features
Jaw scoop
9 pounds
5 x 5.2 x 5 inches
Next up in our search for the best dog pooper scoopers comes a neatly-designed jaw scoop from Dogit Jawz. How does this thing perform, then?
Firstly, you choose from two configurations depending on whether you want to clear up mess from the sidewalk, or from grass and gravel. This iteration is the one intended for grass and gravel.
You'll next need to decide whether you want the small or large rake.
This scooper is lightweight enough to take on a short walk around the neighborhood. It's also ideal if you need to pick up lots of poop in the yard without fatiguing yourself.
The teeth on the scoop are sharp and aggressive, so you'll have no problem scooping up stubborn piles of poop.
With a super-smooth motion, you can seamlessly scoop up large volumes of dog waste without getting anywhere near the business end of the device. This scooper is just as easy to clean as it to use, so what are you waiting for?
Things We Like
Lightweight but durable
Waste collection in one motion
Works well on sand and gravel
Things We Dislike
---
4. PPOGOO Pet Pooper Scooper
Features
Jaw scoop
88 pounds
1 x 8 x 5.7 inches
Have you been hunting in vain for a durable pooper scooper that doesn't cost the earth? If so, you'll appreciate this pocket-friendly offering from PPOGOO. If you're prepared to take a chance on an unknown, what do you get for your money?
This is another traditional jaw scoop with stainless steel springs meaning you won't need to put in any effort when you're squeezing the handle.
If you're put off by the plastic build, you're not alone. Despite being aggressively marketed as unbreakable, many users comment on the general flimsiness of this scooper. If you only need to occasionally clean up after a smaller dog, though, it's more than fit for purpose.
Foldable and highly portable, you can easily take this scooper out with you in the car.
The scooper is just as easy to clean as it is to use.
Designed to cope well picking up waste from all surfaces, you're getting a versatile scooper at a very competitive price point. What's not to love?
Things We Like
Pair of stainless steel springs
Long ergonomic handle
Foldable and portable
Things We Dislike
---
5. Four Paws Dog Waste Scooper
Features
Rake scooper
1 pound
30 x 6.5 x 5 inches
Four Paws serves up a highly effective dog pooper scooper that's well worth popping on your shortlist.
This is a simple rake in a small size. You can also choose an even smaller model, or a large model, so there's something for everyone. There's a wide range of configurations available, including a rake and pen set, and a foldaway scooper. This iteration is simply the wire rake.
The rugged and rust-resistant rake is ideal if you want to drag all the dog waste in your yard into one place so you can pick up the whole pile, bag it, and enjoy a clean and waste-free yard.
Measuring almost 30 inches high, you won't need to bend down or contort yourself when you're scooping up dog waste.
The ergonomic rubber grip lets you work for longer without blistering your hands. It's also designed to not slip from your grasp. A few disgruntled users have reported issues with the build quality of the handle, though.
While this doesn't offer the comprehensive approach to dog waste removal as some of the competition if you only want the rake rather than the full set, this makes a smart and budget-friendly choice.
Things We Like
Rust-resistant
Sturdy scooping rake
Multiple configurations
Things We Dislike
---
6. PIK-A-POO Pooper Scooper
Jaw scoop
88 pounds
4 x 5.75 x 2.8 inches
For any dog owners searching for a one-handed and compact solution for dog waste removal, PIK-A-POO allows you to do exactly that without getting your hands anywhere near the foul poop itself.
Despite the close-up of the listing image focusing purely on the business end of this scooper, you get a long handle giving you an overall length of 28 inches.
Made from aluminum and nylon, you benefit from a scooper that's built to last while remaining lightweight and extremely portable.
Suitable for scooping up waste from all surfaces, this is a flexible and affordable method of clearing up what your dog leaves behind without that feeling like an unpleasant inconvenience.
Accommodating most standard-issue poo bags, you won't be locked into buying pricey proprietary replacements.
You can fine-tune the placement of the head depending on whether you're right-handed or left-handed.
The flashlight on the scooper is a nice touch if you take Fido out for walkies at night. You'll need 4 batteries to run this, and they don't come included.
You may take a while to master using this pooper scooper, but once you're up and running, you'll find this a great alternative to manually picking up poop.
Things We Like
Bend-free scooping
Works on all surfaces
Aluminum alloy and nylon
Things We Dislike
Not the most user-friendly scoop
---
7. DogBuddy Pooper Scooper
Features
Jaw scoop
73 pounds
3 x 3.6 x 2.8 inches
DogBuddy's pooper scooper is another fine example of a jaw scoop that serves to separate you from Fido's mess.
Unlike some of the models above featuring a lengthy handle, this compact model features purely the business end. The small form factor and hook provided means you can attach this to your furball's leash.
The rear of the scooper is adjustable allowing you to tailor scooping to the scope of the waste you're dealing with.
This scooper is available in two sizes to suit. This is the large model. You can also choose this green model or a gray alternative.
The scooper comes with a roll of bags included along with a dispenser. While the majority of user feedback concerning this scooper is positive, most of the complaints center on the build and ease-of-use of the dispenser. It's not a deal-breaker, but it's not much good either.
If you're still unconvinced, the manufacturer offers a no-quibbles money-back guarantee meaning you have literally nothing to lose. If you're not totally satisfied with this scooper, just call in for a no-questions-asked refund.
Things We Like
Bag dispenser
Free bags bundled
Extendable
Things We Dislike
Not good for multiple dogs
---
8. Activedogs Pooper Scooper
Features
Shovel scoop
3 pounds
39 x 7.7 x 7.7 inches
For all pet owners seeking a heavy-grade solution to dog waste removal, Activedogs delivers a rock-solid example in the guise of this pooper scooper.
Made from aluminum throughout, the rugged build should return years of faithful service and put an end to always needing to look out for the next pooper scooper.
The hinge system has been upgraded on this iteration and the device easily copes with sustained and heavy use.
There's a rubber handle so you won't hurt your hands, and the scooper won't come flying away either. We found a handful of complaints about the grip coming away after extended use.
The flat teeth on the scooper make this a great fit for picking up waste from concrete and asphalt. If you're scooping up poop from dirt or grass, the zig-zag teeth ensures your life is made easier.
Backed by a 100% satisfaction guarantee, you can buy with complete confidence. You won't be disappointed.
Things We Like
Welded aluminum build
High-grade bolts and hinges
Made in the USA
Things We Dislike
---
9. Doggy Digger Pooper Scooper
Features
One-piece scoop
5 pounds
8 x 7.4 x 5.3 inches
The Doggy Digger Pooper Scooper gives you an all-in-one approach to cleaning up behind your hound.
While you might initially doubt the effectiveness of such a simple device, this simplicity is actually one of its key benefits. You get no moving parts to go wrong over time, but you do get a very efficient tool for cleaning up poop.
The manufacturer throws in 5 bags to get you started. From this point, you can use just about any plastic grocery bags. We always appreciate this with pooper scoopers, and welcome not being forced to buy expensive replacement bags from the manufacturer.
Thanks to the innovative design of this scoop, you can get rid of any waste Rover leaves behind him without ever coming into contact with it.
The scoop is made in the USA, and it's constructed from sustainable, recyclable materials.
You may take a while to get to grips with this scooper, but once you're up and running, you'll never look back.
Things We Like
No moving parts
Uses any plastic grocery bags
Made from sustainable materials
Things We Dislike
---
10. DuraScoop Pooper Scooper
Features
Shovel scoop
54 pounds
7 x 6.2 x 3.1 inches
We have another simple but super-efficient offering up next, this time from DuraScoop.
What you get here is a no-nonsense shovel scoop. Built from aluminum, it's lightweight yet extremely long-lasting, and it won't rust out either.
The grip is rubberized, non-slip, and comfy to use.
Finished with a striking mirrored treatment, this scoop looks great and the aluminum is accented by the striking pastel green handle.
Large enough to deal with big clumps of waste, this lightweight tool struggles with smaller piles, so it might make a better fit if you have a big breed at home.
Made in the USA, you can buy this shovel safe in the knowledge it will simplify a tedious and potentially messy task without costing you a fortune.
Things We Like
Rust-resistant aluminum
Molded rubber grip
Mirror finish
Things We Dislike
Not good for smaller clumps
---
11. TIMINGILA Long-Handle Pooper Scooper
Features
Jaw scoop
95 pounds
8 x 10.1 x 5.3 inches
As we near the end of our quest for the best pooper scooper, TIMINGILA hits a home run with this classic jaw scoop. Not only is it anyway cheap, it's currently very steeply discounted. Act quickly and grab yourself a real bargain.
The 28-inch handle allows you to stay well away from that foul poop. This handle is very easy to pull so you won't end up straining yourself as you clean up Fido's mess.
The stainless steel springs have been tested to withstand 100,000 actions. As long as you maintain this scooper, it should deliver plenty of faithful service.
A neat choice for all surfaces, this is a decent budget scoop well worth your further investigation.
Things We Like
28-inch handle
Minimal resistance when pulling
Ideal for all surfaces
Things We Dislike
---
12. Bodhi Dog Pooper Scooper
Features
Jaw scoop
75 pounds
4 x 6.8 x 6.4 inches
Last in line in our curated list of the best dog pooper scoopers comes from Bodhi Dog. How does this simple jaw scoop stand and fall, then?
You'll get a comprehensive kit here with everything you need to ensure your yard stays poop-free so your kiddies can play unencumbered.
You can operate the jaw scoop with one hands as you blitz through the yard without needing to bend down. This is especially valuable if you have several dogs at home and you're seemingly always bending down to pick up poop.
The 24-inch handle means you won't be spending your time outside stooped down. Instead, use this nifty device to suck up the poop littering your yard the easy way.
You'll get 2 rolls of bags thrown is so you have everything you need to get going right out the box.
This scooper is manufactured by a small family-run company with a sharp focus on customer care. The pooper scooper comes back by a 100% satisfaction guarantee: you can't ask for much more than that.
Things We Like
Complete clean-up kit
24-inch handle
Family-run firm
Things We Dislike
---
Conclusion
Perhaps you arrived here today with no fixed idea on how to safely pick up and dispose of the poop your furball leaves in his wake, that should have changed by now.
We tried to include something for everyone today, whether you want a portable pooper scooper for your daily walkies with Rover, or you want a bumper scoop or rake for use in the yard at home.
You can buy any of the scoopers on our shortlist with a clear idea of what you're getting for your money. We never hide away the flaws of products when we're reviewing you so you can make the smartest decisions.
Now, before you leave, take a moment to bookmark BarkVA. We bring you fresh content daily on all aspects of pet ownership from tips and training tricks through to the best pet gear. We'll also throw in plenty of handy guides like what times you should feed your dog. We'll see you soon!
As an Amazon Associate, we earn from qualifying purchases - at no cost to you, allowing us to continue our work.