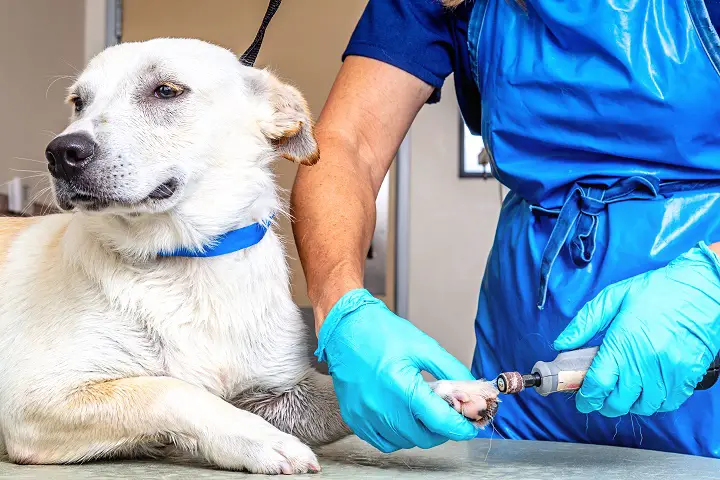 If your dog's toenails are too long, his range of movement will be impacted. How can you determine whether or not your dog's nails are too long, then?
Well, if you see your pooch scratching at the sofa, chairs, or floor, he isn't deliberately attempting to wreck your furniture. This is a typical canine response when toenails are too long.
Fortunately, keeping on top of trimming your pet's toenails is straightforward if you have the right equipment and you know what to do with it.
That's where we come in. We'll be reviewing the best dog nail grinders so you can buy with complete confidence.
You need to know how to use these things, though. We'll help you out with that right now. After some basic tips, we'll be walking you through what to look for on the buying trail.
So, the first thing you should keep closely in mind at all times is that your dog's nails are not just lengths of horny material. If you cut too deeply into the quick of the toenails, you'll end up causing your dog to bleed deeply, and potentially to lose lots of blood.
Now, if you take our advice and opt for a dog nail grinder in place of a pair of clippers, you'll find you have a much better tool for the job. Most grinders run very quietly, too, so you won't spook your dog. Nevertheless, you should start by gradually accustoming your pooch to the noise before you start cutting his nails.
Use a dog nail grinder angled upward so you can get the best possible view at all times.
You should always ensure the grinder is kept well clear of the dog's hair as well. If your dog has an especially long coat, try using some kind of stretchy cloth –old underwear or T-shirts, for example – so you can push the nail out through the cloth. That way, you can grind without trapping the tool on any hair.
So, with that basic guidance in place, you should already have a feel for whether grinding your dog's nails might be preferable to tinkering around with nail clippers.
Next, we'll review the 7 best dog nail grinders so you can easily compare all these nifty little grooming tools at a glance.
BarkVA is reader-supported. When you buy via the links on our site, we may earn an affiliate commission at no cost to you.
I.

The 7 Best Dog Nail Grinders
1.

Our #1 Pick:

Casfuy Dog Nail Grinder
Our overall favorite, this dog nail grinder from Casfuy is not only reasonably priced, but also available at an aggressive discount. If you move quickly, you'll get a great bargain, but how does this nail grinder perform?
When you're shopping for pet nail grooming tools, you'll soon see most are broadly similar. This, like most grinders intended for trimming dog's toenails, comes with 2 speeds. Work slowly in delicate areas then ramp up the speed when you can for maximum efficiency without ever hurting your precious pooch.
A trio of grinding ports allows you to match up this dog nail grinder to the size of your pet. Small, medium, and large dogs are all catered for here.
Charging the unit takes just 3 hours. The only area in which this grinder falls down is on runtime. That said, although 2 hours of use is limited, ask yourself this: how long will it take you to cut your dog's toenails? Unless you have multiple pets, you don't need any more life than this before recharging. For this reason, we still consider this dog nail grinder our overall pick.
Things We Like:
You'll get 2 hours of use from a single charge
Full burst of charge in just 3 hours
Runs almost whisper-quiet
Things We Dislike:
A few issues with charging can develop over time
---
---
2. JYSW Dog Nail Grinder
Next up is the JYSW dog nail grinder, so how does this model shape up, and what do you get for your money?
As with the Casfuy, the 3 ports allow you to painlessly trim the toenails of small, medium, and large breeds of dog.
One of the things that differentiates this model from the opposition is the way you can leave it without using it for weeks on end. Standby time is class-leading, and renders this grinder perfect if you only occasionally use grooming tools – maybe you send your pooch to the vet the rest of the time.
When you do need to charge this tool, 4 hours of juice gives you a full 4 hours of runtime. This is more than enough to trim the nails of multiple pets in a single session. Charging is via USB with the cable thrown in.
A pair of grinding wheels gives you something in reserve and you'll find this grinder is efficient, rugged, and priced reasonably keenly.
Things We Like:
3 grinding ports for maximum efficiency
Remarkably long standby time ideal for occasional use
Super-silent stealth mode if your pup is easily spooked
Things We Dislike:
A few complaints about build quality
---
3. Casifor Dog Nail Grinder and Clippers
The Casifor dog nail grinder and clippers gives you dual-speed, stepless functionality. This means you can seamlessly adjust the pace of cutting to the toughness of your dog's nails.
Rated at just 40 decibels, you'll find this grinder won't disturb your dog even if he's easily menaced by noise.
The usual 3 grinding ports caters for all shapes of sizes of dogs so enjoy a personalized grooming tool for each of your precious pets in a single multipurpose gem from Casifor.
The torquey motor has enough grunt to cope with even tougher nails on larger breeds. Build quality I robust, too, so you won't need to worry about burning this nail grinder out.
Still undecided? This grinder is backed by a lifetime guarantee so consider this the last investment you'll need to make in nail grooming supplies. Customer care is responsive, too. They'll endeavour to respond to all queries within 24 hours, something many brands could learn from.
Things We Like:
20 hours of runtime outflanks the opposition
Runs at 40 decibels so won't disturb your dog
Lifetime replacement guarantee for your peace of mind
Things We Dislike:
Don't work well on medium or large dogs
---
4. Toozey Dog Nail Grinder
As we hit the midpoint of our quest for the best dog nail grinders, we've got this neat model from Toozey but how does it stand out?
With this grinder, its runtime is the key selling point. With up to 15 hours of use on a single burst of charge, you'll be free to power through the grooming of multiple pets without bothering to recharge. When you do juice up your nail grinder, just 4 hours returns a full charge.
Choose from white or green if you're tired of bland black and silver grooming appliances.
As with all these nail grinders, the 3 ports allows you to work confidently with dogs of all sizes. If you have a multi-pet household, you can deal with all nail grooming for all your animals with a single tool.
Crowned with a lifetime warranty, you really can't expect much more at this price point. The only real drawback of this grinder is the fact it's not the fastest or most powerful piece of kit. If speed is not of the essence, though, this makes a smart choice.
Things We Like:
15 hours of runtime on a single charge
Fast recharging in 4 hours
Backed by no-quibbles lifetime guarantee
Things We Dislike:
Takes some time to get the job done
---
5. INVENHO Pet Nail Grinder
When you're looking to keep your dog's toenails neatly trimmed, you need the right gear for the job. Ditch those clippers and invest in a great dog nail grinder instead.
IVENHO serves up a highly efficient pet nail grinder packing a diamond bit grinder. This gives you all the durability you need, and the hard material also makes light work of even the most stubborn dog nails.
Choose the port and speed according to the size of your dog and the toughness of the toenails in question. Using this grinder is a cinch even if you're not accustomed to pet grooming. If you run into any problems, you'll find the customer care department responsive and helpful.
Several disgruntled users have reported receiving damaged packets. As always when there's an issue with quality control, we alert you to this so you can keep a close eye out.
For a cost-effective and highly efficient method of cutting your dog's toenails, you can't go wrong.
Things We Like:
Diamond bit grinder for maximum efficiency
2-speed functionality
Low-vibration and very quiet in operation
Things We Dislike:
Some issues with quality control so check your package closely upon arrival
---
6. Peteast Dog Nail Grinder
Next up is the Peteast dog nail grinder. In most ways, this grooming tool is in line with the rest of the market.
A trio of grinding ports ensures no dog is left out, big or small.
The dual speed motor gives you great flexibility. You can slow down when you're dealing with delicate areas, then jack up the pace if you're working through a larger section of challenging dog toenail. If this sounds intimidating, remember to keep on top of grooming. If you allow your dog's nails to get too long, you'll only end up with a much more tiring job cutting them into shape.
While the bulk of customer reviews are positive, we encountered several disgruntled consumers who claimed the manufacturer asked them to change poor reviews. We can't comment beyond this, but wanted to draw your attention to this obviously shady practice.
Overall, if you want a cheap, effective, and long-lasting dog nail grinder, roll with Peteast.
Things We Like:
3 grinding ports
Dual-speed functionality
10 hours of use from 2.5 hours of charging
Things We Dislike:
Aggressive customer care trying to force you to change poor reviews is disconcerting
---
7. Petural Dog Nail Grinder
Last but by no means least, the Petural dog nail grinder is another gem packing a diamond bit for increased lifespan and enhanced performance.
Quiet in operation, you can smooth and grind your pet's toenails without stressing them out. Grooming should be time to pamper and soothe your pet. The last thing you want to do is spook them with noisy equipment.
The triple port affords you the option of cutting the toenails of small, medium, or large dogs, perfect for multi-pet families.
The only real reported flaw with this nail grinder concerns charging. A few users have complained about issues in this area so buyer, beware.
That small niggle aside, invest in this dog nail grinder and you'll keep your furball happy and healthy.
Things We Like:
Diamond bit grinder is extremely efficient
Portable and easy to use
3 ports and 2 speeds
Things We Dislike:
Some issues with charging
---
OK, with our reviews in place, it's time to make your life even easier…
Here's what to look out for on the buying trail, then.
II. Buyer's Guide
While buying dog nail grinders might not be the most complex decision, if you focus on the following elements, you'll find the right equipment the easy way.
Wired or wireless?
As with just about any equipment, opting for wireless gives you much more convenience and freedom of movement. On the flipside, wired appliances are always more powerful. Buy in line with your needs.
Ports
Most dog nail grinders come with 3 ports for small, medium, and large dogs. Make sure you establish that the grinder you're looking at is fit to deal with the size of your dog.
Speed
Most good dog nail grinders come with dual-speed motors. Avoid those without this function.
Noise
The majority of grinders come with their noise levels rated in decibels. While none of the models we review today are exactly whisper-quiet, you should find they are all quiet enough not to spook your pooch.
Charging time and runtime
If you have just one dog, you might not care about runtime.
Anyone with multiple pets at home, though, is likely to be more attracted to a nail grinder packing a lengthy runtime. We draw your attention to runtimes throughout our reviews, as well as how long you'll need to charge the grinder up.
Ease of cleaning
It goes unsaid you don't want pet grooming equipment that's a pain to clean up after. This will discourage you from using it in the first place so look for a set of dog nail grinders that are just as easy to clean as they are to use.
Weight and portability
Next up is another area that may or may not be relevant. If you struggle lifting and maneuvering heavy objects, look for a nail grinder that's lightweight and a cinch to move around.
Replacement discs
Make sure you can source replacement grinder discs before committing to purchase.
Safety guard
All dogs have a quick inside their nail. This is much like your own cuticle. You need to be certain you don't cut into the nail too far and damage the quick. Bleeding and infection could occur. Nail grinders equipped with solid nail guards are a great way to mitigate this.
---
OK, now before we round out for the day, we've got some answers to the most frequently asked questions about dog nail grinders.
III. FAQs
1) What is a dog nail grinder?
Consider a dog nail grinder as the continued evolution of the nail clipper. Rather than being forced to physically cut toenails like with a clipper, a diamond bit grinder will smooth away your dog's toenails with much more finesse and far less effort.
2) Are they safe to use?
Like all pet grooming appliances, nail grinder are perfectly safe to use as long as you follow the instructions bundled. Manufacturers will typically include a pictorial or video guide. Failing that, there are plenty of videos available on YouTube showing you how to use a dog nail grinder.
3) Dog nail grinder vs clipper?
If you're not sure whether to opt for the traditional nail clippers rather than a modern nail grinder, why should you consider opting for a grinder? Well, not only are these tools quicker and easier to use than nail clippers, you'll also cut your dog's toenails more safely. Considering the almost budget price-point of most of the best dog nail grinders, this decision should be a no-brainer.
4) How often should the dog's nails be cut once?
Young dogs often have a faster nail growth rate than older dogs. You should pay attention to your dog's nails regularly and use a dog nail grinder whenever those nails get longer than normal. If you spot your dog while he is on the floor and his nails touch the floor, it's already time to whip out the clippers or grinder. We suggest strongly that you opt for the grinder.
5) How much should I trim my dog's nails?
Less is more. You should grind just a little bit. Let your dog stand on the floor and when you see the toenail is no longer touching the floor, you're all set.
6) Isn't it easiest to just take my dog to a grooming specialist to get this done?
It certainly is, but it's also much more expensive. We suggest treating yourself to one of these nifty and budget-friendly appliances. It's highly unlikely you'll find it either too difficult to use or too much hard work. Far more probable, you'll be kicking yourself for not investing in a dog nail grinder sooner.
7) What size dogs can I use a nail grinder on?
This is where you need a grinder with multiple ports. All the models we review today come with 3 ports. This means whether your dog is a small, medium, or large breed, all you need to do is use the appropriate port for a personalized grooming experience second to none.
8) How long will these nail grinders last?
As with any tool in this price range, you need to be realistic about lifespan. That said, you shouldn't be using this equipment too often so you could expect a few years of life from your grinder. All you'll need to do is change the blades when they start dulling. If you have a multi-pet household or you need a nail grinder for commercial purposes, you should focus on heavier-duty equipment built to stay the distance.
9) How long will it take to cut my dog's toenails?
You should set aside an hour, although you'll likely get the job done much quicker. Don't rush, though. The last thing you should do is rush grooming your dog. Wait until you have sufficient time to relax and smooth those rogue toenails slowly and carefully. Your dog will thank you for it.
10) What should I do if my nail grinder gets hot in use?
The only thing you can do is take a short rest. That's all that's required to cool it down and then you can polish off your grooming duties with no fears of overheating.
---
IV. Conclusion
Taking care of dogs is a job that requires a lot of specialist knowledge. Many people unintentionally hurt their furry friend in the process.
The secret for you to take good care of your dogs is to groom slowly, patiently and meticulously.
Educate yourself so you know as much about all aspects of your dog's health as possible. The more you know, the healthier you can help him become.
Don't forget to prepare your dog's reward as soon as the nail is finished, too. This will help make subsequent grinding easier. He'll soon associate the grooming with the treat on the end of it.
Now, before you head off, we'd suggest you bookmark BarkVA. Whether you need advice on food, supplies, or the health of your furball, make us your go-to resource for all things canine. We'll see you soon!