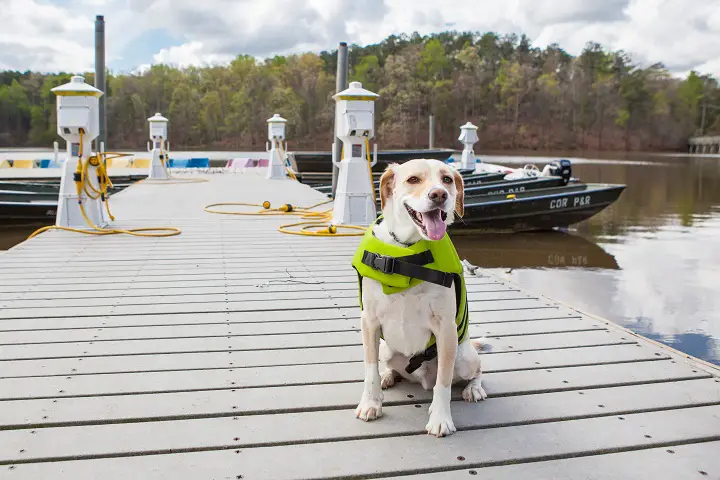 Does your dog love to go sailing with you? Well, mine enjoys boating adventures in the rough terrains. Typically, dogs have innate swimming skills that keep them safe even in deep seas.
You must have heard the term doggie paddle, a swimming style that our canine friends have mastered. While most of them are born swimmers but there are others, like bulldogs that have a body structure less suitable for water excursions. Thus, you require safety gear to keep them afloat and avoid any drowning accidents.
So, if you're planning to spend some time in open seas with your fur-baby, then consider investing in a dog life vest. Although our mutts are great swimmers, even the most experienced ones find it difficult to stay afloat in rough, deep seawater. This explains why we hear cases of dogs drowning in the news.
To prevent such accidents, it is essential to get your dog a personal floating device such as life jackets. Here, we have rounded the eight best dog life vests available online. But before you make a purchase, consider these elements to make the right decision.
Effectiveness: A life vest that can't keep your canine afloat isn't really helpful. Make sure the one you have got is made of buoyant materials without restricting their movement. Typically, life vests have floating sections around the torso, back, sides, and neck region to assist them while swimming.
Size: Dogs come in different shapes and sizes. Thus, you will need a life vest that fits your canine perfectly. If the vest is too small, it may constrict the movement, cause discomfort, and will be ineffective in keeping your dog above water. Moreover, if the vest is too big for your small poodle, he may slip out of it while bathing in the pool or nearby river.
Visibility: It's difficult to stay visible in the water, especially if you're swimming. The same goes for your pet pooch; consequently, you will require a life vest in bright, neon hues such as orange, pink, green, or yellow. Reflective strips will be a huge plus as they enhance visibility and prevent collision with other boaters.
Handles: If your dog is too tired or unable to sail through the water, then you may need to pull him out. Therefore, you'll require a life vest with sturdy handles to lift them up. Even if your dogs are good swimmers, they can climb on to the boat without your assistance; thus, you'll need handles on their life vest to lug them out.
Adjustable straps: Your little pup will grow with time, so you will require a vest with adjustable straps that allow resizing. Make sure these straps are made of comfortable materials such as mesh to prevent them from rubbing against your pet's skin.
BarkVA is reader-supported. When you buy via the links on our site, we may earn an affiliate commission at no cost to you.
---
I. The 14 Best Dog Life Vests
1.

Our #1 Pick:

Outward Hound Dawson Swim Life Jacket for Dogs
Outward Hound Dawson Life Jacket is our best topic for its all-round performance. It features durable construction and premium-quality materials that are flexible, comfortable, and visible.
Made for intermediate swimmers, the vest uses neoprene to offer ample buoyance and help your dog stay afloat. Additionally, the foam panels and front float effectively mitigate the risk of drowning.
It consists of dual top-grab handles for added convenience and safety. You can easily spot your mutt wearing this brightly colored life jacket paired with reflective strips for increased visibility. Equipped with an adjustable strap, the life jacket provides a snuggly, secure fit. Its low-profile design impedes the chances of restricted movement.
Things We Like:
 Front floating pocket
 Available in 3 different colors
 Quality materials
 Dual rescue handles
 Comes in different sizes
 Novice-swimmer friendly
Things We Dislike:
 Handle seams wear off on continuous use
---
2. RUFFWEAR K9 Float Coat
If you and your canine are water-lovers, then you need a life jacket that can withstand the test of time. It should also keep your dog comfortable after hours of wear, and therefore, we picked the RUFFWEAR K9 Float Coat as a runner-up.
Its simple yet functional design allows you to quickly clip the jacket on to your fur baby without wasting time. Made of abrasion-resistant material, RUFFWEAR is durable and long-lasting. Its strategically placed foam panels assist your dog swim like a pro.
Featuring Nexus Airloc buckles, the adjustable straps securely stay in place. The telescopic neck fitting works well for dogs of all sizes. Available in a wide range of sizes, the life jacket perfectly fits most canines.
The durable rescue handle lets you assist your pooch in climbing the boat without much effort. Its water-compatible webbing ensures stability even in wet environments. The reflective trimming offers low-light visibility while the integrated light loop allows you to attach beacon light for added safety.
Things We Like:
 Increased visibility
 Abrasion-resistant material
 Designed for dogs who spend most of their time in the water
 Water-resistant webbing
 Additional beacon light option
Things We Dislike:
 Unsuitable for dogs with a wide chest size
 Only for expert swimmers
 Expensive
---
3. VivagloryRipstop Dog Life Jackets
It is the third-best life jacket available in the market, highly-rated for its variety of sizes and color options. The jacket comes in ten different colors ranging from pink and blue to yellow and many others.
Vivaglory uses extra padding and a secure fastening system around the neck and belly region to provide exceptional safety and buoyancy for protected swimming. The quick-release buckles and adjustable straps offer perfect fitting for your dog.
The thick padded and durable grab handle makes it easy to safely pull your dog out of the water, especially in an emergency situation. The D-ring also lets you attach a leash for ample control on dry land, without the need of carrying your dog in your arms.
The ten bright colors are highly visible in the water, but Vivaglory features reflective trims for accentuated prominence, even in dim lights. The brand ensures its premium quality with a 90-day guarantee against manufacturing defects. The jacket is suitable for swimming, boating, as well as canoeing.
Things We Like:
Multiple color options
Available in 5 different sizes
Multi-purpose use
Custom-fit
Leash attachment options
90 days warranty
 Affordable
Things We Dislike:
 Single rescue handles make it difficult to pull heavy and large dogs
---
4. Queenmore Dog Life Jacket
Made with premium quality oxford fabric, polyfoam filling, and mesh lining, it is the most robust life vest. The sturdy handles offer a strong grip when pulling the dog out of high current water. This makes the rescue process quick and safe.
For ample control on dry land, the jacket features a heavy-duty D-ring to connect the leash. Therefore, if you love spending time in the water but need maximum safety for your pup, Queenmore is packed with all the right accessories.
The funky fishtail at the back adds an appealing touch to the overall design and thus maneuvers your dog into keeping it on for long hours. The materials are water-resistant and provide quick drying. The adjustable straps with quick-release buckles and magic stickers provide secure fastening and snuggly fit. Its polyfoam filling provides excellent buoyancy in the neck, belly, and back region as an effective flotation solution for all dogs.
Things We Like:
Funky design
Premium quality
Robust construction
Magic sticker fastening
Maximum flotation
 Waterproof
Things We Dislike:
 Unsuitable for dogs with a big chest size
---
5. Paws Aboard Dog Life Jacket Vest
Paws Abroad is a great option for small dogs due to lightweight, durable construction. Its intricate design also doesn't look too bulky on poodles and pups. Typically, life vests use a great deal of padding to stay buoyant and end up being too large for little pooches.
However, that is not the case with Paws Abroad, which is made of HD Neoprene for durable yet comfortable wear. Its Velcro straps securely fasten around the neck and belly region. For fast and easy wear, the life vest features quick-release buckles and adjustable nylon straps.
With its six different sizing options, you're sure to find an incredibly comfortable and snuggly fit for your canine. The vest is lightweight, flexible and buoyant enough for small and medium-sized dogs.
Its low-profile design ensures non-restrictive movement and flexible use for smooth swimming. The top-grab ensures maximum safety and easy pull without the chances of tearing off. The reflective trims offer enhanced visibility while the D-ring gives you maximum control.
Things We Like:
Various sizes and color range
Lightweight
Durable
 Ideal for small dogs
 Dries off quickly
 HD Velcro fastening system
Things We Dislike:
 Not buoyant enough for large dogs
 Unsuitable for dogs with long furs
---
6. HAOCOO Dog Life Jacket Vest
It is the only life vest in our list that comes in varying styles; the most popular is the mermaid cut life jacket in a flashy pink and purple color. Each piece features top-notch materials extracted from high-quality polyester, nylon, and mesh fabric.
The pearl cotton foam filling offers ample buoyancy to keep your mutt afloat and swim off the waters. Two straps at the belly region and chest strap featuring a quick-release button provide a snuggly fit for your dog.
The durable handles make it easy to lift your dog to get in or out of water. Its heavy-duty D-ring at the back of the jacket lets you connect a leash or tether for maximum control.
Available in 3 different sizes and nine different colors, this product provides you with ample options to suit your dog's varying needs.
Things We Like:
 Colorful patterns and design
 Sturdy construction
 Adequate buoyancy
 Durable handles
 HD D-ring
Things We Dislike:
 Unsuitable for very small or extra-large dogs
---
7. Outward Hound Dog Jacket
Outward Hound make some highly effective dog equipment that's priced keenly. How does this life jacket for dogs hold up, then?
Firstly, you can choose from a broad range of bright colorways to suit the temperament of your pup.
You'll find the same breadth of choice when it comes to sizes. This is the Large jacket, ideal for dogs weighing from 55 to 85 pounds with girths from 28 to 32 inches.
The jackets makes a neat fit for both experienced swimmers and dogs that have never been near the water before.Made from a ripstop fabric that's soft but hardwearing, the jacket will keep your pooch afloat without causing him any discomfort. This material is designed to help your dog stay afloat in the water, but it doesn't restrict his movement when he's on land.
A pair of handles on top of this jacket allow you to readily grab your furball if required.
While most user reviews concerning this dog jacket are positive, we stumbled across a few complaints concerning difficulties making adjustments.
Things We Like
5 vibrant color schemes
Wide choice of sizes
Neoprene belly supports
Multi-handle design
Reflective accents
Things We Dislike
---
8. Yoyoung Camo Life Vest for Dogs
This subtle camo print life jacket adds a dose of fun to swimming with Rover and you can choose from 5 different sizes to suit his breed.
The Medium jacket is designed for dogs with necks from 12.6 to 15.7 inches and chests measuring from 15.7 to 22 inches. We appreciate the precision of these measurements, as this is an area where many manufacturers fall down. It's vital to know what you're getting in terms of sizing when you're buying dog gear online.
The robust and easy-access Velcro straps let you tweak the jacket to snugly fit your furball. Quick-release buckles streamline access further.
Equipped with a top handle, you can quickly and confidently maneuver your dog when required to grab him from harm.
Reflective accents on the jacket are ideal for increasing your dog's visibility in gloomy conditions.
There's also a D-ring as with all the best dog life vests, allowing you to attach this jacket to your hound's leash.
Despite some isolated complaints about sizing – and see above for what we feel – this is one of the best life vests for dogs and it's also pretty competitively priced. See what you think.
Things We Like
5 sizes to suit most breeds
Highly adjustable
Top handle
Comfortable
Breathable
Things We Dislike
A few complaints about sizing
---
9. Kurgo Dog Water Life Jacket 
The Kurgo Surf n' Turf life jacket is the best multipurpose vest to keep your mutt safe in every wet environment, be it a beach or a boat. If you want a jacket that is comfortable enough for all-day wear and works as raincoat too, then Kurgo is your safest bet.
Made out of ripstop material, the jacket offers excellent durability and lifetime use. Although made of tough materials, the jacket is unsuitable for deep waters due to limited buoyance. It features a detachable floatation layer for dual-purpose use as a life vest and rain jacket. You can find five different sizes paired with adjustable straps and two quick-release handles for convenient use.
These handles are durable enough that they even let you pull large dogs without ripping from the bodice. The bright colored collection keeps your dog visible even at a long distance, while reflective trims are great for nighttime visibility. Its D-ring lets you efficiently connect the leash.
Moreover, every Kurgo product is backed with a lifetime warranty ensuring premium-quality of the materials. It allows hassle-free claims on manufacturing defects when the item is purchased from authorized dealers.
Things We Like:
 Durable materials
 Multipurpose use
 Adjustable construction
 Highly visible
 Leash and bottle opener connections
 Sturdy dual handles
Things We Dislike:
 Limited buoyance
 Inadequate flotation for small dogs
 Unsuitable for deep-sea or strong current waves
---
10. Wellver Dog Life Jacket
It's the best budget-friendly dog life vest available online. Not only does it come at a very good price, but it also offers maximum safety to your dogs, while swimming.
Available in four different colors and two different style patterns, Wellver provides you with plenty of options to choose from. The jacket is buoyant enough to work well in different wet environments, including pools, rivers, and beaches.
The combination of bright colors and reflective trims provide maximum visibility even in the dark to prevent collision with other sea surfers. The Velcro fitting around the neck and belly region provide quick adjustment and secure fitting for comfortable wear. Its sturdy rescue handle makes it easy to lift your dog in and out of water.
Things We Like:
 Designed for small dogs
 Durable construction
 Keeps your dog afloat
 Highly visible
 Multipurpose use
Things We Dislike:
 Not right for medium, large or extra-large dogs
---
11. Frisco Ripstop Dog Life Jacket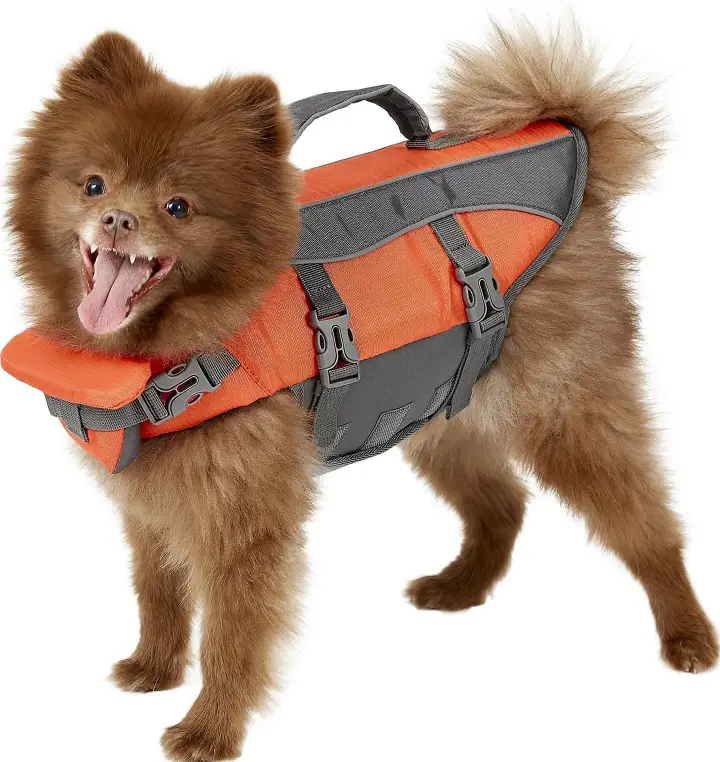 If you're looking for a cheap dog life jacket that doesn't totally stiff you in terms of safety and performance, Frisco's ripstop model is well worth popping on your shortlist.
Choose from a broad spread of sizes according to your pup's dimensions. This is the Small jacket, and it's intended for dogs with necks from 8 to 10 inches and chest girths from 16 to 20 inches. This makes a good fit for most smaller breeds. There are several larger sizes available if required.
A trio of straps let you fine-tune fit so your fur baby feels comfy when he's swimming. Quick-release buckles at the sides make it a cinch to take this jacket off or to slip it in when you're heading to the water.
Reflective accents all over help your dog to remain visible even when it's starting to get dark. There's no need to stop the fun just because the sun goes down!
Robust foam panels help your dog to stay afloat when he's swimming, and they also add precious insulation so he stays warm when he's in the water.
This is one of the best budget dog life jackets, and it comes from a highly reputable brand, too.
Things We Like
Wide range of sizes
D-ring for leash
Thick foam panels
Impressive buoyancy
4 reflective accents
Things We Dislike
Questionable customer care
---
12. EzyDog Doggy Flotation Device
If you have an active dog that spends a lot of time in the water, he needs a high-performance life jacket EzyDog delivers a superb example with this doggy flotation device.
Packed with buoyant material and finished with neoprene straps, this is widely recognized as one of the most effective canine flotation devices.
Choice of colors is limited, but the manufacturer has placed a premium here on functionality. This is one of the warmest, most secure, and most buoyant dog life jackets you'll find, even if it's not especially cheap.
The handle baked in gives you quick and easy access when you need to grab or maneuver your fur baby.
Of the 5 available sizes, this Large jacket is meant for dogs weighing from 60 to 90 pounds with chest girths from 27 to 44 inches. This should be a smooth fit for most medium breeds and some larger breeds.
A few users complain about problems with the neck piece on this jacket, but the vast bulk of user testimony is overwhelmingly positive.
Things We Like
Comes in bright red or yellow
Great buoyancy
Integrated handle
Reflective trim
Comfortable
Things We Dislike
---
13. Landshark Pet Life Jacket
Landshark serves up a simple but effective dog life jacket that's worth your further investigation.
Made from a soft and durable neoprene – the material used for wetsuits – this jacket will help your hound stay afloat in the water.
There's a grab handle on the back of the device, allowing you to take full control of your furball.
A pair of adjustable locks let you clip the jacket securely into place. There's also a neck buckle so you can get a tight, snug fit.
The top zip closure makes it easy to remove and put on this jacket.
Inside, there's plenty of foam to help your dog stay above water when he's paddling around.
There are many sizes to choose from with this jacket, catering for dogs weighing from 8 pounds to over 80 pounds.
Things We Like
Nylon rear handle
5 sizes
2 adjustable ladder locks
Padded neoprene
Highly buoyant
Things We Dislike
Some complaints about lifespan
---
14. PlayaPup Dog Life Jacket
If you're looking for maximum choice when it comes to the color scheme of your dog's life jacket, PlayaPup gives you 10 striking designs with this enduringly popular life jacket.
You also get great choice when it comes to sizing. There are 7 different options. This Large jacket is intended for dogs with necks from 14 to 16 inches and chests measuring from 22 to 26 inches. This should make a good fit for most medium breeds.
The life jacket is made from neoprene, highly insulating and buoyant. The EVA foam filling further enhances buoyancy and ensures your pooch won't go under when he's swimming. Under-neck flotation will help keep Rover's head above water, too.
The jacket is highly adjustable with a series of Velcro and buckle enclosures making it easy to attach and remove the PlayaPup. Reflective accents make sure Fido stays seen.
The D-ring attachment allows you to fit your lead to the jacket and completes a winning package at a reasonable price point.
Things We Like
Huge choice of colors
7 sizes to suit
Rugged neoprene
Reflective accents
Breathable mesh
Things We Dislike
---
II. Dog Life Vests FAQs 
1. Why should I buy a dog life vest for my fur baby? 
As a parent to a fur baby, it's your responsibility to ensure their safety in every situation. When boating or swimming in open waters, it is necessary to wear the right gear, irrespective of how much of a good swimmer they are.
Using life vests mitigates the risk of drowning and increases their visibility in water with a strong current. Basically, it is a personal floating device that your mutt requires to stay afloat. It fits them around the torso and back region to avoid in-water accidents.
Typically, life vests are used in emergency situations, but they also work well for weak swimmers. The buoyant pockets in and around the vest assist your fur baby while swimming without limiting their movement.
2. How do I ensure I'm getting the right size for my mutt?
The first step to ensure your dog's safety is to get him a life vest, but if it doesn't fit well, it's useless. You should have accurate measurements to ensure the vest fits perfectly.
Typically, manufacturers have size charts that you can use to determine the correct size. However, it is advisable to measure your dog's torso and neck circumference and back length.
You can also check the back label to make sure the vest is suitable for your dog's breed, as each is shaped differently. Make sure the vest you're buying has customized fitting at all angles for proper fitting.
Additionally, your pooch's body weight matters as it affects the buoyancy of the vest. The heavier your dog is, the greater the buoyancy is required.
3. I am going on a rowing expedition; will my dog require a life vest even on the boat?
A quick reminder: despite common knowledge that dogs are great swimmers, not all are naturally built for it. Even specific breeds for swimming, like Labradors, can get into an accident. Thus, life vests are necessary for open waters and pools for additional protection.
Just the way you will be wearing a life jacket, you mutt will also need a vest to keep itself protected. It will be all the more important if this is the first time your dog is going in water.
In an emergency situation, your dog may not be very efficient at stay afloat due to increased panic; hence, a life vest can help them keep their head above the water.
---
III. Conclusion 
Although life vests are ideal for keeping your dog afloat, it still requires some common sense for safe usage. This will reduce the chances of accidents and injuries while letting you and your pup have some fun time in the water.
Firstly, you need to get your pup used to wear the life vest. It is better to start a few days before your water retreat activity. Ideally, you should make him wear one in a swimming pool as it is less prone to accidents. Reward your mutt with treats and playtime as he adapts to its use.
Once you have strapped the vest on your mutt, make sure it's tight enough. However, it shouldn't bite into the skin and cause discomfort while also restricting its movement. Conversely, if it's too loose, the vest can easily slip off or entangle, while swimming.
Lastly, you should ensure that the life vest is used for its intended purpose. Some cute, funky vests are designed for swimming pools only while the more durable and buoyant ones are for deep sea.
No matter how safe the life vest is, your fur baby should never be left unsupervised when swimming. It ensures your dog wouldn't drift into potentially hazardous terrains.
As an Amazon Associate, we earn from qualifying purchases - at no cost to you, allowing us to continue our work.