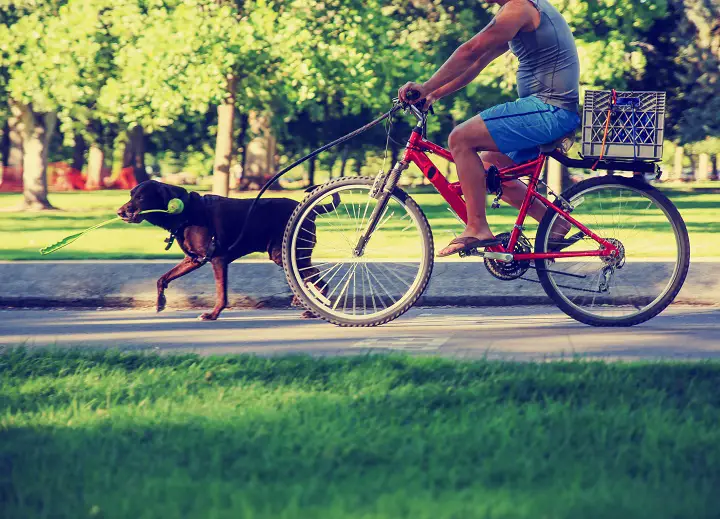 Do you have a super-energetic dog always looking for as much exercise as he can get?
If so, have you considered taking your pooch out for a run next time you head out on your bicycle?
Perhaps you're simply a remarkably keen cyclist and you can't go a day without riding.
Either way, you can't just whip outside and hope for the best using a regular dog leash. Instead, you'll need to make provision for a leash that's specifically designed for this purpose.
That's where we step in, and today we'll be reviewing a half-dozen of the finest leashes to keep your dog secure even if you're pedaling briskly.
You might still be asking yourself "Why do I need dog leashes for biking?"
Now, if you have a smaller breed, allowing them to wander in too close to the wheels when you're cycling is potentially dangerous for both of you. This could easily happen if you relied on a standard leash. Most dog leashes marketed at cyclists come with a metal armrest that ensures your furball always remains at a safe distance.
Now, clearly a leash is not the most complex piece of kit, but there are nevertheless a few points you should laser in on to maximize your chances of getting the right leash for you and your hound.
Here are some things to note when choosing to buy best dog leashes for biking:
Dog size: If your dog is too small, you should keep it away from cycling trips entirely. Another option is to use motorcycle dog carriers for cycling instead
Distance between dog and bike: Dog leashes for biking ensure the proper distance between the dog and the bike is maintained. Just say no to dog leashes for biking without arms or you could end up responsible for your pooch ending up under the wheels of your steed
Placement: Dog cycling leashes can be attached in a variety of positions. Some leashes can only be fixed to the left hand side of the bike while others can sit to the left or right
Build quality: Seek out a leash made from strong, durable materials. Prioritize products with bright and recognizable colors for the safety of you and your dog
Adjustable length: If you have multiple dogs at home, buy an adjustable leash so you won't need to buy separate dog leashes for biking for each of your dogs
Easy to install: Make sure that any leash you're considering doesn't give you too much trouble when it comes to installation. All of the models we review today are super-simple to set up
Price: Last but not least, think not of the price in isolation, but by comparing it to the performance and expected lifespan. This will give you a better idea of overall value and increase your chances of finding the best dog leash for biking
Now you have that basic framework in place, you should be clear what to look out for on the buying trail.
To make your life even easier, we'll now break down the core benefits of the strongest dog leashes for biking at your disposal.
---
BarkVA is reader-supported. When you buy via the links on our site, we may earn an affiliate commission at no cost to you.
I. The 6 Best Dog Leashes For Biking
1.

Our #1 Pick:

Best Dog Bike Leash
If you have a generous budget and exacting tastes, this is our overall pick for best dog leash for biking. What makes this innovative leash stand out, then?
Choose from a handful of colorways to coordinate your dog's leash with your bicycle then relax in the knowledge that this leash comes fully ratified by the APA (American Pet Association).
All you need to do is attach this exercise leash to the left hand side of your bicycle or tricycle. This model is also designed to work with most mobility scooters.
The leash should fit most shapes and sizes of dog from dinky 10-pound pups to much larger hounds up to 185 pounds.
The only minor niggles we could find about this leash concerned build quality relative to price. Overall, though, this leash continues to gain legions of satisfied fans.
Things We Like:
5-star safety rating from American Pet Association
Slots neatly onto left side of bicycles and trikes
Ideal for dogs from 10 to 185 pounds
Things We Dislike:
Build quality could be improved
---
---
2.

Runner-Up:

Walky Dog Plus Hands-Free Bike Dog Leash
A close and worthy runner-up in our hunt for the best dog leashes for biking trips with your hound, the Walky Dog leash is a one-size-fits-all gem.
The high-carbon stainless steel leash will slot easily onto almost any bike in minutes. As you'd expect, you get rugged construction and this stainless is complemented by some military-grade paracord rated to handle over 500 pounds of pull strength.
This leash is specifically targeted at higher-energy medium and large dogs like labs, huskies, boxers, or retrievers.
As you'd expect for a leash built to these demanding standards, the Walky Dog isn't cheap. In our opinion, though, shopping for dog supplies based purely on the bottom line almost never yields dividends.
Things We Like:
One size fits all shapes and sizes of dog
Military-grade paracord capable of restraining the most energetic pups
Rated to withstand 500 pounds of pull strength
Things We Dislike:
A few dog owners have complained about this leash being too short
---
3. Springer Dog Exerciser
Springer delivers a minimalist yet highly effective leash designed to fix onto your bike and allow you to give your furball a workout in complete safety.
Unlike many competing leashes, this beauty can be fixed to the left-hand or right-hand side of your bike giving you total versatility.
Build is impressive considering the reasonable price point. Alloy steel is built to last the distance while the heavyweight spring will also keep going year after year.
There's no harness bundled with this leash. The manufacturer specifically recommends using a harness designed for your breed rather than chancing it with a regular collar. Safety needs to be uppermost when you're cycling with your pup alongside.
Things We Like:
Made from tough alloy steel
Rugged steel spring absorbs the bulk of dog's pulling
This leash fits on either side of your bicycle
Things We Dislike:
A few users have stated mounting sleeves didn't fit their bike
---
4. Woof Cycle Bike Trotter Hands-Free Bike Dog Leash
As we edge past the midway point of our dog leash for biking reviews, a first-rate model from Woof Cycle giving you hands-free control of your pup even if you're riding at full clip.
Enjoy the convenience of affixing this leash to the left or right rear axle of your bike. The ultra-low mounting is designed to reduce the amount your dog will pull as you cycle.
You should have this leash fixed to your bike in minutes even if you're not especially keen on DIY.
When you're not using your leash, just roll it up for ease of storage.
For a US-made leash for bike rides with your dog up to 100 pounds, you can't go wrong with Woof Cycle.
Things We Like:
Leash fits on either side of back axle
Mounted low to minimize the amount your dog pulls
Rated for pooches from 10 to 100 pounds
Things We Dislike:
You won't benefit from a warranty with this leash
---
5. Non-Stop Dogwear Bike Antenna
Non-Stop Dogwear deliver as promised with a deep bench of the best dog equipment that doesn't destroy the budget. How does this bicycling dog leash stand out, then?
The first thing you'll notice is the robust build with a pleasing heft to this leash. After all, if you plan to cycle along rapidly with your precious pooch on behind, you need to be confident he stays securely tethered to your iron horse.
You won't need to mess around with sizing charts either. The single leash should be ideal for most dogs up to around 100 pounds, even if they're energetic and prone to being boisterous when you're out for walkies.
Given the commendable performance of this leash, you might be surprised at the almost budget pricing. What are you waiting for?
Things We Like:
Strong spring ensures your dog stays out of harm's way when you're biking with him alongside
Super-simple to install so get going right out the box
One-size-fits-all
Things We Dislike:
Attachment is problematic with some bikes
---
6. Lumintrail Dog Bike Leash
Last up in our dog leash for bikes reviews comes the Lumintrail, spot-on for medium and larger breeds. That said, you should avoid utilizing this leash if your pup tips the scales at over 120 pounds.
The universal mount and hardware included allow you to fix this leash onto almost any bicycle. This is handy since many user reviews of the opposition suggest fitment is not always guaranteed.
The high-performance spring helps tamp down vibration and pulling even if you're riding over more demanding terrain.
If you have a medium or large breed dog who is full of beans and always looking for an adventure, see how they love racing behind you on your bike.
Things We Like:
Perfect for medium to large breeds
Universal mount and all hardware bundled
Spring helps to absorb shock as you're riding
Things We Dislike:
Don't try using this leash on dogs larger than 120 pounds
---
II. How to combine a safe bike ride with a dog walk the easy way
Please only ride with a single dog at one time. Attempting to take out more than one dog would be too risky. Even if it seems like this would be a fun idea, resist the temptation to head out with all your hounds together
Please train your dog properly first. Get them used to cycling with you before you head out and start cycling at full speed
Never tie a dog leash to yourself and never hold a dog leash in your hand while cycling. Doing either of these things could result in a very serious accident
Use dog booties for your furball. The terrain you are cycling over might not be suitable for your dog to run on
Please use dog harnesses instead of dog collars. You'll get far more safety with the more substantial harness
Pay attention to your dog's health and avoid heading out for this kind of exercise if he's not feeling at his best.
Lower the saddle of your bike slightly. You won't be looking to pedal as quickly as physically possible and you'll benefit from improved maneuverability and control if you bring your saddle down slightly.
Last but not least, stay away from crowded areas at all costs. Why make things harder on yourself?
---
III. Conclusion
Combining a bike ride with a dog walk is one way we can spend more time with our dog even if time is too tight to mention.
Focus on the above pointers to make certain that your pup stays safe when you're out and about.
If you stick with the models on our shortlist today, you can buy with your eyes wide open. Opt for a model we haven't reviewed and we would suggest you double down on our buying guide so you can pick up the best leash for your needs the easy way.
Bookmark BarkVA before you pop out on your bicycle. We've got a remarkably hectic content slate for the coming months so keep coming back regularly to see what we have lined up for on the run-in to Christmas. We'll see you soon!