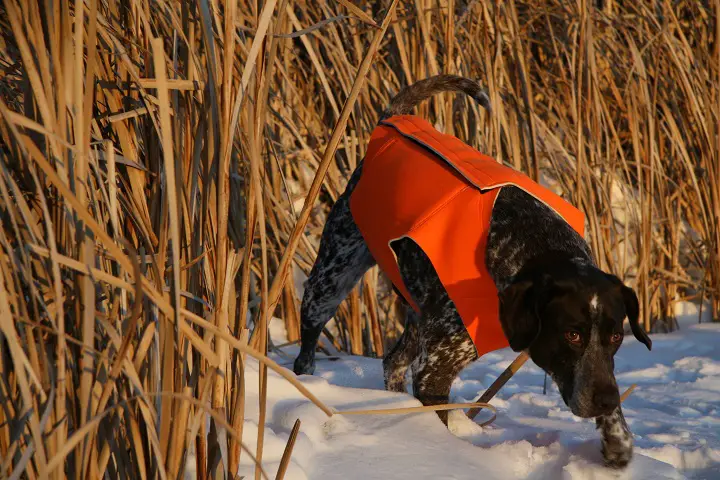 It's no secret that dogs are great hunting companions, but this is not the only purpose for buying a hunting vest.
Many of the regular reflective vests also work wonderfully if you need to make sure you dog is visible to other pedestrians and road users when you're out walking at night.
If you plan on heading hunting with your hound, though, you'll need a vest offering a bit more protection than you normally find on standard hi-vis vests.
There's every chance you may want both a high-visibility and a camouflage vest, depending on what sort of duties you'll be expecting your dog to perform.
Hunting vests can also keep your dog warm when you're out in the field, with some coming fleece-lined for added comfort.
Some vests will help your dog become more buoyant, too. This is ideal if you're heading hunting somewhere with lots of water hazards and obstacles.
Now, what should you look out for when you're shopping for hunting vests for your dog?
Focus on these elements and you'll find the most appropriate vest quickly and easily:
Materials: Durability is your primary concern when you're comparing the best dog hunting vests. If you try engaging in fieldwork with your dog using a low-quality vest, you'll find it gets ripped to pieces in no time. Neoprene, Oxford cloth, canvas, and nylon all make great materials for a canine hunting vest
Reflective trim: You should look for a vest equipped with reflective trim. This will complement a brightly colored vest and make sure Fido is easily visible in the dark. The exception to this is with camouflage vests. Here, obviously, you're looking for stealth
Leash/collar access: If you don't like the idea of taking the vest on and off every time you need to attach your dog's collar, you should look for one providing leash and collar access so you can sidestep this
Adjustable straps: You need to get a vest that fits properly for hunting work. You also need to be able to adjust it will hug Fido perfectly
With that foundation in place, you should be ready to shop for dog hunting vests!
Barkva.org is reader-supported. When you buy via the links on our site, we may earn an affiliate commission at no cost to you.
The 10 Best Dog Hunting Vests
1.
Our #1 Pick:

SafetyPUP Hi-Vis Vest
Features
For dogs from 61 to 100 pounds
300D Oxford weave
4 x 7.1 x 0.7 inches
Whether you're heading out for walkies with your pooch, or you want to make sure he stays safe when you're hunting, this hi-vis vest from SafetyPUP is our favorite from the cross-section we review today.
The 5 sizes run from XS through XL giving you plenty of choice to get a snug fit for Fido. This large vest is ideal for dogs from 61 through 100 pounds. The vest is also fully adjustable so tweak the straps and this thing should stay in place all day long.
The soft fabric is double-sided, so your dog should find this vest nice and comfy. The dense 300-denier Oxford cloth is not just comfortable, but built to stay the distance, too.
Finished in bright orange with reflective strips, your pooch will remain highly visible day and night.
Backed by a 100% money-back guarantee, give your pup a treat and save yourself a headache when you're hunting. For
Things We Like
Wide choice of sizings to suit
Comfortable and adjustable
Fluorescent orange for high visibility
Things We Dislike
Not ideal for more active dogs
---
2. 4LegsFriend Store Reflective Vest
Features
For dogs from 28 to 50 pounds
Soft-touch fabric
8 x 7.9 x 0.8 inches
For walks at night or hunting with your dog keeping you company, you need to make sure Fido stays seen. With this vest visible to 500 feet, you can both enjoy yourself without any concerns about safety. How does this thing shape up, then?
The orange vest is emblazoned with reflective prints. While it might look slightly garish, you're not buying a safety vest like this for the aesthetics.
Made from a durable soft-touch fabric that's resistant to rips and tears, you'll get a solidly constructed vest. A few users have complained about lifespan, but we feel you need to keep your expectations reasonable when buying a small and flimsy item like a vest.
Unlike many vests, this fabric is completely waterproof.
Easy to clean and wash, this is one of the smartest investments you could make or your hunting dog. If you're still in any doubt, perhaps the no-quibbles money-back guarantee might swing the decision. You've got literally nothing to lose.
Things We Like
500-feet visibility
100% waterproof
Reinforced stitching
Things We Dislike
Build quality could be improved
---
3. Illumiseen LED Dog Vest
Features
For dogs with 17 to 20-inch necks
Soft fabric
4 x 7.1 x 0.7 inches
If you've been looking for the best dog hunting vest and you feel you need something even brighter than the standard hi-vis offerings, Illumiseen serves up the ideal solution in the form of this LED dog vest.
For long walks in the dark or days hunting with Rover, he will always be highly visible when he's wearing this neon orange vest.
The key attraction is the strip of LED lights that remain always-on. These are powered by a small rechargeable battery that charges up via micro-USB in less than an hour. Be careful with the small and flimsy connection, though.
The vest is made from soft materials so your dog won't suffer from any chafing in pursuit of safety.
Thanks to the adjustable belt and the quick release buckles, you can put this vest on or remove it with ease. Once it's in place, fine-tune the belt so you get the perfect fit for Fido, confident he'll be clearly visible even if it's dark outside.
Things We Like
LED lights baked in
Adjustable belt
Quick-release buckles
Things We Dislike
---
4. RUFFWEAR Reflective Dog Vest
Features
For dogs from 22 to 32-inch girth
Polyester
20 x 16.5 x 0.1 inches
RUFFWEAR produce some first-class pet products, and this reflective vest continues that winning tradition in fine style.
Finished in a neon orange and decked out with reflective panels, your dog will be visible around the clock when he's wearing this vest.
Fully waterproof, you can give your dog at least some protection against any rain showers when you're out hunting.
The vest is super-light so you won't burden Rover while you're ensuring he stays seen. The fabric is soft and breathable, too.
This manufacturer takes pride in field testing their gear so you can rest assured this vest is built to cope with a bit of rough and tumble when you're out hunting with your furball by your side.
The straps make it easy to slip your pooch in and out of this vest so you won't be wrestling around when your hands are full of hunting equipment.
Whatever your intended purpose, if you want to keep your dog safe in gloomy conditions, this hi-vis vest is a must.
Things We Like
Bright orange with reflective panels
Waterproof
Highly durable vest
Things We Dislike
Neck opening not adjustable
---
5. Funtone Colors Store Hi-Vis Dog Vest
Features
For dogs with 19 to 25-inch necks
300D Oxford weave
6 x 6.1 x 0.9 inches
Next up in our quest for the best dog hunting vest comes from Funtone Colors Store. If you're shopping for high-vis vests on a budget, this is one of the cheapest options at your disposal that doesn't completely stiff you in terms of performance and lifespan.
Choose from neon yellow or orange to suit and to ensure that Rover is clearly visible from a distance whether you're jogging, hiking, walking, or hunting.
Made from a dense 300-denier Oxford weave, the fabric is built to withstand plenty of punishment.
A simple strap allows you to adjust the vest for a secure fit. You'll find it a cinch taking this vest off when you get home.
Waterproofed to safeguard your pup against all winds and weathers, the vest couldn't be easier to keep clean.
Although a handful of users have complained about the lifespan of this vest, we feel you're getting excellent value when you consider the bargain-basement price. See how you feel about this vest.
Things We Like
Great visibility day or night
Fully waterproof
Easy to clean
Things We Dislike
---
6. Browning Neoprene Dog Vest
Features
For dogs with 15 to 19-inch necks
Neoprene
2 x 8.1 x 0.5 inches
If you have a fluid budget and you're looking for an outstanding dog hunting vest from a brand you can trust, Browning delivers in no uncertain terms.
For any dog owners looking to take Fido out hunting, stealth needs to be uppermost. Complement your own camouflage gear by decking your dog out in matching camo. You can both stalk your prey without being betrayed by your clothing. If this colorway doesn't suit, there are 3 others to choose from.
There are just 2 sizes of vest available, 3mm and 5mm. This smaller version is intended for dogs with necks from 15 to 19 inches, while the larger iteration is meant for dogs with necks from 21 to 23 inches.
The straps across the back and sides of this vest allow for great adjustability.
Another neat touch is the trim-to-fit nature of the vest. Cut away the cloth from any high-friction areas and keep your dog feeling comfy all day long.
Made from neoprene, comfort is uppermost without compromising durability. This is the same material used to make wetsuits so a bit of rain or water will present no problems for the Browning.
Things We Like
Trim to size for a snug fit
Completely adjustable
Camouflage patterning
Things We Dislike
Not the cheapest dog hunting vest
---
7. Illumiseen LED Dog Vest
Features
For dogs with 17 to 20-inch necks
Soft-touch fabric
12 x 11.4 x 1.3 inches
Illumiseen is up again next with this LED vest for less than you'd pay for some of the more expensive reflective vests in a more traditional style. What's not to love?
Well, just about the only thing that many satisfied customers didn't love is the buckle on this vest. Several disgruntled users complained about the flimsiness and volatility of the fastening.
In all other respects, though, this is a superb solution for night-time walks or days spent hunting or hiking. During the day, the bright orange vest with its reflective strips is enough to make sure Fido stands out at a distance. When it gets darker, the integrated LED lights bring him into view for other pedestrians, road users, or fellow hunters.
There are 5 sizes to choose from here. This small version is designed for dogs with necks from 17 to 20 inches making it a good fit for small and medium breeds.
Despite all this tech baked in, you get a superlight vest your dog can wear for hours without feeling burdened.
Things We Like
2 rows of LED lights
Reflective strips
Soft and lightweight
Things We Dislike
---
8. Yoyoung Camo Pet Vest
Features
For dogs with 19 to 24-inch necks
Mesh
7 x 9.4 x 3.25 inches
As we edge to the end of our reviews, we've got another excellent camo vest, this time from Yoyoung. Now, this is not the most recognized brand, so what do you get if you're prepared to take a chance on an unknown?
The core purpose of this vest is a life preserver, so you'll get a waterproofed piece of kit that's built to last.
The camouflage pattern is not the best fit if you're looking for something to keep Fido visible when you're walking at night. If, however, you're hoping your dog blends in while you go out hunting this season, you're in safe hands.
This is the largest of the 4 sizes available. The sizing chart shows that this iteration works well for pups with necks from 19 through 24 inches.
Velcro straps and quick release buckles mean you won't be faced with an uphill struggle getting your pooch in and out of this vest.
If you're looking for a dog vest for hunting, this is one of the strongest examples at your disposal alongside the Browning above.
Things We Like
Highly reflective
Top handle for easy maneuvering
Secure and adjustable fit
Things We Dislike
Seams could be more robust
---
9. InnoPet Dog Jacket
Features
For dogs from 44 to 55 pounds
Waterproof fabric
6 x 11 x 3 inches
Do you live somewhere with a cooler climate? If so, you owe it to Rover to get him the right clothing for the conditions. If you want a hunting vest to suit, this fleece-lined gem from InnoPet should be your first port of call.
Choose from an orange or orange and black vest, both giving first-class visibility at a distance.
The fully waterproofed vest stops your pup's coat from getting soaked through if you're caught out in a shower. The vest also offers ample protection against the wind, making it a far more substantial option than the other vests we review today.
The only real gripe we could find about this vest in a sea of positive user testimony concerns the webbing not extending across the chest. We feel this is a small and negligible price to pay considering the quality, lifespan, and performance of this hunting vest.
Things We Like
Lined fleece
Adjustable drawcord
Windproof and waterproof
Things We Dislike
Front webbing doesn't cover chest
---
10. Hurtta Polar Visibility Dog Vest
Features
For dogs with 19 to 22-inch necks
Softshell fabric
4 x 7.1 x 0.7 inches
Hurtta makes a series of brightly colored dog vests ideal for hunting, walking, or hiking with your hound.
Choose from yellow, orange, purple, or green depending to suit. Each vest comes with substantial 3M reflectors on either side. The vibrant color of the vest is enough to guarantee your dog is visible during the day, while the reflectors pick up the baton at night.
The next choice you'll face concerns sizing. This vest runs from XXS through XXL, with this model rated XL.
The softshell fabric is comfy enough for your dog to wear for extended periods without any itching or scratching. The vest is also designed to flex with your dog's movements so he won't feel encumbered or tempted to try taking the vest off.
We would like to see a lockable zipper in place, but there's not much else we can knock about this top-notch vest. Treat Fido to the Hurtta Polar and you can head out in the dark without any niggling concerns about his safety.
Things We Like
Oversized 3M reflectors
Water-resistant
Rustle-free construction
Things We Dislike
---
Conclusion
Whatever your reasons for buying a hunting vest for your hound, you should now have a bunch of options up your sleeve.
Think closely about why you're buying one of these vests. A few minutes spent on this before whipping out your credit card can save you from a wasted purchase.
Whether you want a camo vest for maximum stealth, or an LED-equipped vest for enviable nighttime visibility, we'd brought something for everyone today. If you spot a vest that's not on our list, pay attention to our buying guidance at the beginning and you'll have no problem finding the best vest for your dog.
Bookmark BarkVA before you head off today, and be sure to pop back soon!