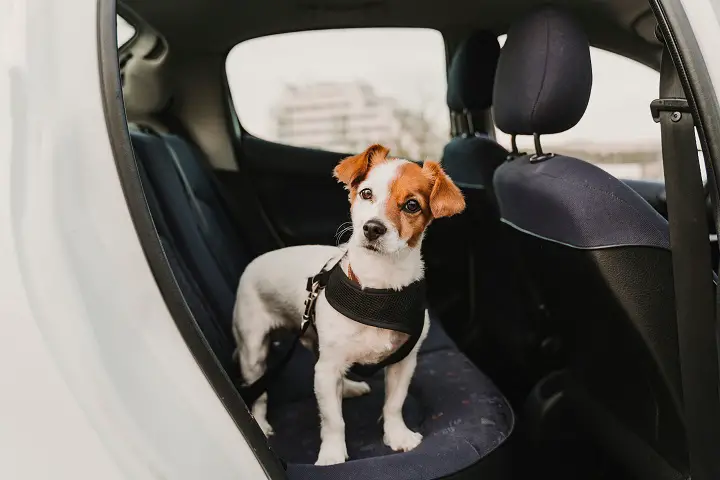 Are you partial to heading out on a car journey with your dog?
If so, allowing your dog to roam around in the car unrestrained is a reckless mistake.
While this is not ideal on a short trip across town, if you're heading on a lengthy road trip, it's crucial to use some method of containing your furry friend.
Setting the poor option of leaving your dog unfettered, what can you do, then?
Well, you have two main options that make sense:
Dog harnesses for car travel
Dog crates and carriers for car travel
Here's some more information on the best dog crates and carriers for car travel.
For a study of the best dog harnesses for car travel, read on…
Dog harnesses work best for car travel if you have a trained dog capable of towing the line.
If the temperament of your dog is right, you should have no problems making him feel comfy enough in the car while resting confident he is fully secured in the event of any kind of auto accident or incident within the car.
If you've asked yourself how a dog harnesses for car travel work, the principle is simple: your dog is restrained just like in a regular harness. The harness is then attached to the car seat or car seat belt ensuring your canine rides safe at all times.
How about if you have a very docile dog perfectly willing to sit still for a long journey? Why do you need to buy dog harnesses for car travel, then?
Well, things don't always go to plan. Even if your dog is inactive during a long trip, your dog could be in danger and could also endanger all other passengers on board if you crash. A traffic crash can transform a pleasant drive into a tragedy…
When your car is traveling at 25 miles per hour, a strong collision can cause your dog to dash forward with the force of 40 times its weight. Imagine a huge dog slamming into you at force and snapping your neck, at the same time throwing you through the windshield at enormous speed.
Don't let that happen.
Here are some factors you need to pay attention when choosing to buy dog harnesses for car travel.
Size matters: As with any harness, you need to start your buying decision by sizing up your dog's neck and chest in inches. Make certain you get this right and spend the time to read a few user reviews. Check that sizing runs true and there are no highlighted issues here or the harness could end up an expensive mistake
Design: You should make certain the harness is designed to be safe and escape-proof. Look for front chest pads to give your dog a comfy ride while protecting him in the event of an impact
Adjustability: Check that any harness you're considering has sufficient points of adjustability to streamline fit to your dog
Ease of use: Any harness you use on a regular basis needs to be easy to use and straightforward to get your dog in and out of
Colors: Think about how much importance you place on the color of the dog harness and choose accordingly
The law in your state: You should carefully study the laws of the states you will pass through. Some states prohibit dogs in cars and some have regulations stipulating how dogs need to be safely carried
Choose to buy a dog harness for car travel right now and avoid all these problems: check out our 8 picks!

BarkVA is reader-supported. When you buy via the links on our site, we may earn an affiliate commission at no cost to you.
I. The 8 Best Dog Harnesses for Car Travel
1.

Our #1 Pick:

Kurgo Dog Harness
The Kurgo dog harness is our overall favorite if you're looking for a safe and easy means of taking your dog with you on your next road trip.
You get everything you need bundled to teach your dog how to head out on a leash without pulling.
Kurgo also throw in all you need to take your hound in the car including a dog seat belt.
Choose from a wide range of sizings from XS through XL. As a benchmark, the large harness is intended for dogs with necks from 18 to 30 inches and chests from 24 to 34 inches.
If you're still not convinced, the lifetime guarantee should remove any concerns from purchase.
Things We Like:
Available in sizes to suit most breeds
Helps teach your pooch not to pull when leash training
Lifetime guarantee for complete peace of mind
Things We Dislike:
A few issues with quality control
---
---
2.

Runner-Up:

PoyPet No-Pull Dog Harness
If you fancy a brightly colored harness, PoyPet serves you up with a broad bench of striking no-pull harnesses for your furball.
Take advantage of the multiple adjustment points on the straps so you get a snug fit whatever the shape and size of your pug.
The fabric is lightweight and highly breathable but also durable enough to withstand plenty of punishment.
If you often head out at night with your dog, the reflective strips on this ensure you and he both stay safe.
The only real issue with this harness comes from a few owners who have suggested it's a little scratchy around their dog's chest area.
Things We Like:
Massive choice of colorways
Breathable fabric is also rugged and built to last
4-way adjustable straps for a customized fit
Things We Dislike:
A few complaints about scratchiness around the chest
---
3. Lukovee Dog Safety Harness
The sizing of this dog safety harness for car travel is one of the key selling points. Choose from a class-leading 6 variants starting at triple XS for smaller teacup breeds and running all the way up to a much larger harness.
If you have an especially bulky or boisterous dog, this harness is probably not the best fit. While it's not likely to come apart in use or otherwise let you down, you might nevertheless find it slightly fragile for comfort.
Easy to adjust with buttons, you can guarantee a snug fit for your furball when you're heading on your next trip.
Once you hit your destination, all you need to do then is hitch up a retractable leash, and you can make use of your harness on the go, too.
Things We Like:
Wide range of sizes running from XXXS through L
Wraps tightly around your dog without any discomfort
Quick release for your convenience
Things We Dislike:
Not the most robust of harnesses
---
4. Pawaboo Dog Safety Harness
If you're hunting for a bargain, the Pawaboo is one of the most cost-effective harnesses for car travel that doesn't stiff you on the performance front.
If you have a bigger dog, this harness is not for you. For all other dog owners, the Pawaboo is a solid and reliable ally when you're heading out in the car with your hound. Compatibility extends to pretty much all vehicles so you're spoiled by Pawaboo.
The fabric is designed to deliver remarkable endurance while your pup will feel comfortable at all times.
Aside from its unsuitability for bigger breeds, this harness is another home run from Pawaboo.
Things We Like:
Outstanding price/performance ratio
Easily attaches to your car seat
Rugged yet comfortable for your pooch
Things We Dislike:
Not suitable for larger canines
---
5. Blueberry Solid Color Harness
If you're looking for a harness in just about any color of the rainbow, Blueberry is the obvious choice.
You'll get a solid construction with this harness made from dense nylon. This is rugged enough to withstand some pretty rough punishment without unleashing your hound.
The choice of sizes is also first-rate with this harness.
One thing to note is that you're getting only the harness here. The leash and collar and both available separately. This manufacturer also offers personalized collars so you can easily identify
As long as you don't mind buying a few add-ons, this dog harness for car travel is well worth popping on your shortlist. It's affordable, colorful, and will keep your pooch safely secured.
Things We Like:
Huge choice of color schemes
Nylon reinforced with dense webbing
Decent spread of sizes to suit most breeds
Things We Dislike:
You need to buy a collar and leash separately
---
6. SlowTon Dog Car Harness
SlowTon is a solid and reliable brand in the pet space so what do you get for your money with this dog harness?
Well, coming in a broad spread of sizes, you should find something to fit most dogs, big or small. As with all of these harnesses, it's typically easier to find something suitable for smaller dogs, though.
There's a retractable leash available that allows you to shift seamlessly from securing your dog in the car to keeping him safe as you walk the city streets or roam in the country.
Coming in a deep bench of colorways, there's no excuse not to find a color that brings out the personality of your pooch.
The only real downside of this harness comes in the less than stellar build quality, something to be expected at this price point.
Things We Like:
You can find this harness in sizes to fit most breeds
Easy to transport your pooch in the car using this harness
Use with the retractable leash as a regular harness, too
Things We Dislike:
Some snags with build quality as you'd expect from a budget harness
---
7. RUFFWEAR Dog Harness
RUFFWEAR is a heavyweight in the dog vertical so where does this harness for car travel stand out?
First up, this harness sails through all tests for strength. It's also fully crash-tested so you know your pooch will be safe even in the event of something going amiss. Passing all safety regulations, you can buckle your canine up with complete confidence.
Whether you're heading across town or across country, this is a solid and reliable method of containing your pup even if he's pretty willful or prone to pulling a Houdini.
Things We Like:
Ideal for short or long car trips with your pooch
Fully crash-tested and strength-rated
Tested in line with Federal Motor Vehicle Safety Standard 216
Things We Dislike:
Not the cheapest harness at your disposal
---
8. Mighty Paw Dog Harness
Last but certainly not least, the Mighty Paw dog harness is proudly made in the US allowing you to buy with complete confidence.
Built to stay the distance while also ensuring your furball remains as comfortable as possible, this set-up is lightweight enough not to burden your pup but solid enough to keep him safely contained.
The only real niggle with this harness for car travel is the relative lack of choice when it comes to both sizing and colors. Set that aside and you'll get a combination of great value, outstanding build quality, and comfort combined with safety. What's not to love?
Things We Like:
US-based business so buy with confidence
Breathable and lightweight harness
Exceptional build quality
Things We Dislike:
Not a great choice of sizes or colors
---
II. Conclusion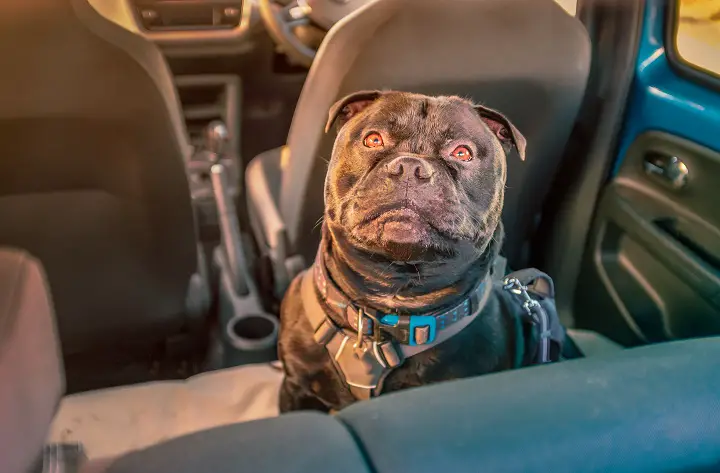 Now, you might have started out today with no real idea about the best dog harnesses for car travel. By now, that should have changed.
Stick with the harnesses we review and you're in safe hands. Opt for a model we don't highlight today, and we'd urge you to take our buying guidance in mind. Do this and you should have no problem at all finding a suitable harness for your needs.
Drop us a line and let us know what you feel is better, a harness or a crate for car travel. We also welcome any feedback or suggestions.
Before you head off on your trip, bookmark BarkVA and pop back any time you need some guidance. We're here to help you with all things canine from tips on training your dog to all the best dog equipment. We have a busy slate lined up for the coming month so head back soon and we look forward to helping you in any way we can.