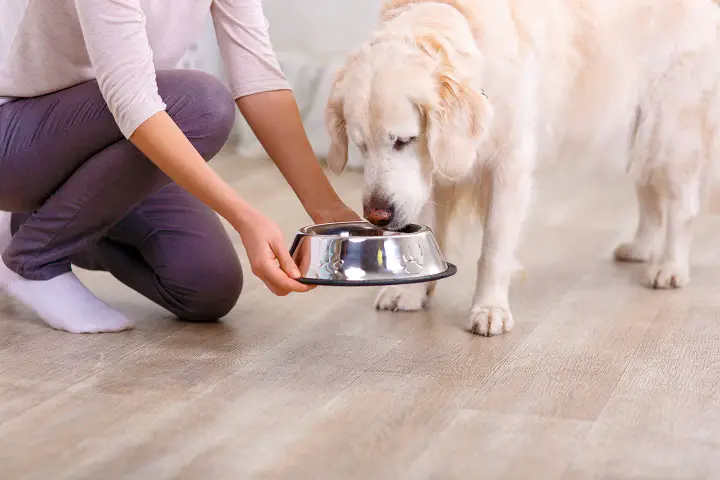 If you've owned dogs before, you'll know they're more likely to become obese than underweight.
That said, there are a number of situations in which your pooch may need to pack on the pounds. Luckily, you need little more than the best dog food for weigh gain to achieve this.
Today, we'll be highlighting the top 10 foods designed to help Fido put on some size.
Why might he be underweight in the first place, then?
Well, the first thing you need to be clear about is the fact low body weight in dogs is a symptom and not a disease. It could be due to an underlying health condition, so you should consult your vet and arrange a checkup for Rover.
Some of the most common reasons for low body weight in dogs are:
Diabetes
Liver disease
Dental problems
Inflammatory bowel disease
Exocrine pancreatic insufficiency
Intestinal parasites
Illness
Surgery
Anxiety
Thyroid Problems
Anxiety
While normalizing lower body weight in adult dogs is not problematic, you shouldn't try to force your new puppy's growth along. Instead, look for a dog food for puppies.
While there are several legitimate reasons for trying to increase your dog's body weight, trying to get your young puppy to grow more quickly is not a good idea. Puppies need to grow slowly and gradually so their skeletons develop properly.
Assuming your vet diagnoses the underlying issue responsible for your dog's weight loss, he will then let you know how best to approach addressing it. Sometimes this might require medical intervention, but you can usually achieve it by switching your dog up to a high-calorie diet. Look for dog foods with a high protein and fat content for this purpose.
Once you've got the right dog food for weight gain – and we'll make that easy for you with our top 10 below – there are also some additional steps you can take to address an underweight canine.
Improve the quality of the dog food you're giving Fido, and make sure it's easy to digest and easy for him to absorb all the nutrients. This might mean paying more but it's worth it
Give your dog as much exercise as possible so he'll build lean muscle
Feed your dog three or four times a day instead of twice. Reduce portion sizes so he doesn't go to the other extreme and become obese
Use wet food to make eating more appealing
Introduce a range of high-calorie snacks
Increase portion sizes
OK, with those pointers to consider in place, it's time for our reviews of the top 10 dog foods for weight gain so you can see if any make the right fit for Fido.

Barkva.org is reader-supported. When you buy via the links on our site, we may earn an affiliate commission at no cost to you.
The 10 Best Dog Food for Weight Gain
1.

Our #1 Pick:

 Crave High-Protein Dry Dog Food
Type: Dry formula
Design: Adult
First 3 ingredients: Chicken, chicken meal, split peas
Best for: Small to large adult dogs
Price: $$
If your pup is slightly underweight and you need to switch up his food to something more calorie-dense, Crave has a superb solution with this dry dog food.
Like all the best dog foods for weight gain, this formula is loaded with protein. There's 34% protein here, and it's derived from the real chicken which features as the first ingredient here.
The carbs in this food come from grain-free sources – peas, for example – so you'll give Rover all the energy he needs without inflaming his stomach.
As well as all those vital nutrients, you won't get anything you don't need in this stuff either. There's no corn, no wheat, and no soy. There's no grain as we mentioned, and there are no artificial colors or preservatives.
If your furball has been struggling with his food and he's underweight, give him a taste of the wild with this effective weight-gain formula and he should be back to normal in no time.
Things We Like
Made from real ingredients
Animal protein as first ingredient
34% protein for weight gain
Things We Dislike
Some issues with quality control
---
2. Purina Pro Plan Sport Dry Dog Food
Type: Dry formula with prebiotic fiber
Design: Adult
First 3 ingredients: Chicken, corn gluten meal, brewer's rice
Best for: For all life stages
Price: $$$
When you need your dog to pile on some weight, you'll want the right high-calorie dog food to make that easier. The ever-impressive Purina delivers the expected home run with this Pro Plan Sport dog food ideal for all life stages.
The 30/20 formula sticks with what works best for canine weight gain: 30% protein and 20% fat. That protein comes from real chicken, listed as the first ingredient. This should be all you need to encourage lean muscle growth in an underweight dog.
Those growing muscles will need nourishing, and the amino acids in this formula meet that need head-on. Glucosamine and fatty acids ensure his joint health isn't overlooked.
For complete and balanced nutrition, and a formula that should help lightweight dogs pack on some size, you can rely on Purina to meet the needs of your furball.
Things We Like
30% protein and 20% fat for weight gain
Amino acids for muscle nourishment
Real chicken as first ingredient
Things We Dislike
---
3. Nulo Limited Ingredient Dry Dog Food
Type: Dry formula with probiotics
Design: Adult
First 3 ingredients: Deboned salmon, salmon meal, chick peas
Best for: Adult small breed dogs with
Price: $$
When you want your dog to put on weight, opting for a high-protein food is one surefire way of achieving that. Nulo serves up this limited ingredient formula that's crammed with fresh ingredients, so what do you get for your money?
Well, of the multiple sizes available, this 22-pound bag is not cheap, but it represents solid overall value considering the quality of the contents.
Protein comes from real salmon, the first ingredient and a powerhouse source of protein.
Overall, the formula is designed to support dogs with allergies, so you shouldn't find it provokes any sensitivities in Rover. And, if your pooch does have any sensitivities at all, the probiotics loaded into this food should streamline digestion wonderfully.
As well as being high in protein, this food is fittingly low in carbs, so you'll be getting pretty much everything you need in a dog food for weight gain alongside absolutely nothing you don't.
Things We Like
Fresh natural ingredients
Probiotic support
Allergy-friendly formula
Things We Dislike
Some issues with packaging
---
4. Ziwi Peak Canned High-Protein Dog Food
Type: Wet food
Design: Adults
First 3 ingredients: Beef, beef lung, beef kidney
Best for: For all life stages
Price: $
Maybe your dog is underweight, and part of the reason is that he just doesn't like dry dog food. While it might be recognized as the nutritionally superior option, some dog just don't enjoy kibble, so why not switch up to some wet food?
This formula is packed with 91% meat. You don't get any inexpensive carbohydrates often used to bulk out cheaper and less effective dog food. You won't get any low-quality fillers either.
The protein is sourced from beef giving your dog all he needs to start packing on some muscle rather than wasting away.
Suitable for all life stages and all breeds, this is one of the most versatile wet foods out there for your dog, and it's also ideal if you need him to get a little bigger.
Things We Like
91% meat formula
Packed with amino acids
No cheap carbs or fillers
Things We Dislike
Some problems with dented cans
---
5. Solid Gold High-Protein Wet Dog Food
Type: Wet food
Design: Adult
First 3 ingredients: Beef, ocean fish meal, potato protein
Best for: For all life stages
Price: $$
If you feel you need to change your dog's food in order to help him put on weight, a high-protein formula is a must.
As an added incentive, giving Fido some wet food might prompt him to wolf down more and put on some size.
This formula is packed with beef. It's the first ingredient here and a prime source of protein. With a whopping 41% protein content perfect for weight gain, you'll have a plumper pooch in no time.
We appreciate the way the manufacturer stands behind this food. If your dog won't eat it, or you're in any way unhappy, just call up for a refund. We wish more brands offered this level of support. The best news? This popular food is so well-loved, there's very little chance you'll be taking advantage of that satisfaction guarantee.
Things We Like
Perfect for puppies, adults, and senior dogs
Loaded with probiotics and prebiotics
100% satisfaction guarantee
Things We Dislike
Taste not to the liking of all dogs
---
6. Nature's Logic Dog Food
Type: Dry formula
Design: Adult
First 3 ingredients: Chicken meal, millet, chicken fat
Best for: For all life stages
Price: $$
Nature's Logic manages to deliver a dog food that's well-suited to weight gain without costing a fortune, and without forcing you to compromise on the quality of ingredients either.
This is versatile formula intended for all life stages, making it a neat choice if you have several dogs at home.
You get a high protein content in this food, and it comes from multiple sources. If your dog has a sensitive stomach, this might not be ideal, but otherwise, he'll get all the help he needs for the lean muscle growth key to weight gain.
The food is designed to slide down easily, too. Rover should have no snags digesting this stuff. The dry food comes coated with enzymes and probiotics to smoothen the digestive process.
While most user testimony is positive, we found some isolated complaints from owners of larger dogs who claimed their dogs rejected this food.
Things We Like
Promotes proper digestion
Multiple proteins
No added vitamins and minerals
Things We Dislike
Not as good for large dogs
---
7. Wellness CORE Wet Dog Food
Type: Wet food
Design: Adult
First 3 ingredients: Chicken, broccoli, cassia gum
Best for: For all life stages
Price: $$
Wellness is a household name in the pet food vertical with just cause. All their food is made from premium ingredients, and this wet CORE food is well worth popping on your shortlist if you need your dog to pile on some weight.
The formula is largely grain-free, but not entirely so. If your pooch suffers from a sensitive stomach, this may be problematic, but for most dogs it will provide a great and protein-dense way to get bigger.
This wet food can be served alone, or you can mix it up with some kibble if you want your pup to chow down even more.
The minerals and vitamins in this food help your dog's overall immune system to strengthen as he puts on size.
The protein content of this food is high, so you'll notice your dog putting on lean muscle size and weight if he likes the taste of this stuff.
As with all wet dog food you buy online, you may encounter some issues with damaged cans. This issue set aside, you're getting one of the best dog food for weight gain out there from a brand you can rely on.
Things We Like
95% grain-free formula
Minerals and vitamins for immune support
Loaded with protein for weight gain
Things We Dislike
Some reports of damaged cans
---
8. Blue Buffalo Wilderness Rocky Mountain Recipe Dog Food
Type: Dry formula
Design: Adult
First 3 ingredients: Deboned bison, fish meal, peas
Best for: For all life stages
Price: $$$
Blue Buffalo makes a wide variety of highly effective dog food replicating the diet he would eat in the wild. This Rocky Mountain Recipe is enduringly popular and ideal for weight gain purposes.
Off the bat, your pooch will enjoy protein derived from real deboned bison, the first ingredient in this protein-dense food,
This is dry food, although you can also find this formula as wet food. Sometimes, the added tastiness of wet food is what a dog needs when he's struggling to eat enough. Experiment and seek the advice of your vet.
All the ingredients in this food are natural, and alongside the nutrients are all the balanced mineral and vitamins your furball needs.
Despite some isolated complaints about the nutrition profile of this formula, dog owners the world over rave about this stuff, so why not offer some to Rover if he is underweight and in need of some assistance?
Things We Like
Loaded with protein from real bison
All-natural ingredients
Studded with vitamins and minerals
Things We Dislike
Nutrition profile could be improved
---
9. Purina ONE SmartBlend Wet and Dry Dog Food
Type: Dry formula with freeze-dried raw food
Design: Adult
First 3 ingredients: Chicken, brewer's rice, chicken meal
Best for: For all life stages
Price: $$
As we edge to the end of our quest for the best dog food for weight gain, we have another entry from the ever-reliable Purina with the ONE SmartBlend formula.
Suitable for all life stages and all breeds, you'll get food that's crammed with 30% protein content. This should be more than enough for your dog's lean muscle to grow, and with it his weight to increase. By eating a diet heavy in protein, he'll put weight on without getting fat.
The formula is completely grain-free, making this a smart choice if your dog has allergies or a sensitive stomach.
Real chicken is the first ingredient so you're giving Fido exactly what he needs.
As well as delivering on the weight gain front, the ingredients in this food also support coat and skin health. You can trust Purina to deliver, so pop this weight gain dog food on your shortlist.
Things We Like
Nutrient-rich
Grain-free formula
30% protein for weight gain
Things We Dislike
Some inconsistencies in packs
---
10. Taste of the Wild Dry Dog Food
Type: Dry grain-free formula
Design: Adult
First 3 ingredients: Water buffalo, lamb meal, chicken meal
Best for: For all life stages
Price: $$
If all else fails when you're trying to get a smaller, underweight pup to eat more, reintroduce him to a taste of the wild.
This dry dog food is flavored with real water buffalo, the primary ingredient and a first-class source of protein. This is 32% of the content, giving your hound's muscles all the fuel they need to grow.
Antioxidants, prebiotics, and probiotics all come together to strengthen your dog's immune system, so he won't just put on weight, but he'll also stay healthy as he grows.
The formula is also dense in vitamins and minerals so your dog will get a shot of whole-body goodness.
Made by a family-owned and family-run company in the USA, you can give your dog a taste of the food his ancestors would have thrived on with this all-natural extravaganza from Taste of the Wild.
Things We Like
32% protein for weight gain
Real water buffalo
Packed with probiotics
Things We Dislike
---
FAQs
1) When is weight loss in dogs considered clinically significant?
If weight loss amounts to more than 10% of your dog's total body weight, this is considered a clinical issue that needs addressing. This can be achieved using medication, or also by changing your dog's food to one high in fat and protein. This means that larger breeds might need to lose ten pounds before it becomes a concern, whereas even a pound of weight loss on a teacup breed can be a legitimate problem.
2) What are some of the most obvious signs that my dog is underweight?
In many dogs, obviously visible ribs points to weight loss. This is not a failsafe marker, though, as some breeds have very low fat reserves in these areas. If you notice your dog's energy levels flagging, this a red flag that he could be underweight and in need of packing on some size. Changes to eating habits and a change in the condition of his coat could also point to looming weight issues.
3) How many times each day should I feed my dog when I want him to gain weight?
Feeding Fido three or even four times a day is a sound strategy if you're looking to achieve weight gain. If you break his meals up into more and smaller portions, you may be able to get him to consume more calories over the course of the day without getting bloated or leaving food unfinished.
4) What is an ad libitum feeding strategy and does this work for weight gain purposes?
This is the Latin phrase used to describe leaving out food for your furball all day long. In many cases, this is the best method of encouraging an underweight dog to eat more and to pack on a little size.
5) Is it worth using treats as well as weight gain dog food?
Absolutely! Shower Rover with high-calorie treats when he behaves himself and help him put on some weight safely and easily.
6) Can I use a puppy food to help an adult dog gain weight?
Yes, in the short-term, this can be an effective strategy. Puppy food is especially high in fat and calories to support those vital growth stages. If you need to give your dog some extra calories, using a puppy formula is worth considering.
7) Are any canine weight gain supplements worth using?
The jury is out here. Some of these expensive supplements can work, but here at BarkVA, we advocate as natural an approach as possible. If you feed your furball plenty of the right type of food, you shouldn't need any supplements for the purposes of weight gain.
8) Is it worth making my own homemade dog food?
In a word, no. Your chances of producing a balanced recipe with everything a dog needs is slim. You could even end up worsening your dog's health and causing long-term problems through nutritional deficiencies. Check out a food intended to help with weight gain instead
---
Conclusion
We sincerely hope that you now have a clear idea of how to give your furball a helping hand if he is below his recommended weight and needs to pack on a few pounds.
Choosing a premium food may cost a little more, but you'll ensure your dog has all his nutritional needs met. When it comes to finding the best dog food for weight gain, go for high-protein and high-fat food with a minimal carb content and you can't go wrong.
You can't go wrong, either, if you stick with any of the foods on our shortlist above. Beyond that, you'll be able to buy with your eyes wide open and a clear overview of their benefits and drawbacks.
One last thing before you go. Bookmark BarkVA as your go-to resource for information on all aspects of pet ownership. We bring you fresh content on a regular basis to make your life easier, and your dog's life better and healthier. See you soon!
As an Amazon Associate, we earn from qualifying purchases - at no cost to you, allowing us to continue our work.