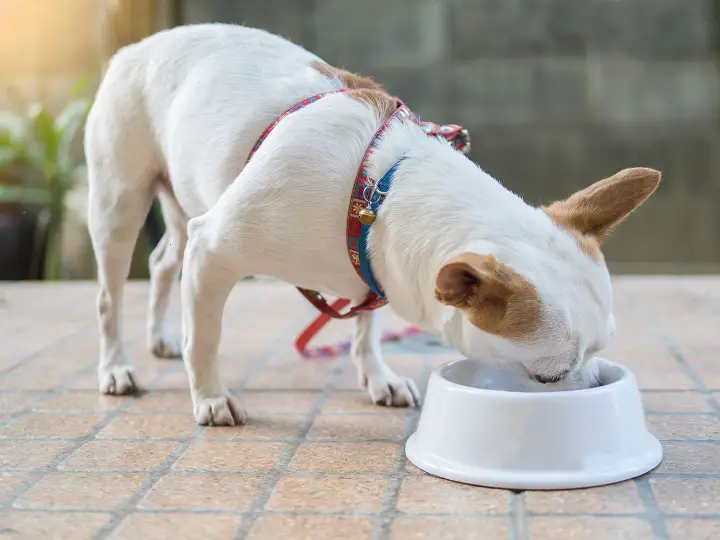 Chihuahuas are tiny and distinctive dogs and the oldest breed on the American continent.
Generally healthy, Chihuahuas live from 12 to 17 years on average.
Although your dog enjoying a long life might not seem like a problem, because Chihuahuas live long lives, they tend to pick up a variety of health problems along the way. You see, with canine conditions like diabetes, arthritis, and obesity, it takes years for these issues to develop and become problematic. By this stage, a dog with a shorter lifespan would already be dead.
Chihuahuas also face several congenital health problems. Feeding your chi the right food can help to prevent or delay some of these problems.
According to AAFCO (the Association of American Feed Control Officials), these are the minimum requirements for key nutrients when you're feeding your furball:
22% protein (for growth and reproduction)
18% protein (for adult dogs)
8% fat (for growth and reproduction)
5% fat (for adult dogs)
Chihuahua puppies require lots of protein. This helps to fuel growth and healthy development.
As your chi enters adulthood, ample protein intake ensures his lean muscle mass is adequately supported. On an ongoing basic, fat is a highly concentrated source of calories ideally suited for the metabolism and overall body condition of your dinky little pup.
Now, to achieve these requirements, you need to feed your chihuahua with high-quality dog food made from real whole food sources.
Beyond this, you should ensure that animal protein – meat or poultry, for instance, is one of the primary ingredients.
Look for foods with above-average fat content and restricted carb content.
As a Chihuahua owner, you owe it to your dog to find out as much as you can about how to feed him the right way. These unique dogs present their own challenges when it comes to proper nutrition, so we hope today's guide helps you out.
We'll be reviewing the top 10 Chihuahua dog foods next so you can accurately assess the many options at your disposal.
Once we're done with our reviews, we'll double back with a buying guide showing you exactly what you need to consider when you're looking for the best Chihuahua dog foods.
Enjoy!
Barkva.org is reader-supported. When you buy via the links on our site, we may earn an affiliate commission at no cost to you.
I. The 10 Best Dog Food for Chihuahuas
1.

Our Pick:

 Blue Buffalo Small Breed Dry Dog Food
Chicken and brown rice
15 pounds
Adult dogs
Our standout favorite of all the Chihuahua foods we reviewed today comes from the inimitable Blue Buffalo. This brand has been in business for decades helping dog owners just like you.
This dry dog food comes in several flavors. This formula is chicken and brown rice, so consider your pup's tastes and choose accordingly. You'll always need to be prepared with any new dog food that your mutt will not like it.
You benefit from real meat as the first ingredient here, something your chi will appreciate as he needs plenty of protein from quality sources like this.
In addition to the meat, the formula is also loaded with fruits, veggies, and whole grains.
The kibble is sized to match the small jaws of Chihuahuas, while the LifeSource bits are packed with antioxidants to promote overall health.
You won't get any chicken by-product, no corn, no soy, and no wheat either. The all-natural ingredients in this formula give your Chihuahua everything he needs and nothing he doesn't.
While you'll find a number of complaints about the small LifeSource pieces – many dogs don't seem to enjoy these – overall user feedback concerning this Blue Buffalo dog food is overwhelmingly positive.
Things We Like
Real meat as first ingredient
Antioxidant-rich
All-natural ingredients
Things We Dislike
Not all dogs like small vitamin pieces
---
2.

For Chihuahuas Puppies:

Blue Buffalo Small Breed Dry Dog Food
Chicken and oatmeal
15 pounds
Puppies
Chihuahua puppies have special dietary needs, and the highly reputable Blue Buffalo serves up a formula perfectly tailored to meet those needs.
This chicken and oatmeal recipe should appeal to most dog's taste buds and will give your Chihuahua a taste of the wild at home.
This formula is specifically designed to promote healthy muscle growth thanks to the protein from high-quality sources. Real meat is the first ingredient here, something you should always look for in the best dog food for Chihuahuas.
You'll also ensure that your pup's brain and eyes develop thanks to the essential fatty acids in the formula.
Chihuahuas have small jaws, so you'll benefit from small pieces of kibble here that your pup will lap up without straining himself.
There are no artificial flavors, colors, or preservatives in this stuff. You won't get any chicken or poultry by-products either, and you won't subject your chi to corn, soy, or cheap fillers either.
While Blue Buffalo dog food isn't the cheapest option at your disposal, if you're interested in providing your pooch with the best chance in life, invest in his dietary care, or allow Blue Buffalo to handle it for you.
Things We Like
Supports healthy growth
No corn, wheat, or soy
High-quality protein
Things We Dislike
The life bits in formula polarize opinion
---
3.

For Senior Chihuahuas:

Wellness Complete Health Small Breed Food
Deboned turkey and peas
4 pounds
Senior dogs
Next up we have the perfect solution of you're looking to feed your elderly Chihuahua with the best dog food. Wellness has a deep line of canine foods all designed with specifics needs in mind. In this case, you're getting a formula that's expressly tailored to meet the demands of senior small breeds like Chihuahuas.
The key selling point here is the premium proteins you'll be delivering to your chi. This deboned turkey and peas formula gets protein from whitefish, a high-quality source that also happens to be packed healthy fatty acids – Omega-3s – that support skin and coat health while also bolstering overall body health in your Chihuahua. Flaxseed in the mix helps add even more luster to Rover's coat.
This formula also contains blueberries, rich in vitamins and minerals. Peas are another solid source of protein and complete a powerhouse of a formula that should have your dinky dog repeatedly coming back for more.
The food is also loaded with wholesome grains which can help aid digestion.
Most users are effusively positive about the quality of this dog food for elderly Chihuahuas. The few complaints we found concern some dogs getting gas after wolfing down this food. We feel that's part and parcel of dog ownership, albeit not a very fragrant one!
Things We Like
Wholesome grains
High-grade proteins
Made in the USA
Things We Dislike
---
4. Wellness CORE High Protein Dry Dog Food
Turkey
4 pounds
Adult dogs
Wellness delivers some highly effective dry dog food in a small and value-packed 4-pound bag. How does it shape up, then?
Well, the first thing you'll appreciate if you own a Chihuahua is the way the calorie content and protein levels of the formula are tailored to the specific requirements of small breeds.
As well as being packed with protein from premium sources, the formula is also grain-heavy, and these are wholesome and nutrient-dense grains, too.
It's not just protein and grains in this stuff, though. The antioxidants will protect your chi's body from the damage caused by free radicals. You'll also find glucosamine, and taurine, contributing toward heart health in your pooch. Probiotics help your dog's digestion and overall gut health.
You get no meat by-products at all, no soy, no corn, no grain, and no wheat gluten. With no artificial additives either, you're getting an all-natural formula you can trust.
This turkey-flavored formula is made in the USA, so you can buy with complete confidence knowing you're buying into a highly reputable brand with the interests of your furball at heart.
Things We Like
Ideal calorie content for small breeds
Whole-body health
Antioxidant-rich
Things We Dislike
Not great for kibble-eaters
---
5. Blue Buffalo Wilderness Rocky Mountain Recipe
Red meat
4 pounds
Adult dogs
Blue Buffalo enters the fray once more with this Rocky Mountain Recipe from the enduringly popular Wilderness line. What do you get for your money, then?
This food is intended for adult small breeds. If you have a chi puppy, we'd recommend one of the other puppy-centered formulas we review. If you have an adult chi read on.
This red meat flavor should appeal to your hound and you'll help him to pack on plenty of lean muscle if he eats this food in the recommended quantities – see our guide below outlining best feeding practice. Chihuahuas get very easily obese if you overfeed them, so use a light touch as obesity can trigger a range of health problems in small breeds.
The grain-free formula harnesses protein from premium sources. You get plenty of antioxidants and a balanced spread of vitamin and minerals.
What you don't get in dog food is just as important as what you do get. In this case, there are no chicken and poultry by-products, no corn, soy, wheat, or preservatives either.
If you feed your Chihuahua the right amount of this food, you'll encourage lean muscle mass to grow, and you'll ensure he is in optimum health so he can enjoy a lengthy life as your faithful sidekick.
Things We Like
Helps with lean muscle mass
Grain-free formula
No chicken or poultry by-products
Things We Dislike
Excessive amount of filler
---
6. Canidae Pure Small Breed Dry Dog Food
Chicken, potato, and egg
4 pounds
Adult dogs
As we push to the end of our best dog food for Chihuahuas review, we have an entry from the ever-reliable Canidae. The Pure line comes with the strapline "pet food made by pet people", and this shines through with this thoughtful formula ideal for small breeds.
This recipe is tailored to meet the demands of small breeds and it's flavored with chicken, potato, and egg.
With limited ingredients, there are fewer things to irritate your pooch, without leaving any of the main bases uncovered.
The primary ingredient is real meat, poultry, or fish, depending on which flavor you choose from the range.
It's a grain-free formula which is ideal if your chi has sensitive stomach that's irritated by grain-heavy dog food.
Packed with Omega-3 and Omega-6 fatty acids and an array of antioxidants, you'll be giving your Chihuahua everything he needs and nothing he doesn't here.
Things We Like
Limited ingredients
Clean, premium proteins
Supports skin and coat health
Things We Dislike
Some issues with quality control
---
7. Nulo Small Breed Dry Dog Food
Seafood
11 pounds
Adult dogs
As we near the end of our quest for the best dog food for Chihuahuas, we have a superb offering from Nulo that's designed with the exigencies of small breeds firmly in mind.
The first thing to note is that this is a seafood flavor. If your dog isn't partial to fishy foods, you might want to rethink. This is a large 11-pound bag, so it makes sense not to take a chance unless you're confident Rover will lap it up.
Made in Texas in the US, this is a grain-free recipe that has no corn, soy, white potatoes, or wheat. There are no artificial preservatives or flavors either, giving you an all-natural extravaganza created with your chi's needs uppermost.
Thanks to the small pieces of kibble, your Chihuahua won't need to chew much and he should find his digestion is optimized.
This recipe doesn't contain too many carbs, so it can work to effectively manage your small dog's weight, something that's absolutely critical.
The patented probiotic laced into this formula ensures that Fido's gut health is fully catered for and completes a winning package from an industry heavyweight.
Things We Like
Made in the USA
Optimum protein content for chis
Small pieces of kibble
Things We Dislike
Flavor not to all dog's liking
---
8. Royal Canin Chihuahua Food
Chicken
5 pounds
Adult dogs
Royal Canin is a name you can't escape when you're shopping for the best dog food. The company specializes in breed-specific dog food designed with precise needs in mind.
This is a small 2.5-pound bag, and it's not especially cheap either. If you're hunting for dog food based mainly on the bottom line, this is not your best bet. If you have deeper pockets and demanding tastes, read on.
The recipe is for adult small breeds, but there's also a senior formula available if you have an aging chi at home.
The kibble is tailor-made so your pup won't struggle to pick it up or chew it. He will get all the nutrients without meal time seeming like a chore.
Omega-3 fatty acids promote coat health while there is plenty of fiber along with easily digestible proteins your dog will have his digestive system firing on all cylinders.
The taste and aroma of this dog food should draw in even the pickiest eaters, making this one of the most effective and versatile foods on our shortlist. See what your Chihuahua thinks!
Things We Like
Tailor-made kibble
Great flavor and aroma
Supports coat health
Things We Dislike
Not the cheapest chihuahua food
---
9. Orijen Puppy Dry Dog Food
Chicken and brown rice
4 pounds
Adult dogs
The penultimate Chihuahua food on our shortlist today comes from Orijen. This formula is designed to meet the needs of small breed puppies. What do you get in the package, then?
This is the chicken and brown rice flavor that should appeal to most dogs. Of the multiple sizes up for grabs, this is compact 4.4-pound bag, ideal if you have limited space for storing large packages of dog food.
The recipe contains fully 85% of animal ingredients, so you're giving your Chihuahua a healthy whole food diet that should get him living to a ripe old age.
The food is packed with organs, bone, meat, and cartilage from animals, all beneficial for baby Chihuahuas.
What you feed any dog is important, but with volatile small breeds like the Chihuahua, this is doubly important. Place your trust in an industry expert and treat your baby pooch to the tastiest food imaginable, and food that caters for all his nutritional needs.
Things We Like
85% animal ingredients
Grain-free formula
15 fresh or raw ingredients
Things We Dislike
---
10. Hill's Science Dry Dog Food
Chicken and barley
5 pounds
Growth
Hill's is a household name in the dog food space, and their classic Science Diet line continues to fly off the shelves the world over. What makes this dog food so good, then?
Well, as with all canine food, it's only as good as its ingredients. In this case, those ingredients are thoughtfully chosen to cater to the needs of small breeds like Chihuahuas.
Laced into the formula are a balanced array of vitamins and minerals ideal for your pup growing strong bones and teeth. Feed Chihuahuas properly and they can easily live to the age of 15 or more.
This is the chicken meal and barley flavor, and you'll get protein derived from high-quality sources, essential for small breeds like the Chihuahua.
The ingredients are completely natural. You won't be forced to put up with cheap filler, and there are not artificial additives either.
Recommended by vets and designed to cater for the needs of Chihuahua puppies, you can buy this food with complete confidence.
Things We Like
Perfect for puppies
Balanced mineral content
All-natural ingredients
Things We Dislike
Some issues with packaging
---
II. What Should You Look For in Chihuahua Dog Food?
According to the AKC (American Kennel Club), Chihuahuas should weigh no more than 6 pounds.
Now, it's no surprise that dogs this small won't be capable of wolfing down piles of food in a single sitting.
Despite this, you might not realize that Chihuahuas actually need more calories relative to body weight than larger dogs.
For a regular dog, a diet delivering roughly 30 calories for each pound of body weight is generally considered ideal. This would mean a 6-pound dog needs at least 150 calories per day. To put that into perspective, an adult female human needs 2000 calories daily, a male 2500 calories.
Making adjustments for activity levels, most dogs of this weight need nearer 250 calories per day.
Like all small breeds and toy breeds, Chihuahuas have rapid metabolisms. These dogs will burn off meals in a matter of a few hours.
Now, unless you address their dietary needs, a Chihuahua can easily develop low blood sugar. In puppies especially, this can be dangerous and even fatal.
You might be asking yourself what this means in terms of the way you need to feed your chi so you can avoid these negative outcomes and set him up with the strongest foundation for life.
In sum, you need to make certain his energy requirements are being met along with delivering him all the vital nutrients he needs. By sticking with one of the best dog foods for Chihuahuas we review today, that will be taken care of for you.
Here's what you should look out for on the buying trail:
Label
Ingredients
Fiber
Meat
Label
Firstly, glance at the label to make sure the minimum levels of protein and fat your chi needs are met (see above). You should see this information in the label's guaranteed analysis rubric.
AAFCO statements on the label will also attest to a balanced and complete formula.
Ingredients
Here are some of the most crucial things to watch out for in terms of ingredients:
Next, check the ingredients list. Here are some things to look for:
A premium source of animal protein – fish, meat, or poultry – should be the primary ingredient
You should see at least 2 sources of protein in the first 3 ingredients
Look for fat content that's higher than average, a minimum of 15%, preferably 18 to 22% fat
Check there are no artificial flavors, colors, or preservatives
Look for as few synthetic supplements as possible
Opt for formulas with as many whole foods like fruits and veggies as possible
Fiber
You need to keep your Chihuahuas' fiber levels in check. If he doesn't get enough fiber, he'll become constipated. If he takes too much of the wrong fiber onboard, on the other hand, he'll become bloated. Both are poor outcomes avoided with the right balance of the correct type of fiber.
Meat
When you're looking at dog food for your chi, it's not only important to have a high meat content, but the meat should also be from a premium source.
OK, keep these pointers in mind and you should have no snags finding the right food for Rover.
---
III. How Much Do I Need to Feed My Chihuahua?
Most adult Chihuahuas need around 200 calories per day.
Most of the measuring cups bundled with dog food are designed to portion out 300, 400, or sometimes even 500 calories per serving. You'll need to adjust this if you want to avoid overfeeding your chi – and you do want to avoid that at all costs.
For this reason, most food intended for Chihuahuas comes in smaller bags.
---
IV. How Often Must I Feed My Chi?
Best practice with Chihuahua feeding is to offer them up 3 or even 4 small meals a day. Some chis even benefit from ad libitum feeding, meaning there's always a bowl of food ready and waiting. This can work well to avoid any chance of hypoglycemia, with your chi's blood sugar crashing.
What counts is finding a regime that works well for your chi, but try little and often first of all.
---
V. Conclusion
Well, if you arrived here today at BarkVA without any idea how to choose the best dog food for Chihuahuas, that should no longer be the case.
We've frankly outlined both the benefits and drawbacks of all the foods on our shortlist today. This allows you to compare them easily like-for-like, and determine if any of them make the right fit for your small pup.
If you encounter some dog food that didn't make our list above, we hope you take advantage of the information in our buying guide to inform your decision.
Take a moment to bookmark our blog before you head off today. We bring you fresh content daily catering all aspects of dog ownership and cat ownership. See you soon!
As an Amazon Associate, we earn from qualifying purchases - at no cost to you, allowing us to continue our work.