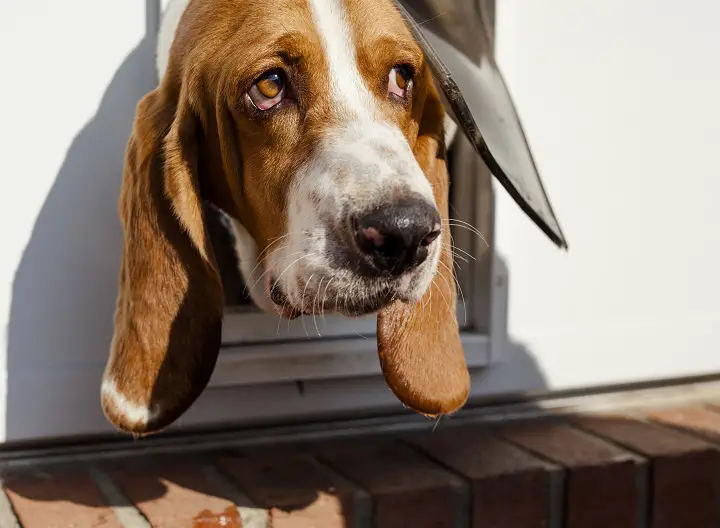 A dog door is essential if you have a pet at home. It makes it possible for your pets to freely wander your home.
Remember, the ancestors of all animals, including humans, are wild animals. The freedom to run and jump outdoors is an instinctive need.
You can find several basic types of dog doors including electronic doors, sliding doors, door-mounted doors, and wall-mounted doors.
You might imagine that buying the best dog door couldn't be easier. There are nevertheless some important aspects to focus on when you're on the buying trail. Think about these elements and you'll find that sourcing the best dog door is easier than you might imagine…
Materials: Dog doors and frames are made of different materials, although most are made from aluminum or plastic. Aluminum products will typically last longer.
Size: Do not buy a large dog door if you only have a small pet. You don't want uninvited guests making their way inside. Several types of dog doors allow you to adjust the size of the entrance from inside. This is a great extra worth looking out for.
Installation: Some dog doors can be installed in minutes without any professional skills, while others have quite technical requirements. Pet doors with sliding doors are relatively quick and easy to install, and few tools (if any) are needed for the process.
Thermal insulation: The structure of a given door is critical if you live in an unfavorable climate. The air conditioner in your home will be forced to work overtime if your dog door is not properly insulated.
Security: A pet door provides an additional entrance to your home, so you should pay attention to security above all else. Be wary of strangers or other animals that could illegally enter your home. One solution to this is using electronic dog doors. These connect to your dog via a microchip on the neck and help you prevent uninvited guests from entering the house while also controlling your dog's access.
Price: Price always plays a factor in any buying decision but it should never be the prevailing factor. Think about overall value rather than obsessing purely over the bottom line. After all, a cheap dog door is useless if it doesn't last the distance.
Next, check out our 9 suggestions for the best dog door as we outline where each stands and falls.
Once we're done with these dog door reviews, we'll be answering the most frequently asked questions and showing you how to install dog doors the easy way.
Dive right in!
BarkVA is reader-supported. When you buy via the links on our site, we may earn an affiliate commission at no cost to you.
I. The 16 Best Dog Doors
1.

Our #1 Pick:

PetSafe Wall Entry Pet Door
PetSafe is one of the best-known brands in this vertical and they produce first-class gear that's also priced reasonably. This wall entry pet door continues that winning tradition.
Of the three sizes available, this model is the Large. This is ideal for bigger breeds weighing up to 100 pounds. The opening of the flap measures up at 10.25 x 16.25 inches, providing ample space for large hounds to slide in and out.
The design of this door gives you the freedom to install it in places where it would be impractical to put a pet door inside the door of your property. Instead, you'll install this right into the wall. The telescoping design is ideal for walls from 4.75 to 7.25 inches thick.
Don't panic about installation either. The door will slot neatly into all types of walls, including brick, stucco, and siding.
The rugged plastic frame of this pet door is designed to withstand plenty of punishment. There's also a sliding plastic panel so you protect the insulation of your home rather than leaving a gaping hole.
Straightforward to install and equally easy to use, this is one of the best dog doors out there and it comes from an industry heavyweight, too.
---
2. PetSafe Freedom Sliding Glass Door
If you have a dog in a rental apartment, you won't be able to make structural changes, but you doubtless still want your furball getting in and out of the house with ease. The inimitable PetSafe delivers a great solution with this sliding glass door.
The Freedom door comes in the following sizes:
Small
Medium
Large
Extra-Large
Large-Tall
This is the Large model and it measures up at 75.9 x 80.7 inches, ideal for bigger pups to 100 pounds.
The door slips neatly into place with no cutting required. This makes it ideal for renters, and also allows you to take the pet door with you if you move home.
There's a closing panel that allows you to restrict access when you don't want your furball heading outside, while the security locks lets you guarantee he stays where he should.
Construction is impressive with an aluminum frame offering plenty of strength while the tempered glass is robust.
This is one of the most versatile and intelligently-designed dog doors on the market, so why not see if it makes the right fit for your furball?
---
 3. SureFlap Microchip Pet Door
Give your doggo the freedom to head outdoors whenever they want by installing a SureFlap Microchip pet door.
The last thing you want is a stray cat or dog entering your home causing mayhem, stressing out your pets, and spray marking everywhere. You'll never have to worry about strays entering your home with this easy-to-use and easy-to-install pet flap.
This programmable pet door is ideal for a large cat or small dog and allows you to program up to 32 separate identities. This pet door works using RFID technology and your pet's microchip with easy, one-touch programming. It also works with microchips worldwide.
This stellar pet door also allows you to set a curfew time by punching in lock and unlock times.
You can install this dog door in walls, glass, or doors. It's completely battery powered.
Your pet will be able to come and go as they please during the time you lift the curfew. It couldn't be easier to program the flap so it will lock and unlock overnight and you don't end up with some uninvited guests.
For a dog door that's easy to install, simple to program, and stops strays from entering your home, look long and hard at SureFlap's microchip model.
---
4. PetSafe Aluminum Dog and Cat Door
Need to dash home for the kitties and pups?
Not when you've got a PetSafe pet door installed!
There's no need to run your daily life around your pets with the PetSafe Freedom Aluminum Pet door. Let your furballs come and go as they please without needing to lift a finger to help them.
Made from solid aluminum, the pet door is durable and capable of withstanding plenty of punishment from a variety of pets.
The sliding door panel enables you to close off access to other animals. At night, before you go to bed, just slide the panel on so you don't end up with uninvited visitors.
Installation is a cinch. All you need is the template and hardware which comes bundled.
With this pet door, the flap is flexible and tinted. This is ideal for wood, PVC, or metal doors.
Dimensions are 8.25 x 12.25 inches so this door perfect for pets weighing up to 40 pounds.
As you probably know, PetSafe is one of the most trusted pet brands in the world. They are renowned for producing the highest quality pet products without charging the earth.
PetSafe knows exactly what's best for your pet to stay happy and safe and this dog door is another home run from an industry legend.
---
5. BarksBar Original Plastic Dog Door
Have you got a fidgety pup? Can they not seem to decide whether they want to be in or out?
Well, this Barks Bar pet door is ideal for restless pets and slightly larger dogs that weigh up to 100 pounds.
Compared to other models on the market, this product is pretty competitively priced so it's one for the bargain-hunters among you.
Once installed, this door is sturdy and ideal for a multi-pet household. It also looks sleek and won't warp in the heat, either.
Installation is super-simple as the template is printed on cardboard, and the instructions are easy to follow. It should take you no longer than 25 minutes to install.
As the construction is plastic and aluminum, this pet door can withstand a broad range of adverse weather conditions.
When you want to look the pet door, that's no problem at all. Simply slide the door cover over to block any drafts, unwanted stray animals, and insects.
This door comes in two sizes: medium and large. The medium frame measures 9.75 x 14.75 inches and the door itself measures 7 x 11.25 inches.
The large frame measures 14 x 19 inches and the flap measures 10.5 x 15 inches.
The Barks Bar dog door is bite-proof, chew-proof, and it's also stylishly-designed in thermoplastic-impact resistant frame which complements any color or design scheme.
---
6. Ideal Pet Products Deluxe Aluminum Pet Door
Ideal Pet Products offers four outstanding pet door flaps, with this being the Extra-Large version ideal for big breeds weighing up to 90 pounds. If this sounds like the perfect match for Bonzo, read on.
This dog door measures up at 10.5 x 15 inches, so larger dogs will have no problems slipping in and out when they fancy some fresh air or a bathroom break. The Super-Large door is perfect if you have a giant breed needing a little more leeway.
The frame of this unit is made from aluminum so you'll get plenty of strength without too much weight. A few users have reported the door feeling rather flimsy, although overall feedback is positive.
The flap itself is made from a transparent poly-vinyl that's built to withstand plenty of punishment.
Installation is straightforward, so you'll be up and running pretty much straight out the box. All the hardware you need is bundled.
This dog door with a telescoping frame is perfect for owners of larger hounds, and it's priced very keenly compared to much of the competition, too. Aside from a few reported niggles concerning the warranty, this pet flap is well worth a place on your shortlist.
---
7. Perfect Pet Dog Door
The Perfect Pet all-weather energy-efficient dog door is the perfect choice if you're looking to keep the drafts out while letting your pet in and out as they please.
This unique pet door keeps the heat between two flexible flaps to create a 3-inch thick insulating air-pocket in the door.
If your current pet door lets all the heat out every time your cat or dog goes through, you should consider the Perfect Pet all weather energy-saving pet door.
This door comes in several sizes including: Small, Medium, Large, Extra-large, Super-large.
This is the ideal cat flap for saving energy, keeping the heat in, and saving on your heating costs.
For us, this door is an outstanding all-rounder. Even if you live in the mountains knee deep in snow, this door will still keep the cold out.
The only maintenance required is to clean the door regularly.
Installation is easy and it should take you around 30 minutes if you can use some basic tools. If your pets are in and out like yo-yos, this door will save your sanity. There's no need to constantly get up and let your furry friends in or out, they can do it themselves with this excellent dog door.
---
8. PetSafe Plastic Pet Door
The PetSafe Plastic pet door with a soft tinted flap is ideal for single pet homes.
Produced in white plastic, this pet door can be painted any color to match your door. It's easy to install on both interior and exterior doors measuring up to 2 inches thick.
When the door isn't being used and you want to protect yourself from drafts and inclement weather, you can always close it off with the snap-on closing panel.
This pet door comes in 4 sizes:
Small: for pets up to 15 pounds
Medium: for pets up to 40 pounds
Large: for pets up to 100 pounds
Extra-large: for pets up to 220 pounds
The flap is made of flexible plastic for your pet's added comfort.
Installation is very simple.
First, measure the door at your pet's shoulder height to establish where the door will go
Next, cut the door at the template line
Install the frame with the screws provided
The tinted flexible flap is ideal for your pup or cat to be able to push through easily to the other side.
The magnetic strip on the flap also ensures that the door shuts once your pet has passed through.
---
9. PetSafe Extreme Weather Pet Door
Do you live somewhere with a hostile climate? If so, you need to account for this when you're comparing dog doors. Get this wrong and you could end up introducing an unwanted draft into your home. Leave it to PetSafe, though, and you're in safe hands…
This three-flap system is designed with the needs of larger dogs in mind. The manufacturer recommends this model for dogs up to 100 pounds.
Packing a trio of flaps rather than the single flap featured on most dog doors, you'll find this is a much more energy-efficient option. The insulation works well in extremes of both cold and heat. Keep the warm or cool air inside your home rather than finding it compromised by a dog door.
The plastic frame is paintable so there's no excuse not to match the door with your existing décor.
You'll get cutting templates, all the hardware you need, and detailed instructions provided for installation. As long as you have some rudimentary DIY skills, you should have this dog door installed in no time. If you need to call in a contractor, it should be a cheap and easy job.
Overall, this is a thoughtfully designed and precision-built dog door from an industry specialist. What's not to love?
---
10. Ideal Pet Products Plastic Pet Door
Ideal Pet Products Designer Series Plastic Pet Door with Telescoping Frame is a sturdy and well-made dog door well worth popping on your shortlist.
The floating bottom threshold means your pet door will shut tight every time and you don't need to worry about letting a draft in.
The flap itself is flexible, so it's easy for your pet to push through in comfort. It's also ideal for extreme temperatures as it won't warp.
This pet door is built to last and made from durable impact-resistant plastic.
It comes in four sizes:
Small: 5 x 7 inches
Medium: 7 x 11.25 inches
Extra-large: 10.5 x 15 inches
Super-large: 15 x 20 inches
With the correct tools, this door will take under an hour to install. Just follow the simple instructions and use the provided template. It couldn't be easier.
If you ever need to lock it, the security panel slides on easily and clicks into place no problem at all.
Once installed, your dog or cat can come and go as they please. No more constantly getting up to let them out when they need a toilet break or some fresh air.
You'll love it, your dog will love it, and your heating bill will love it into the bargain.
---
11. Endura Flap Pet Door
Before we outline the qualities of this pet door from Endura, we should point out that this is one of the most expensive dog doors out there. If you're looking for a bargain, this is not for you. If, on the other hand, you don't mind digging deep for peace of mind and convenience, what do you get for your money?
There are four sizes available with this dog door:
Small
Medium
Large
Extra-Large
This is the Large flap and it measures up at 10 x 19 inches. This offers enough space for dogs to around 90 pounds. If you have an even bigger breed, steps things up to the XL door.
Installation is very simple. Instructions are precise, and everything you need is thrown in.
The three-sided magnet on the doors should streamline training your furball to use this thing. Despite allowing easy access, the door will stay closed. It's rated to stay shut even when the wind hits 50mph.
The energy-efficiency of this dog door means you won't end up with a drafty home or increased power bills as a result of installing a pet flap.
Made in the USA and backed by a class-leading 15-year warranty, what have you got to lose?
---
12. Ani Mate Dog Door
Ani Mate serves up a solid performer as we edge to the end of our dog door reviews.
This flap is intended for medium-sized dogs. If you have a larger hound at home, we have plenty of more substantial models on our shortlist. If you have a mid-sized pup, what can you expect from this entry system?
Dogs with necks to 18 inches should slip their way through this flap without interference. The manufacturer doesn't offer any other size or weight recommendations.
You can install this flap in doors up to 2 inches thick. You could alternatively install the flap in a wall if you have no available doors in the area.
Designed to keep drafts out, this is a pretty energy-efficient dog door that won't see your power bills skyrocket.
While this flap might not be the most aesthetically pleasing, in terms of functionality, it's one of the best dog doors out there.
---
13. Extreme Performance Aluminum Dog Doors
The Extreme Performance Locking Rugged Aluminum Dog Doors for Exterior Doors is perfect if you live somewhere with high winds and extreme cold.
Also, if you have sturdy dogs with wide chests, this rugged dog door makes a smart solution.
There are several options available with this design. You can opt for a single flap in the summer, or a dual flap if you're after more protection from the elements.
The fabulous aspect about this extreme seal is that no cold drafts will penetrate your home this winter.
Not only that, your pups will love being able to go outside to play or sprawl in the sun whenever they want. They can do this without inconveniencing you and forcing you to keep letting them in and out every few minutes.
You can also enjoy more freedom when you head out for the day. Kiss goodbye to worrying about getting back in time for your furballs.
The magnets are remarkably strong. No wind, rain, or airflow will get through.
The whole frame is made of metal so it's safe and secure, too. It also comes with an awesome locking mechanism if you want to close off the pet door overnight.
---
14. High Tech Pet Electronic Dog Door
Get ready cos you're almost living in the future!
Just like in a sci-fi movie, you and your pet can start living in the next century with this High Tech Pet Power Pet Electronic Pet Door.
You'll be delighted with the collar used with this door. And the door itself is pretty neat. You can run it on battery if it's not near an electrical outlet or plug it in if practical.
Rather than swinging in and out, this pet door moves up and down leaving no draft, rain, or wind to get in.
This door is completely automated and operated by a sensor that goes on your dog's e-collar. As your dog approaches, the door goes up. Once he's through, it'll close automatically making sure that no uninvited guests turn up.
A great feature of this door is that you can adjust the sensitivity of the sensor so you get the exact distance correct when it opens.
This pet door wins hands down on convenience factor. It's reliable, great for pups and looks great. We give this door an all-round thumbs up.
---
15. Petleso Dog Door Screen
This is a great little door if you have a small to mid-sized cat or dog.
This pet door is simply installed on your screen door or window so you can still enjoy the summer fresh air and not have to continuously let your pets in and out.
This door is lockable for added security.
The door has a smooth magnetic closure which makes it close automatically each time your pup or kitty goes through.
You'll love the cute paw design on this pet door which is so simple. It also has an anti-scratch wire mesh insert for extra durability.
If you've got multiple pets, that's no problem. This pet door is constructed with ultra durable ABS material which is built to last and see lots of vigorous pet action.
You'll be impressed with this cute yet functional pet door and your pampered pets will be able to come and go whenever they wish.
---
16. PetSafe Electronic Smart Door
Perhaps you're looking for a more tech-driven solution to your pet's entry into the home. If so, PetSafe produces a smart door that's well worth your further investigation.
This flap works in combination with the SmartKey you attach to your pup's collar. This is fully waterproofed.
Ideal for use in multi-dog households, you can program up to five SmartKeys and allow your fur babies to come and go as they please.
You'll need four D-cell batteries for this door, and they are not included. Make provision for this before purchase if you want to get going right out the box.
The flap is meant to be installed in either interior or exterior doors. If you need to pop it into a wall instead, there's an installation kit for this available separately.
Range is adjustable up to 3 feet. When your pup approaches the dog door wearing his SmartKey-studded collar, it will open automatically, giving him the next best thing to valet service. When he steps through and clears the door, it will lock in his wake giving you a hands-free entry and exit system for multiple dogs.
PetSafe has been producing first-rate pet equipment for three decades now, and with this dog door you can see why they have so many fans worldwide.
---
II. FAQs
Is a dog door on a wall better, or is a dog door mounted on a door better?
This is largely a case of personal preference. However, dog doors mounted on the door itself are typically less expensive option. The installation of these door-mounted doors is also be easier. If you're driven by budget and ease of installation, go for door-mounted dog doors.
I have 3 dogs of different sizes. Is a single dog door OK?
Yes, it is. All you need to consider is the size of your largest dog. The door will then accommodate your whole menagerie with no problems at all.
How should I choose the right size door for my dog?
Choose a dog door that's large enough that your adult dog doesn't have to lower its shoulders when passing. This is bad for the dog's spine. Consider buying a pet door at least 2 inches wider than the widest part of your pet. Similarly, the opening height should be at least 2 inches higher than the length measured from the top of the shoulders to the chest of your dog, just behind the forelegs. Get this right or you could end up with an expensive and wasted hunk of plastic or aluminum.
---
III. 10 Steps to Installing Dog Doors
If you imagine that installing dog doors will give you an enormous headache, think again.
You'll need some simple equipment and some basic DIY chops. That aside, you should have your dog doors installed in well under an hour.
Almost all dog door kits come with a template to help you with placement. Cut this out following the instructions provided. If your dog door kit does not come with a template, use the slide bundled instead and make your own template.
So, here's what you need and what to do…
What You Need
Drill
Measuring tape
Jigsaw
Utility knife
Glass paper
Pet door kit
Caulk
Painter's tape
What To Do
Remove the hinge pins from your door using a screwdriver and hammer. Once you have taken these out, it's time to remove the door completely. Position the door across a pair of saw horses. Make sure the interior side is uppermost.
Most pet door kits come with a template bundled. When you're establishing where to position your dog door, you need to think about the height of your pet's shoulders. This will dictate placement. Once you've got this established, line up the template on the door. You should make certain the template is level. You also need to make sure the cutting line is 3 inches or more above the lower edge of the door. Tape the template into position.
Drill a hole into each of the template's corners using a 3/8-inch bit.
With these corner holes drilled out, insert your jigsaw into one of these holes. Cut carefully along the template markings from corner to corner.
Remove the waste material. Sand any rough edges. You can use a file if you don't have a sander.
Insert the frame into the hole to check for fit. Fine-tune if required.
Mark out holes for your mounting hardware. You now need to remove the interior frame. Drill holes using the bit sizes recommended by the manufacturer. You should find this in the instruction manual. Ensure you drill the holes precisely perpendicular so the hardware and frame line up neatly on both sides.
Once you've drilled your holes, it's time to pop the interior frame back in again. Ease this into position from underneath the door. At this stage, you might need to trim the core frames for a snug fit. Install the fasteners as you hold the pieces of the frame together. Trim off any excess lengths of fastener.
Use caulking around the outside of the frame. This imparts a weatherproof sealant.
You can now rehang your door. There should be a slide with the kit that you can use to keep your pet inside. You should always check your pet is indoors before putting the slide in place.
Note: You should check carefully with all local building codes and also with your insurance policy before you install dog doors. In some cases, you might need fire-rated exterior doors. It always pays to do your due diligence before committing to purchase.
---
IV. Conclusion
Well, we hope by now you have a clear idea of the best type of dog door for your home and that you can also see just how easy it is to install this accessory.
Maybe you work at home, or you've recently started working remotely as a result of the pandemic. Perhaps you think it's OK to keep jumping up and down to let your pet in and out. Give it a few days and you'll likely become tired of this game of musical chairs.
While buying the best dog door isn't the most complex of decisions, you should nevertheless take the time to study our brief buying guide at the beginning. Sizing is really the most critical factor when you're on the buying trail. Take your time beforehand to measure up your pet. Think about all the animals in your house and measure accordingly.
Don't forget to bookmark our site before you head off. Pop back any time you need the low-down on the best pet gear to indulge your beloved pooches. See you soon!
As an Amazon Associate, we earn from qualifying purchases - at no cost to you, allowing us to continue our work.