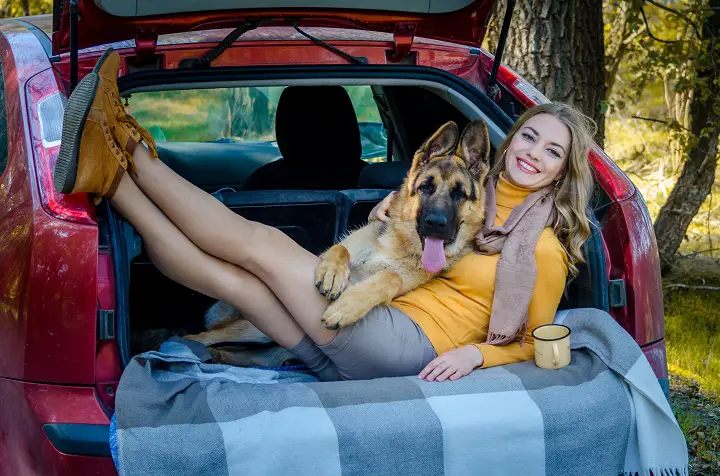 If you live a busy and active lifestyle, you probably want to take your dog with you everywhere you go.
What pet owner doesn't, right?
Well, many pet owners who have tried taking a willful dog out in the car will have immediately regretted that decision. Sure, a dog car harness can be effective with more placid pets for short trips. How about when you want to head on a lengthy road trip, though? What if your dog is not so mild-mannered but more prone to escape?
Luckily, there's a simple solution. Today, we'll be reviewing the best dog crates and carriers for car travel so you can all travel in complete safety, however long the trip.
Before that, we've doubled down on the most important factors to look out for when choosing the best dog crates and carriers for car travel. Check out this brief guide before you whip out your credit card.
Size matters: You can find most dog crates in a range of sizes and this is where your buying decision should begin. Think about how you'll be transporting your dog. When you're heading off on a road trip in the car, you need to make sure you'll be able to get the crate in and out with ease. You'll also, obviously, need sufficient room inside your vehicle to accommodate the canine crate. When you're shopping sizes, always err on the side of caution and make sure your dog has enough room not to feel restricted. We recommend choosing a cage that's no more than 6 inches in length for your dog. Also, if you have two small dogs, get one crate large enough for both dogs rather than two small crates
Airline-approved: Linked to sizing is sizing specific to traveling on planes. You should look for aviation-approved dog crates. You should also check closely with airline regulations before booking your flight or it might end up a very costly mistake
Get the best materials: It's no secret dogs will chew anything they can get their fangs on! Make sure that's not the dog crate you're choosing to transport them in. If you plan to use your dog crate daily, you should ideally look for something with harder sides made from metal or hard plastic. If you're only intending to use your crate occasionally, consider a lighter, softer carrying crate. These are convenient even for flights
Safety: Make sure the dog crates on your shortlist all come with sufficient ventilation for the kind of trips you plan to take
Portability: The importance of portability will depend largely on your intended use. When you're taking your pooch out in the car, it will naturally assume less importance than when you're heading off on a multi-flight trip with your canine in tow
Set-up: Only you know how comfortable you are with DIY and setting things up. Some dog crates are plug-and-play while others require a little tinkering around. Buy in line with your needs
Connectors: Last but not least, sure the crate is securely fixed with the terminals. This will ensure your dog is safe throughout the journey
OK, with that basic framework in place, we'll push on to the main event with our dog crate reviews. We've categorized these for you so you can find the best crate for a variety of use cases at a glance.
BarkVA is reader-supported. When you buy via the links on our site, we may earn an affiliate commission at no cost to you.
I. The 7 Best Dog Crates & Carriers For Car Travel
1.

Our #1 Pick:

AmazonBasics Hard-Sided Pet Travel Carrier
Everyone has heard of the world's marketplace Amazon, but did you know they have their own line of pocket-friendly basics that won't stiff you on the performance front. How does this budget pet travel carrier shape up, then?
Any pet crate needs to make things easy for you when it's time to load or unload your canine. With a couple of doors and an efficient top-loading design, you'll have no snags with this crate.
The 23-inch model measures up at 23 x 15 x 13 inches. If you have a smaller dog, there's a 19-inch crate available for a snugger fit.
If you have a feisty dog prone to pulling a Houdini act, use the bundled screws to provide any an even more secure environment when you're traveling.
The only real niggle with this crate concerns the locking mechanism. More than one disgruntled customer has drawn attention to a design flaw that makes closing the crate awkward at times. Overall, though, this is by some distance our favorite dog crate for use in the car.
Things We Like:
Pair of doors and top-loading streamlines exit and entry
Choose from two sizes to suit
Made from rugged plastic complemented by steel wire
Things We Dislike:
Some users have reported issues with the locking mechanism
---
---
2.

Runner-Up:

Petmate Two-Door Pet Crate
A close runner-up in our quest for the best dog crate is this neat two-door model from Petmate. How does this pet carrier stand out in a crowded field?
Firstly, you get the confidence boost of dealing with a company boasting half a century in the trenches.
Next, not only does this crate work well if you're heading cross-country in the car, it's aviation-approved, too. All major airlines will allow you to board your pooch within this crate.
With two doors, getting your furball in and out is a breeze. You just pop your pooch into the top making things as easy as possible.
Choose from a 19-inch or 24-inch crate to accommodate your smaller dog. Suggested weight range is 10 to 20 pounds.
With several striking colorways to choose from, the Petmate crate is well worth popping on your shortlist if you're a frequent traveler and you can't stand the thought of leaving your dog at home.
Things We Like:
Choose from 4 slick colors to suit
Great in the car but airline-approved, too
Impeccable brand heritage with over 50 years in the business
Things We Dislike:
A few complaints about build quality
---
3.

Innovative Collapsing Mode:

Diggs Revol Small Dog Crate
What can you do if you like the idea of a dog crate but you don't have much storage space? Well, this collapsible model from Diggs hits the spot and also makes it easy when you're setting up the crate and also when you're packing it away.
The sizeable door makes it easy to get your pup in and out of this carrier. With wheels and ergonomic carrying handle, you'll find all aspects of traveling with your dog a cakewalk.
Safety is uppermost with this crate as you would expect from anything you'll be using to transport your beloved furball in. The rounded edges mean your pup won't get knocked around even if you're traveling on bumpy roads. The mesh is also shaped like a diamond for safety's sake.
However you plan to travel, if you want to take your dog along for the ride, it's vital you get the right gear for the job. If you're looking for a dog carrier with a twist, we'd strongly recommend this model.
Things We Like:
Nifty collapsible walls streamlines set-up
Oversized door so no niggles getting your dog in or out
Thoughtful rounded edges so your dog travels in safety
Things We Dislike:
Quite heavy for a travel crate
---
4.

Best For Large Dogs:

Aspen Pet Porter Heavy-Duty Pet Kennel by Petmate
If you have a bigger dog in need of transportation, you'll need a suitably rugged crate. Petmate's Aspen Pet Porter is man enough for a large dog even though you'll need to pay for the privilege. If you can weather the stiff price tag, what do you get for your money?
First up, choose from 8 bold color schemes. You can also opt for a broad spread of sizings to suit. The smallest crate caters for dogs to 10 pounds while this line-topping dog carrier is ideal for dogs from 90 to 250 pounds. The model we're reviewing here comes somewhere in the middle. If you have a medium-sized dog weighing in between 50 and 70 pounds, this model crate be spot-on.
Despite falling in line with most airline regulations, the lack of rear ventilation means you should reconsider if you're heading on a long-haul flight.
The manufacturer also stocks a diverse range of accessories and add-ons allowing you to kit out your pooch for the lengthiest trip before carrying him to his destination in comfort, safety, and style. What's not to love?
Things We Like:
Sturdy and spacious enough to accommodate larger breeds
Comes in a dazzling array of color schemes
Meets the majority of airline regulations
Things We Dislike:
Lacks the rear ventilation you need for international air travel
---
5.

Safe #1 Pick:

Impact Collapsible Aluminum Dog Crate
Like any collapsible dog crate, you'll need to be very careful when you're putting this carrier up and down. A few disgruntled users have complained about pinching their fingers so proceed with caution.
Assembly and disassembly are not time-consuming, so as long as you watch those fingers, you'll have this crate set up or broken down in seconds.
The aluminum build delivers rigidity, stability, and longevity without too much weight. Coated with a rust-resistant treatment, this crate should return years of faithful service if you look after it properly.
Ventilation is class-leading and your dog can enjoy the road trip just as much as you without ever feeling stifled or gagging for air.
One of our favorite touches on this crate is the slam lock meaning you don't need to physically lock this carrier. Just close the door and it locks itself.
For a long-lasting and impeccably-designed dog crate from a brand you can trust, we can't recommend this model highly enough.
Things We Like:
Made from lightweight but durable aluminum
Collapsible design keeps safety uppermost
4-sided ventilation gives your dog plenty of air
Things We Dislike:
Despite claims to the contrary, you might find this crate awkward to set up and break down
---
6.

Best For Small Dogs:

Sleepypod Pet Mobile Bed
If you have a small dog and you're looking for a carrier to make traveling safe and easy, you have far more options at your disposal than owners of larger hounds. Our personal favorite from the pet crates we reviewed is this mobile bed from Sleepypod.
The mini bed is ideal for teacup breeds and extremely small dogs in general. If you upsize to the medium, you can accommodate dogs up to 15 pounds. In return for this extra space, you'll need to sacrifice some portability.
If you loathe flat-pack furniture or any kind of practical DIY assembly, you're in luck with this dog crate. You'll be up and ready for your next road trip right out the box.
The shoulder strap is nicely padded for your benefit while the mesh dome is designed to allow your pup to get all the air he needs when you're traveling together.
Things We Like:
Comes in mini and medium sizes for smaller dogs
Completely washable bedding
Set-up requires absolutely no assembly
Things We Dislike:
Medium bed is reasonably large and not especially portable
---
7.

Versatile Pick:

Petego Jet Set Pet Carrier
One of the most versatile dog crates we explored comes from Petego in the form of the Jet Set Pet Carrier. What makes this portable pet crate stand out in a crowded space, then?
Off the bat, this dog bed looks great. While this will only form part of your buying decision, design obviously counts for something. Beyond this, you can choose from a decent palette of colors so you can liven up your dog's dog with a flash of brightness.
We found a handful of user complaints about the poor quality zippers. This is one of our pet peeves so make sure you zip and unzip this thing with extreme care.
In all other respects, though, this is an adaptable and highly effective dog carrier. With some car seat straps thrown in, you have all you need to take your dog with you everywhere you go.
Things We Like:
Eye-catching aesthetics and multiple colorways
Straps included for your car seat
Frame allows for a solidity not found in many similar soft pet carriers
Things We Dislike:
A few complaints about poor quality zippers so take care
---
* Tips for Safe Car Travels with Your Dog
Dogs may panic when lying in a crate during their first ride. This initially strong reaction can become increasingly violent and even jeopardize your car trip.
Many of our customers shared a simple but effective solution. They start using travel dog crate at home so their pooch becomes accustomed to this type of temporary confinement. Regular use of a travel dog cage will help your dog to be fearless when you undertake car travel for real.
---
II. FAQs

1) Can I take all kinds of dog crates on a plane?
Absolutely not. You need to look for a dog carrier that's airline-approved. You should also always check with the airline you're flying with for sizing specifics. Fail to do this and you could be denied boarding your flight.
2) How can I prepare my dog for a trip in a crate?
The most effective strategy is to introduce the crate before the trip so your dog has time to get used to the idea before the day of travel.
3) What's the purpose of a collapsible travel crate?
These space-saving models take up far less room when they're folded down.
4) How can I clean my dog crate?
You should ensure the model you're looking at has removable components so clean-up should rem,ain fuss-free.
---
III. Conclusion
Over time, dogs gradually became just like human friends. They stay with us through times of happiness and sadness, in sickness and in health. With our most faithful companions always ready to follow us on our journeys in life, using the best dog crates and carriers for car travel makes this possible.
After reading today's guide, you should now be perfectly placed to find the right dog carrier the easy way. Choose one of the crates we review and you're safe. Roll with a crate not on our list and all you need to do is bear in mind the guidance we kicked off with.
Before you go, bookmark BarkVA and come back any time you have a problem with your pet that needs solving. Well see you soon!