There are many reasons why you might want to keep your canine in a crate at home from time to time.
What can you do if you don't want an unsightly metal dog crate spoiling the lines of your home, then?
The obvious answer is to invest in a dog crate that's designed like an end table. These will look more like a natural part of the room rather than a utilitarian piece of dog equipment.
Now, a dog furniture bed is not a great fit for all canines. In general, smaller dogs are better suited to this style of crate. Aggressive chewers will usually work their way through the bars of these crates, so they are best avoided if this sounds like your pooch.
For smaller, gentle dogs, though, furniture crates are a smart choice.
What should you look for when you're comparing the best dog crate end tables, then?
Make sure the crate will work for all life stages: Dog crates are not cheap, and you shouldn't object to investing in your dog's comfort and welfare. To maximize the value you get from your investment, make sure the crates on your shortlist will accommodate your dog as he gets older and bigger. The last thing you want is to need another crate
Don't get one of these crates thinking it will work as a travel crate: Most furniture dog crates are too heavy and bulky to work well as portable travel crates. Look for a dedicated travel crate
Think about the materials: You should expect a metal crate to last longer than a plastic one, even if it doesn't look as attractive. The bulk of the crates we review today are wooden. Unless your dog chews aggressively, this makes the best choice of material for a dog crate you want to blend in with the rest of your room
Ventilation: You should ensure that all the dog crates on your shortlist provide your dog with sufficient airflow and ventilation. You want him safely contained, but not at the expense of his comfort or welfare
OK, with those basics in place, you should be ready to compare crates. Take the above pointers in mind, but you're most likely to choose a furniture crate based on which one looks best in your room. Take account of all the above, and then choose based on design for the ultimate in ease.
Let's get right down to business with our dog crate end table reviews.
Barkva.org is reader-supported. When you buy via the links on our site, we may earn an affiliate commission at no cost to you.
The 8 Best Dog Crate End Tables
1.

Our #1 Pick:

New Age Pet End Table
Features
Polymer composite
For dogs to 50 pounds
5 x 21.1 x 25.2 inches
Our favorite dog crate end table comes from New Age Pet, so what makes it stand out?
Firstly, the fact it doesn't stand out is actually the key selling point. The last thing you want is a large crate inside the house, even if it does happen to contain your precious furball. This crate looks more like a traditional end table than a dog crate so it will blend in rather than making a jarring addition to the room.
The crate comes in multiple sizes to suit. This is the medium crate designed for dogs up to 50 pounds. This should cater for most medium breeds.
The crate is made from an eco-friendly material called Ecoflex. This is a recycled material and the plastic-wood is easy to clean, non-toxic, and complete sustainable. Given a crate's intended purpose, you'll be delighted to know that Ecoflex is hardwearing, too.
You'll need to take care of some minor assembly when your crate arrives, but you won't need any tools, and you won't require any special skills either.
Aside from a few gripes about boisterous dogs making light work of this crate, we feel it makes the best choice for anyone looking for a dog crate resembling an end table suitable for small and medium-sized dogs.
Things We Like
Choose from multiple sizes to suit
Secures your dog indoors elegantly
Made from sustainable materials
Things We Dislike
A few complaints about strength
---
2. Casual Home Wooden Pet Crate
Features
Wood
For dogs to 25 pounds
5 x 20 x 24 inches
If you didn't like the look of the plasticky crate we kicked off with, we have an all-wooden offering up next, this time from Casual Home.
The crate is made in Thailand and the solid wooden build is designed to stop Fido from chewing his way through the bars. A few disgruntled customers with aggressive chewers found they worked their way through this crate. You may want to rethink if you have a forceful, powerful small dog.
Now, you should be aware that this crate is only intended for much smaller dogs. If your furball tips the scales at over 25 pounds, you should consider one of the other sizings. There are multiple other options at your disposal so it's worth taking your time to get this right.
You won't need much by the way of assembly, and you should be up and running out the box in minutes.
The top of the table can be used for storing any accessories or treats you need close at hand. Alternatively, you could use it to pop some ornaments on giving your room an extra touch of class.
There's a small but effective safety latch that should prevent your pooch from making his way out of the crate.
Although this crate is only for smaller dogs, the manufacturer offers you plenty of alternatives sizes, and this is one of the best and most cost-effective wooden dog crates out there.
Things We Like
Safety latch on the outside
Rugged wooden build
Blends in nicely with furniture
Things We Dislike
Some dogs might chew through slats
---
3. Merry Pet Configurable Pet Crate and Gate
Features
Wood
For dogs to 45 pounds
40 x 28 x 31.5 inches
Merry Pet serves up a multipurpose dog storage solution. This works as both a crate and a pet gate giving you double the value for money.
The crate is fashioned from a solid wood veneer that should fit well with your furniture while returning an impressive lifespan. As with all these crates, it's best avoided if Fido chews aggressively. The cage is made from metal but it still won't stand up to the attention of larger, powerful pups.
Available in 2 sizes, this is the larger version and good for dogs up to 45 pounds. This should be a good fit for small and medium dogs.
You can use the top surface of this crate for display or storage making a great addition to any room where space is at a premium.
Panels are removable giving you a great deal of freedom.
At the bottom of the crate is a removable plastic tray to keep your floor clean and to make it easier to stay on top of maintenance.
Break the crate down and use it as a gate giving you the option of letting Rover sleep in the crate overnight then demarcating a no-go zone with the gate during the day.
Things We Like
Neat multipurpose solution
Adjustable panels
Ideal for medium breeds
Things We Dislike
---
4. Petsfit Wooden Dog House
Features
Wood
For dogs to 30 pounds
6 x 25 x 5.6 inches
Petsfit has a great dog crate for owners of small and gentle breeds. The upper suggested weigh limit is 30 pounds, and the delicate design means it's not well-suited to feisty canines.
The appearance of this dog house is much more like a traditional end table than a dog crate. Despite this, you'll still benefit from all the functionality you need in a containment solution.
You cannot open the top of this crate, so the only access is through the small wire door on the front.
The wooden build means the crate should slot into a variety of design schemes without looking out of place.
The iron door is lockable so you should keep even adventurous smaller dogs safely tucked away.
Holes on the side of this crate give you welcome handholds if you need to shift this thing around. The holes also provide excellent ventilation for Rover.
The bottom of the crate is raised off the floor and it's non-slip so you won't see your pooch sliding around.
If you're looking for a compact and attractive alternative to a traditional dog crate, this deserves your further investigation.
Things We Like
Rugged build quality
Easy to clean and non-toxic
Sits well with most decor
Things We Dislike
Only for much smaller dogs
---
5. Casual Home Wooden Pet Crate
Features
Polymer composite
For dogs to 50 pounds
5 x 20 x 24 inches
We have another composite kennel up next from Casual Home with this polymer crate that looks at a glance like it's made from real wood.
Choose from a variety of sizes to suit. This small crate is aimed at dogs under 50 pounds. There's no divider included, so it may not make the best choice if you have more than one small pup.
The gate is lockable so you should keep Fido safely tucked where you want him.
Designed to resemble an end table, you can integrate this crate into your room without it looking out of place.
Keeping this thing clean couldn't be easier. All you need to do is wipe it down with a damp cloth and some mild detergent.
The mission-style door makes it easy for your smaller dogs to slip in and out of the crate.
Open slats all around the side promote excellent airflow and make sure your mutt stays cool even if the it's hot and sticky outside.
Although the majority of user testimony is positive, a handful of users suggest that the sizing recommendations are imprecise. We suggest you do your own due diligence here. Overall, this is a superb and subtle dog crate from a brand you can rely on.
Things We Like
Sleek aesthetics
Lockable gate
Easy to wipe down and clean
Things We Dislike
Customer service is a let-down
---
6. Richell Wooden End Table Crate
Features
Wood
For dogs to 44 pounds
25 x 31.1 x 24 inches
The Richell Store is packed with some great pet products like this understated dog furniture crate. Looking just like an end table, you can drop this into a traditional or modern room without feeling like you've got something unwanted in the house.
There are 3 sizes of crate to choose from. This medium-sized model is ideal for dogs up to 44 pounds. As with all crates like this, they tend to be more effective with smaller and medium-sized dogs anyway.
You can open the door fully to make it super-simple for Rover to get in and out.
It's just as easy to remove the liner, too. This simplifies clean-up wonderfully.
The bars all round this crate mean there's no issue with ventilation. Keep your pooch safely contained without ever feeling hot or sticky.
Things We Like
Removable tray
Use top for storage
Easy to keep clean
Things We Dislike
Some complaints about inaccurate sizing
---
7. Lugenia Pet Crate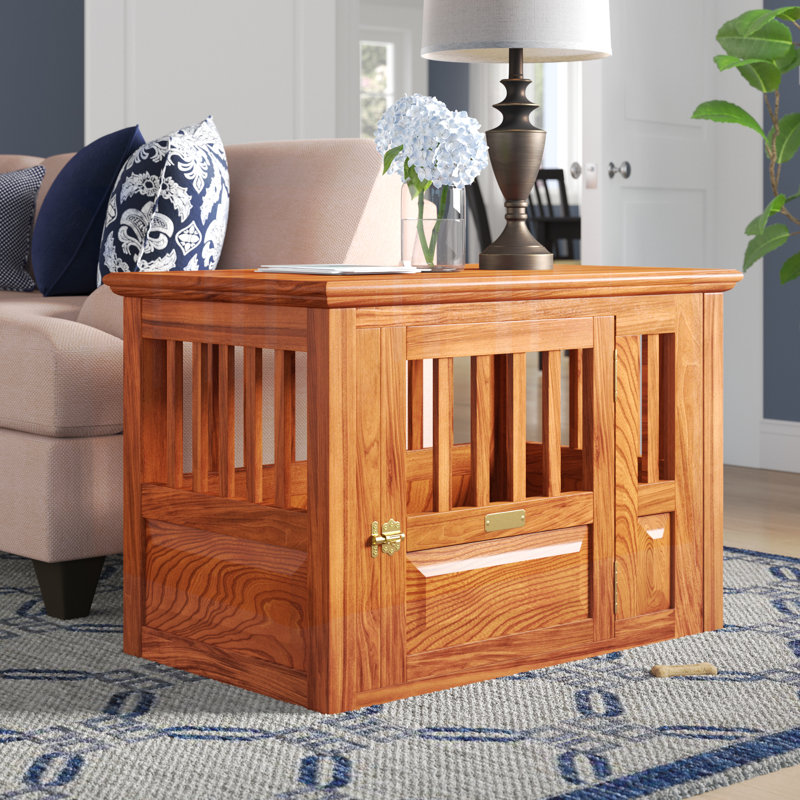 Features
Wood
For dogs to 70 pounds
23 x 24 x 29 inches
As we edge to the end of our quest for the best dog crate end tables, we have a superb example from Lugenia here.
Now, if you're looking for a cheap dog crate, this is absolutely not for you. If, on the other hand, you're shopping for furniture crates primarily based on aesthetics and you're not too price-sensitive, this is just what you've been waiting for.
Fashioned from solid wood with melamine floors, this crate is built to endure. You can choose from 4 striking finishes to coordinate with your décor.
There are 3 sizes available when you're choosing your crate:
Small: For dogs from 11 to 25 pounds
Medium: For dogs from 26 to 40 pounds
Large: For dogs from 41 to 70 pounds
The crate opens from the side or the top, and you can also opt for a right-handed or left-handed door depending on the configuration of your room.
All the panels are assembled using a mortise and tenon construction giving you exceptional strength and lifespan as well as impressive attention to detail.
The bars on the crate can be removed if you see fit giving you even more options depending on the temperament of your furball.
The removable top makes this crate super-simple to clean and maintain. The crate is only suitable for use indoors. Check out some of the weatherproofed models above if you need an outdoor dog crate.
If you're shopping to a tighter budget, this crate misses the mark. If you appreciate quality and don't mind paying a premium for it, this is arguably the best dog crate end table you can find. See what you feel.
Things We Like
Multiple sizes to suit
Commanding design
Ventilation windows
Things We Dislike
Certainly not the cheapest dog crate
---
8. New Age Pet Dog Crate and End Table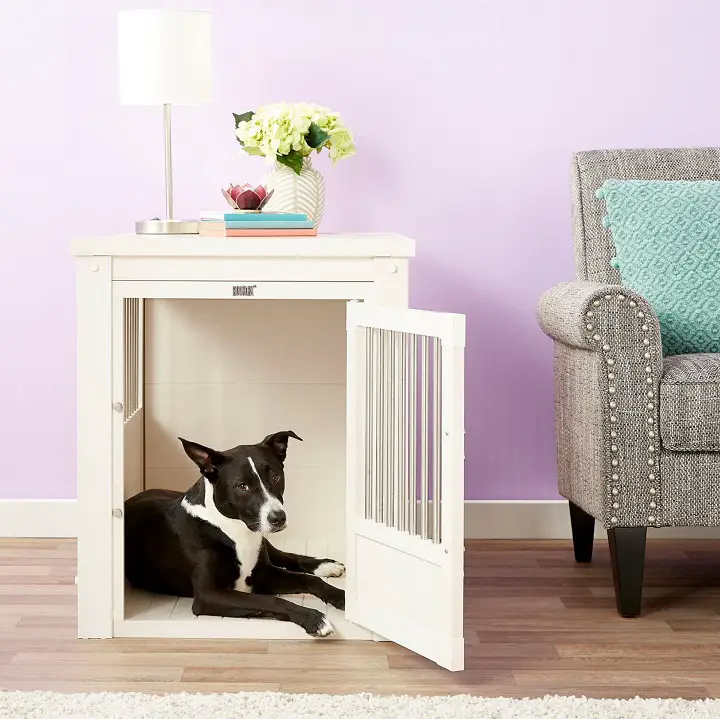 Features
Recycled plastic-wood
For dogs to 80 pounds
4 x 24 x 28 inches
New Age Pet has a deep bench of crates ideal for all sizes of dogs. Of the 4 options they produce, this large model is ideal for bigger breeds to 80 pounds. How does it shape up, then?
As one of the two larger crates, you benefit from double latches so even if you have an aggressive larger dog, he should still find it impossible to get out.
Made from recycled plastic-wood composite, this looks much more like an end table than a crate, the intended purpose. Let's face it, who wants an unsightly metal dog crate cluttering up the living room?
As with all crates of this type, it's not a good idea to use this for any dogs that haven't yet been crate trained. As long as they are confident with bladder control, most large dogs should feel quite at home in this crate.
Assembly isn't too involved and you won't need to break out the toolbox either.
Keeping this crate clean is a cinch. All you need to do is wipe it down using some water and a mild detergent.
For owners of large breed dogs looking for a solution to crating them at home without an eyesore ruining the room, New Age Pet hits another home run here.
Things We Like
Double latches on larger crates
Tool-free assembly
Works well with larger dogs
Things We Dislike
Not a good idea if your pup isn't crate trained
---
Conclusion
If you arrived here at BarkVA today without the first idea about dog crate end tables, you should be in a different position now.
Put simply, these crates work well if you want your dog kennel to blend in rather than standing out. This type of stealth crate also gives Fido some much-needed privacy when he's indoors.
As always, if you stick with the crates we review here, you'll know precisely what you're signing up for. We present the benefits and the drawbacks of all the dog gear we review so you can make an informed decision and easily find the right one for your needs.
Take your time to explore our site if you're not sure about any aspect of using a crate. Check out our advice on how to stop a puppy from crying in his crate to get started. We'd also suggest you bookmark our blog and pop back soon. We update our content daily with impartial product reviews, handy training tips, and comprehensive buying guides to make your life easier every step of the way. We'll see you soon!