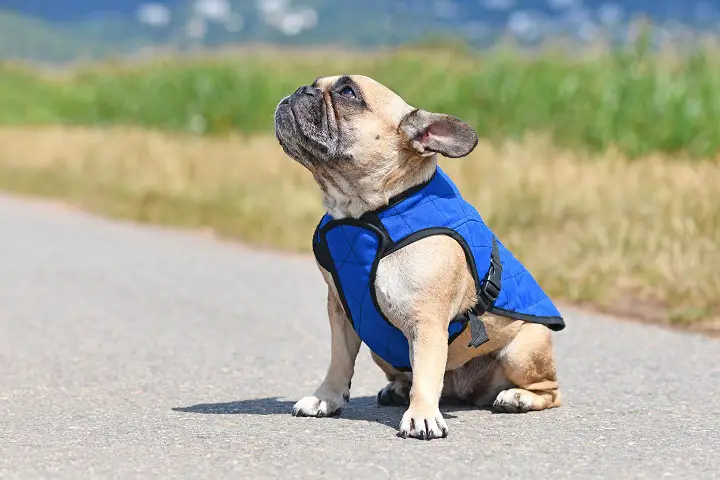 Moving to the southeast meant hotter summers but I did not realize how badly it would affect my canine buddy. Heat stroke and exhaustion could be the most recurring issues, hadn't I taken the necessary steps.
However, it was difficult to go for early morning walks every day without disrupting my busy schedule. It was also nearly impossible nearly impossible to keep the garden wet all the time in this sweltering heat. Unfortunately, I don't have enough shady space outdoors for my buddy to rest.
Earlier I used to wet my dog before going out in the sun. It was not only messy but also quite ineffective as he used to dry out before we hit the park for walk. Additionally, the process of evaporation is quite feeble in their thick coat of fur.
I was quite afraid of his constant panting and incessant dehydration. It could lead to severe health complications and death, if I fail to regulate the temperature for my canine. Desperate for an alternative, I took a ride to various pet shops and dog accessories store. This is when I found a dog cooling vest and was amazed to see all the difference it can make in this blistering heat.
Designed with special materials, they accelerate the rate of evaporation and wick away heat and moisture. Added with conductive layers, some of these vests offer exceptional cooling and comfort. Before, I suggest you with few of the best cooling vests for your canine companions.
I. Best Dog Cooling Vests Buyer's Guide
Cooling vests are typically based on the evaporative mechanism, which is natural and this is what our body uses when we sweat. The phenomenon is quite simple and is being used since primitive times.
A long time ago, human used to put wet towels or cloth on their head or cover their body to beat the intense heat. Today, it's modernly used in swamp coolers and chillers to regulate indoor temperatures.
One of the practical and cost-effective ways to keep your canine friend cool is by drenching it before prodding in the sun. The results are quite but quite short-lived and messier as the wet fur easily attracts dirt. Fortunately, we have cooling vests that are an ideal solution to heat-related problems.
While the primary function of these vests is to keep your mutt cool, there are other characteristics to consider, when making the final purchase. Here are few common factors that you should keep in mind during your hunt for best cooling vests for dogs.
Size: The vest should fit properly on your dog. Since the body size is different, you should rely on the measurements instead of body weight, to obtain the perfect fit. Some cooling vests are designed for medium or large dogs while others are for small pooches. Before making the final purchase, refer to manufacturer's guidelines to ensure the chosen product will be suitable for your dog type.
Functionality Duration: A cooling vest that dries of within five minutes is a worthless investment; minimally it should work for at least half an hour. Although, the functions of the cooling vests vary in different climates, it dries off quickly in arid places but functions well.
Wicking Materials: Mainly designed to evaporate moisture and lower body temperature of the dog, it should effectively wick away heat. Some of the innovative cooling vests use materials protect your dog from the scorching sun rays to improve cooling mechanism.
Compliment the Harness or leash: Make sure the cooling vest works well with the dog's collar or harness. You may even find few designs that feature a leash clip letting you attach the dog's leash or harness.
Reflective Strips: If you take an early morning jog or when the sun has set, visibility could be a major concern. Since, you want the car drivers to see your dog easily, before it's too late, getting a vest with reflective strips is imperative.
Cooling Properties: Wet fur can irritate your mutt and lead to various skin problems, such as chaffed skin. To avoid these issues, get a vest that prevents the fur to become soaked due to excessive sweating. Make sure it absorbs moisture and wicks it away quickly so that your dog doesn't suffer from skin diseases.
BarkVA is reader-supported. When you buy via the links on our site, we may earn an affiliate commission at no cost to you.
II. The 12 Best Dog Cooling Vests
1.
Our #1 Pick:
Ruffwear Swamp Cooler Evaporative Dog Cooling Vest
Our best pick "Ruffwear Swamp Cooler Evaporative Dog Cooling Vest" due to its high efficacy levels. It is one of those cooling vests that protects against sun and effectively evaporates moisture and sweat to keep your mutt exceptionally cool.
This dual-functioned, multipurpose cooling vest has three different layers for enhanced comfort. The top layer reflects heat and improves evaporation, while the middle absorbs water and the third layer, the mesh lining, offers dry comfort.
Your canine friend can enjoy maximum coverage with UPF 50+sun protection. It is also easy to strap the vest with its smooth buckle system. The vest is compatible with most of the harnesses due to its integrated leash portal. Assimilated with reflective trims, the vest also improves visibility for added safety in low-light settings.
The vest is safe to machine wash with mild detergent on gentle cycle. However, never iron or bleach the vest to prevent it from wear and tear.
Things We Like:
Perfect fit and comfortable
Wicks away heat and moisture
Keeps your canine dry even in humid summers
Machine washable
Easy buckle mechanism
Things We Dislike:
Not suitable for larger dogs
Need to be dried under the sun, after washing
---
2. Hurtta Cooling Vesth
Available in a blue chic color, this eye-catching dog cooling vest prevents overheating during a hike, walk or training session. Compared to other cooling vest, it's much smaller in size but offers same level of comfort and fits to most dog types.
Its unique design protects and keeps the heart region cool, thus preventing it from severe heat stroke and other health complications. The terry cloth coat offers double the absorption capacity to keep your mutt cool and dry for longer periods of time.
The customized features make this vest ideal for playtime, dog shows, and during exercise. It also features a leash loop to make it more compatible and easy to use. However, due to its limited size, you need to make measurements of your dog before making the purchase.
Things We Like:
Modernistic design
Comfortable outlay
Terry material offers double absorption capacity
Effective cooling properties
Concentrate on heart and chest region
Loop attachment
Things We Dislike:
Available in small size only
Not suitable for medium or large dogs
---
3. SGODA Dog Cooling Vest Harness Cooler Jacket
This beautifully designed cooling vest is a great choice for those looking for a chic yet high-performance product. It's easy to put on and off your dog while protecting most of their body against scorching sunlight.
The three-layered composition works well in keeping your mutt cool and dry in humid temperatures. All you need to do is soak in water, wring out the excess and keep your dog cool even in 50 degrees. The middle layer holds and isolates the water and does the actual cooling.
The vest also provides UV light protection thus keeping your dog safe from sunburns. Its light grey color deflects heat and sunlight to improve cooling therapy while the reflective neon stripes around the neck and legs enhance visibility in the dark.
The soft, light material makes it comfortable to wear while propagating ease of movement. The zinc-made D-shaped ring lets you easily attach the harness. With reflective strips at both sides, your dog becomes highly visible even in low-light.
Things We Like:
Appealing design
User-friendly construction
Exceptional cooling
Soft and comfortable material
Improved visibility
Easy adjustment
Suitable for active dogs
Maximum coverage
Things We Dislike:
Suitable for medium dogs only
---
4. Ruff-wear Jet Stream High Performance Cooling Vest
This sleek and appealing vest offers enhanced comfort in hot summers. Typically designed to use during high-intensity activities such as exercise, training and hiking sessions, the vest offers enhanced evaporative cooling.
To activate its mechanism, dip it in cool water and wring out the excess water to let your canine enjoy cool protection against sun. The top layer deflects sunlight while the middle stores water for evaporation and third works as a barrier between the skin and coat, so your canine doesn't get wet.
It features three-layered construction, similar to any other Ruffwear cooling vests, for keeping your canine cool and dry. However, this innovatively designed vest provides freedom of movement to make it easier for your dog to jump and run around.
The Jet Stream is specifically created for adventurous and active dogs; thus provides optimum cooling, comfort and smooth mobility. Its inner layer transfers the cooling capabilities to your feathery-friend to regulate body temperature even in sweltering heat. The zippered design allows you to put the vest on and take it off without any struggle.
Things We Like:
Athletic design
Available in six different sizes and colors
Zippered construction for ease-of-use
Spandex top to protect against sun
Stable and long-lasting construction
Things We Dislike:
Zip may get stuck after months of use
---
5. Canada Pooch Chill Seeker Cooling Vest
Canada Pooch serves up a great cooling vest available in a handful of sizes to suit most furballs. This is suitable for dogs with backs measuring from 9 to 11 inches. To get this measurement, run a tape from the base of your pup's neck to the tip of his tail.
The breathable mesh fabric is designed to retain the water you pour over it to keep Fido cool on hot summer's days.
Layers allow the water to circulate throughout the vest, keeping your dog cooler for longer.
Chest straps can be tweaked to ensure a snug fit within the size guidelines laid down. Several users have reported that the sizes appear to run slightly large, so consider making provision for this.
Overall build quality is pretty robust, and the cooling vest couldn't be easier to use.
Finished with an alluring rainbow effect, this might be one of the smartest investments you make for your dog this year, especially if you live somewhere with a hotter climate.
Things We Like
Huge choice of sizes
Easy to use by adding water
Mesh layers promote circulation
Fully adjustable
Water-retaining fabric
Things We Dislike
---
6. Dogzstuff Cooling Vest
Next up we have an outstanding microfiber cooling vest from Dogzstuff that's well worth a place on your shortlist. How does this model shape up, then?
Choose from dark blue or red and a range of sizes to get the right match for Bonzo. This is the XS designed for much smaller dogs.
The vest features full sun protection rated at UPF50+ so you can be confident your dog will stay as cool as possible, even if it's baking hot outside.
The soft and porous fabric will sit snugly against your pooch without any chafing or irritation. Adjustable straps allow you to get the perfect custom fit.
To use the vest, simply soak it with water and then wring it out. Fit the vest just like you would a winter jacket, except this will keep your dog rather than warming him up.
Overall build is reasonably robust and you should get plenty of faithful service from this thing.
Unlike many manufacturers in this vertical, Dogzstuff puts their money where their mouth is. If you're not satisfied with this vest for any reason, return it for a no quibbles refund. What have you got to lose?
Things We Like
Microfiber
UPF50+ sun protection
Highly adjustable vest
Multiple sizes
Money-back guarantee
Things We Dislike
---
7. CoolerDog Dog Cooling Vest and Cooling Collar
This chew-resistant nylon dog vest offers premium cooling in soaring temperatures. The neoprene straps provide three different adjustment settings for a snug-fit, without cutting into your mutt's skin.
This vet-approved cooling vest features Flexifreeze frozen water packs to regulate body temperature. It provides heat-relief for only 20-30 minutes, thus suitable for short walks or strolls. However, you can extend its cooling therapy by carrying ice pack reserves.
The vest is designed for using during intense situations and ideal for training dogs. You can also use them for playful ones who are highly active even during summer heat, which makes them susceptible to sunburns and heat stress.
Paired with zinc-alloy leash rings allow you to attach the harness of your choice. The zip around the neck lets you to adjust the fitting as per your dog's size. The vest is available in three different sizes and backed with 90-days warranty.
Suitable for machine-wash, the vest is also free of any buckles or latches to prevent pinching. However, it has attached collar set that is custom-adjustable around the neck, and chest for personalized setting as per your dog size.
Things We Like:
Ice-cooling properties
Adjustable design
Custom fitting
Pinch-free construction
Machine washable
Things We Dislike:
Suitable only for short walks
---
8. Kurgo Dog Core Cooling Vest
This lightweight cooling vest is available in frosty colors and reflective material to reflect heat. The dual-layered vest provides prolonged evaporation to keep your dog cool for longer period.
Its absorption capability can hold twice the amount of water as a standard towel. You can keep your canine friend cool and comfortable for three to five hours, by dipping the vest in cold water. It mainly focuses on the neck and chest region due to excessive sweat gland concentration.
The adjustable straps snuggly secure the vest and offer easy fit without biting into the skin. Its two-way zipper system offers quick access to attach the leash, harness or collar.
With lifetime warranty, you can enjoy hassle-free return on claims due to manufacturing defects. Available in five different sizes, the vest is suitable for most dog breeds.
Things We Like:
Prolonged evaporation
Long-lasting cooling
Easy to clean and wash
Cool colors and reflective materials
Adjustable settings
Suitable for most dog breeds
Lifetime warranty
Things We Dislike:
---
9. Derby Originals Hydro Cooling Dog Jacket
This ultra-thin, triple layer quilted vest offers excellent cooling and comfort. The high-quality, versatile product keeps your mutt dry and content for up to 10 hours.
This cooling jacket offers instant heat-relief without letting your dog get damp or sweaty in summers. Typically designed for furry coats, log-haired dogs, the vest is ideal with its life-capabilities to stop heat exhaustion and stress. It also effectively soothes sore joints and aching muscles, making it a great choice for dogs suffering from arthritis.
The second-generation, multi-layered coat is exceptional lightweight compared to others. The outer layer wicks away heat, evaporates moisture and absorb sweat for maximum temperature regulation while keeping its fur dry.
The foldable neck collar keeps the neck cool, and the built-in loop allows you to securely attach the harness or leash. The Velcro-elastic straps offer customized settings for snuggly fit.
Available in three different colors, the vest is suitable for your varying preferences. The eight different sizes make it an ideal match for all dog types and sizes.
Things We Like:
Multiple sizes
Varying colors
Custom adjustment settings
Prolonged cooling
Exceptional heat and moisture wicking properties
Suitable for most dogs
Durable materials
Lightweight
Things We Dislike:
Unsuitable for smaller breeds
Takes time to completely dry off
---
10. Selmai Cooler Vest
Selmai's cooler vest gives you rapid results if you want to cool your dog in a hurry.
Choose from four sizes to suit, and then use the adjustable straps to tweak the vest so it fits snugly.
Made from a super-absorbent PVA fabric, all you need to do is get this vest soaked with ice cold water and then wring it out. When you pop it onto your furball, his core temperature should come down and he'll be fine to play outside even when it's getting hotter over the summer.
Not only does this vest help keep your dog cool, it should also prevent him overheating during hot spells, and it should also cut down on his panting.
The vest is easily washable, too, so you have no tasky upkeep to worry about.
Most user testimony concerning this cooling vest is pretty positive, but a handful of users have complained about build quality and lifespan. You should do your own due diligence here.
Overall, this is one of the best cooling vests you'll find, and it's also very keenly priced, so what are you waiting for?
Things We Like
Cools Fido rapidly
Helps prevent panting
Ultra-absorbent material
Washable and reusable
Several sizes to suit
Things We Dislike
Build quality could be improved
---
11. FrontPet Dog Cooling Vest
FrontPet offers up a first-class cooling vest for your dog at a reasonable price, so what do you get for your money?
Firstly, this vest couldn't be easier to use and fit. Straps and Velcro give you a close and highly adjustable fit that should work well for most medium-sized and larger breeds. This is one of the most versatile vests out there.
You get no chemicals or contaminants, just a dog-friendly nylon that is designed to soak in the water you pour on it and then cool your dog down when the temperature rises.
Even when it's been soaked with water, this lightweight vest is a pleasure for your dog to wear and won't weight him down.
The reflective strip is ideal for nighttime walkies and gives you one more reason to add this vest to your shopping list.
As with most of these cooling vests, the effects wear off reasonably quickly, but Fido will be cool during that period, and he would thank you if you could.
Things We Like
Super-simple to use
Free of chemicals and contaminants
Lightweight and comfortable
Reflective strip
Fully adjustable
Things We Dislike
---
12. FrontPet Dog Cooling Vest
FrontPet offers up a first-class cooling vest for your dog at a reasonable price, so what do you get for your money?
Firstly, this vest couldn't be easier to use and fit. Straps and Velcro give you a close and highly adjustable fit that should work well for most medium-sized and larger breeds. This is one of the most versatile vests out there.
You get no chemicals or contaminants, just a dog-friendly nylon that is designed to soak in the water you pour on it and then cool your dog down when the temperature rises.
Even when it's been soaked with water, this lightweight vest is a pleasure for your dog to wear and won't weight him down.
The reflective strip is ideal for nighttime walkies and gives you one more reason to add this vest to your shopping list.
As with most of these cooling vests, the effects wear off reasonably quickly, but Fido will be cool during that period, and he would thank you if you could.
Things We Like
Super-simple to use
Free of chemicals and contaminants
Lightweight and comfortable
Reflective strip
Fully adjustable
Things We Dislike
---
III. Dog Cooling Vest FAQs
1. What is a Dog Cooling Vest?
It is a jacket that works on the same mechanism as a human body for evaporating sweat. Its main function is to keep your mutt cool in unswerving temperatures to prevent heat-related problems.
The specific materials absorb water and wick away heat to regulate body heat and also offer maximum coolness. It also absorbs dog's body temperature to cool it off under the burning sun.
It mainly focuses the heart and neck region while evenly distributing coolness for stable regulation. They are highly important for dogs in hotter areas such as the south-east and desert regions.
2. I wear Dog Cooling Vests for my dogs. Can we wander in the hot weather?
Although, vests are designed to keep your dog cool even in hot temperatures, it's ideal not to take them out when it's above 40 degrees.
If you have to take them out, do it early morning or later in the evening while keeping the vest on. Exposing them to sun can result in burned skin, heat stroke and in some instances, untimely death.
Whenever you take your dog out, never leave them in enclosed spaces, even if they are wearing the vests. The temperature can significantly rise, making it unbearable for dogs and thus results in their death. If you have small pups or old dogs then you need to be more careful as they are more susceptible to heat-related complications.
3. How to use the Dog Cooling Vest?
There are four different types of cooling vests and each has a different mechanism.
The first and the most common type is the evaporative jacket made of water-absorbent fabrics. It soaks water that evaporates and cools off the body temperature for several hours. Due to its affordable price point and long hours of functionality, it's the most popular cooling jacket variety. They also are paired with reflective strips for improved visibility.
The second are the cold pack vest featuring ice pack compartments to regulate body temperatures. Specifically designed for hot regions, these vests offer chilling coolness even during heavy-duty exercises and training sessions. Its versatile design makes the vest quite adaptable to different body lengths. Carrying ice pack reserves allows you to keep your dog cool throughout the day as each cold pack can last for hours.
The third is phase-changing cooling coat to provide cooling therapy. Designed similar to cold packs, these jackets also have cold compartments made of phase-changing materials. The PCMs slows down the melting process; thus, the jacket stays cool for longer period.
The last is the circulatory cooling vest and are most effective at maintaining body temperature. It circulates ice water throughout the jacket to provide heat relief for at least 3-4 hours. Its functionality is highly dependent on the insulation rate of the tubes and size of the reservoir.
4. What are the symptoms of dangerous hyperthermia in dogs?
It's medical condition that excessively drops the dog's body temperature and requires instant medical attention. Similar to fever, hyperthermia is a high temperature during which the dog fails to regulate its body heat, making it a life-threatening occurrence.
Always act quickly and contact the vet to bring the situation under control. Look out for following signs and symptoms:
Red gums
Excessive drooling
Blood vomits
Breathing difficulties
Seizures and muscle tremors
Uncoordinated body functions
Rapid heartbeat
Change in stool color
It typically occurs when the dog exercises or engages in high-intensity activities in hotter temperatures. Their inability to pant out the excessive heat leads to hyperthermia. Certain drugs and medicines can also cause similar effects and it's best to take your dog to a vet for professional examination.
---
IV. Conclusion
Soaking your pooch with a cool water tap just before striding for a walk? Is it making your canine dirtier, restless and agitated? Do find it imprudent and tiring to run with a bucket of water to keep your dog cool?
Cooling vest are one of the most effective and cost-friendly solution to keep your mutt comfortable during the hot summers. Now you don't need to frequently bath or carry a water bucket as you go downtown in summers.
All you need is to make your dog wear this dampening jacket and beat the sweltering heat. Now your dog can have some fun-time outdoors in the middle of the summers with suffering from any health-related issues.
They certainly beat the heat and keep your furry companion cool and comfortable. However, when the mercury climbs up, your mutt finds it difficult to handle heat even after implementing all the cooling techniques. Here are some basic safety guidelines to follow when the temperature soars:
Stay Out of Sun
Keep Your Pooch Hydrated
Scale back on Vigorous Activities
Take Frequent Breaks
Have Some Pool Time
Use Canine Sunscreen
Being negligent towards your dog leads to development of heat-related health problems, including stroke, parched skin and dehydration. In extreme cases, you mutt can even suffer from hyperthermia which is a medical condition.
It is highly advisable to keep on the signs and symptoms of this disease because if things get out of hand, your pal can lose his life.
As an Amazon Associate, we earn from qualifying purchases - at no cost to you, allowing us to continue our work.