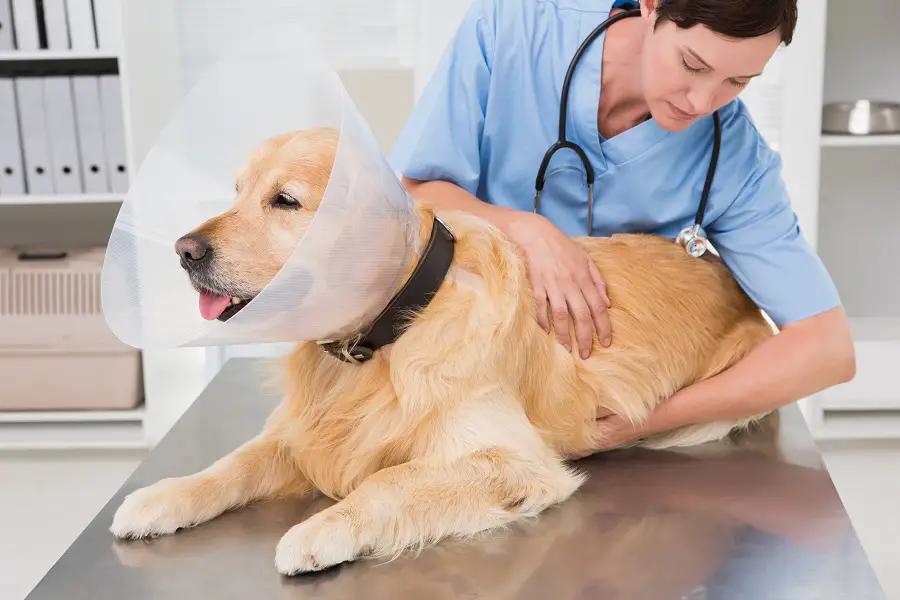 As all pet owners know, dogs normally hate wearing anything. From harnesses and vibrating collars through to coats and boots, you'll typically struggle when you're introducing your dog to anything new.
It's no different with dog cones, also known as e-collars (this stands for Elizabethan collar).
Obviously, you can't sit your dog down and explain to him how e-collars work and why he will benefit from one.
Today, we'll be highlighting the best devices up for grabs so you can find the right cone the easy way.
First, though, what are dog cones and why should you buy one?
Well, if your dog has surgery or sustains any injury resulting in an open wound, chances are he will instinctively lick that wound. With a smaller injury, this is no big deal, but with more serious wounds, the effects can be damaging.
If your dog has had sutures, using a cone can stop them from biting away and snipping through the sutures with their razor-sharp teeth.
So, for dogs with injuries, allergies, or skin problems, these collars can work well. They are also effective when dogs are constantly licking
What should you consider when you're buying one, though?
Size: Most cones come in a wide variety of sizes to suit most breeds of dog. Once you've got the right fit in general terms, you should make sure any e-collars on your shortlist are fully adjustable. This will guarantee a snug fit and minimize any chance of your dog coming into contact with his wound
Type: A rigid collar, also known as a lampshade collar, is uncomfortable for your dog and blocks most of his peripheral vision. Softer and more flexible e-collars are less restrictive and more comfortable, but allow your dog more wiggle-room so they are not as secure. Inflatable collars are not as effective, but your dog should find these comfier to wear. They are also super-simple to deflate and store in small spaces
Material: If the cone you're looking at is plastic, ensure the plastic is free of all contaminants. Make certain that any fabric collars are easy to care for and machine-washable
With that foundation in place, you should have a clear idea about why you might need a dog cone for your furball, and what to look out for on the buying trail.
We'll get right down to business now with the main event. In today's dog cone reviews, we'll highlight the leaders in the pack so you can make the right decision for you the easy way.

BarkVA is reader-supported. When you buy via the links on our site, we may earn an affiliate commission at no cost to you.
I. The 5 Best Dog Cones and E-Collars
1.

Our #1 Pick:

The Original Comfy Cone
Are you and your dog resistant to those rigid, plastic e-collars? If so, does The Original Comfy Cone deliver as promised, or is it a complete waste of money?
Well, you're off to a strong start as this cone comes with the full backing and testing of veterinarians so you know your pup is in safe hands.
Choose from sizings from small through XXL so you can find something suitable for your canine if he's recovering from surgery or nursing a wound and you want to promote the healing process while minimizing the chance of your dog licking at his wound.
You should start by closely supervising your pup when he wears this cone. Make sure it's not irritating his neck. Check, too, that he is not able to access his wound when he thinks you're not looking.
Made from rugged nylon, the collar is comfy and padded enough not to burden your pet, but it's also hardwearing enough to ensure an impressive lifespan.
As an indication of sizing, the large collar measures up at 18 x 1.5 x 10 inches.
Things We Like: 
Wide array of sizes to suit all breeds
Velcro enclosures for convenience
Approved and tested by vets
Things We DisLike:
Color limits dog's field of vision
---
---
2.

Runner-Up:

Fezep Dog Cone Collar
Are you hunting for e-cones on a budget? If so, the Fezep Dog Cone comes in at a price you'll love, but goes one better on the value front: this pack contains 5 assorted cones ideal for a variety of ages and breeds of dog. What do you get for your money, then?
The high-grade plastic contains no toxins, and it's lightweight enough not to drag your dog down when he's recovering from an injury. It's also robust enough to withstand some serious punishment.
As with any cone, you'll need to ensure it stays spotless. All you need to do with the Fezep is to wipe the outside of the cone down with a damp cloth and you're good to go.
Velcro closures mean you won't be fiddling around trying to put this collar on or remove it.
Next time your dog sustains an injury, do him and yourself a favor: make sure you have some Fezep cones on hand. At this price, there's no excuse not to be prepared.
Things We Like:
Each sets comes with 5 sizes
Ideal for wound-healing
Lightweight and non-toxic plastic build
Things We DisLike:
The largest cone is still quite short
---
3. Alfie Pet Noah Recovery Collar
Are you hunting for something fun and lighthearted to cheer up your injured pooch? If so, check out this lion-themed dog cone that will put a smile on everyone's face.
Sizing runs from XS through to XXL, and this cone only comes in a brown lion design.
The versatility of this collar makes it a neat fit for both cats and dogs. No pet owner should be without one of these recovery collars. Buy one before you need it and you'll never be caught short.
While you'll benefit from that aesthetic when it comes to enjoyment, the design does means some pets will be able to reach some body parts not covered by the collar.
From surgery to injury, this cone also works well if your pet has suffered any minor cuts and scrapes.
An inbuilt advantage of this collar is the way your dog will still be free to eat and drink as normal. He shouldn't experience any issues with sleeping either.
Things We Like:
Broad spread of sizings
Striking lion design
Works for dogs or cats
Things We DisLike:
Photos in listing do not accurately portray cone
---
4. E-KOMG Dog Cone
Next up, we have something different with the first of a pair of inflatable dog cones, this one coming from E-KOMG.
The first and most obvious advantage of this design is the way you can deflate the collar after use and store it in a small space. Contrast this with those large and bulky plastic collars that eat up a great deal of storage space. How about when the collar is fully inflated, though?
Neck sizes run as follows:
Small: 6 to 9 inches
Medium: 8 to 12 inches
Large: 12 to 18 inches
X-Large: 18 inches and upward
With that decision made, you can also adjust each collar to fit more snugly and maximize the chance of your dog's wound healing unmolested. Tweak the inner ring until it fits perfectly.
Choose from a gray or blue collar to suit the temperament of your hound.
Soft, washable, and comfortable, yet also durable and long-lasting, the added bonus is that this e-collar is priced firmly in budget territory so what's not to love?
Things We Like:
Soft, inflatable, and safe
Space-saving storage
Fully adjustable for close fit
Things We DisLike:
Some issues with cone deflating
---
5. UsefulThingy Dog Recovery Collar
Last but not least in our quest for the best dog cones and e-collars comes the Dog Recovery Collar from UsefulThingy.
This is another soft inflatable collar giving you an adaptable and space-saving solution next time your dog has surgery or picks up an injury.
Unlike the traditional plastic cone of shame, this alternative won't impair your dog's peripheral vision too badly, so he won't end up blindsided or sidelined at playtime.
Coming in sizes from small through XX large, you should find something to fit most sizes and breeds of dog.
Even if he's injured, your dog doesn't need to experience issues eating, drinking, and sleeping while he recovers. By using a collar designed like this, he should find no snags with his usual daily activities while you can rest confident knowing the wound will heal without your dog worrying at it.
Choose from a light or pale blue and a green collar giving you plenty of choice and your dog a comfy, efficient cone that will help you on a speedy road to recovery.
Things We Like:
4 sizes to suit most pooches
Comes in 3 colorways to suit
60-day money-back guarantee
Things We DisLike:
Some dogs easily wriggle out of the cone
OK, with our e-collar reviews put to bed, we'll round out with a curated list of the most frequently asked questions about dog cones.
---
II. FAQs
1) Can my dog eat and drink while wearing e-collars?
All decent dog cones should cause no problems for your dog when it's chow time.  You'll need to make certain the collar is properly fitted. Also, any extra-large food and water bowls might cause problems, especially if they're close against the wall. If you must, remove the collar while your dog eats, but make sure you keep a close eye on him so he doesn't surreptitiously lick at his wound as well as his food.
2) How big should a dog cone be?
The first decision you'll need to make is based on the neck size of your dog. Most e-collars are sized from XS or through to XL or XXL. These sizes will correlate to different neck sizes from brand to brand so take care to get this right. Beyond this, make sure any collar on your shortlist is adjustable. All dogs are different so make sure you have a little room for maneuver.
3) My dog has just been spayed. Why does he now need to wear an e-collar?
If a dog has been spayed or neutered, there's a strong chance he will try licking or biting his incision. This could result in infection, and it will also slow down the healing process. By putting one of these e-collars on, he'll be prevented from accessing the wound. When you remove the collar, watch your dog's behavior closely. If he immediately starts licking at the wound, you should put the collar back on. Contact your vet for further guidance.
4) Why are these dog cones also called e-collars?
The e-collar stands for Elizabethan collar rather than electric collar. These cones are named for the collars work by people during the Elizabethan period.
5) What can I do if my dog reacts poorly to the dog cone I chose?
If he finds a rigid plastic cone – the infamous cone of shame – too restrictive, you should consider a softer cone, or an inflatable cone. If you do choose one of these options, though, you should be aware of their drawbacks. While your dog might be more tolerant of a softer cone, he'll also have more chance of gaining access to his wound. If you're happy with this compromise, softer cones often work where rigid cones fail.
---
III. Conclusion
If you started out today with no idea about what dog cones are or what e-collar really means, that should have changed by now.
We appreciate that some dog owners make their own e-collars. If this is something that sounds tempting, Check out our guide to know how to make E-Collar at home
If you don't have the patience or the creative skills to make your own, stick with any of the cones we review today and you're in safe hands.
Before you head off, take a moment to bookmark BarkVA. We'll be working throughout the holiday season and we have a great deal of interesting content to come your way in the run-in to Christmas. We'll see you soon!