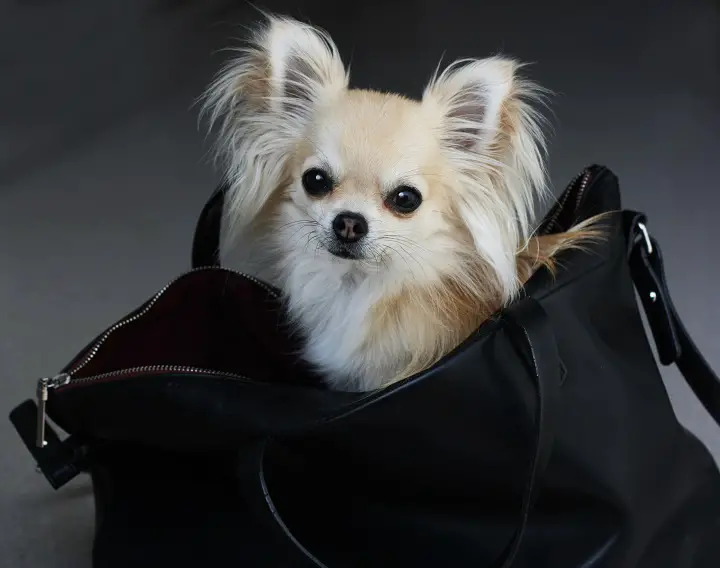 One of the most rewarding elements of dog ownership is the time you spend outdoors with your best friend.
Even if your dog is well-trained and normally happy around people, there are many instances when a pet carrier of some sort is essential.
Picture a crowded urban street with traffic zooming everywhere and hordes of pedestrians. Chances are, your dog would appreciate being carried safely above all this madness.
If you fly frequently and take your teacup breed along for the ride, you'll need to look out for an airline-approved bag so your journey goes seamlessly.
Alternatively, you might be making a short trip in the car with your furball and in need of a transportation solution.
As you can see, then, choosing a dog carrier purse will depend to a large extent on your intended use.
While it might initially seem like a simple buying decision, when you start thinking about the mechanics, there are a number of factors you need to consider.
Type of dog carrier: Firstly, you should decide on the most suitable type of dog carrier for your needs. A standard dog carrier purse will suffice for carrying your pup, or for making trips in the car or subway. If you have a heavier dog, you can find similar carriers with wheels to simplify moving a larger dog around. For smaller puppies, slings work well. Most of the purses we highlight below don't work so well for young pups. A backpack is ideal if you plan to go hiking with your mutt
Sizing: Once you have the type of dog carrier purse in place, you should next consider the size of your dog. We've emphasized the maximum weight capacity of each of the purses we review today. This should always be considered an absolute maximum rather than a comfortable fit. If your dog is at the upper end of the suggested weight range, widen your search to include more substantial purses
Materials: Dog carrier purses come in a variety of materials. PU leather or faux-leather work effectively. This material is easy to keep clean and it's built to last. Your dog shouldn't destroy it either. Nylon and canvas bags can work as long as they are easy to clean. Some carriers are finished in plastic, but these are in the minority. You should make sure that the bag is finished in a material that delivers the combination of aesthetics, durability, and breathability that makes most sense for you. Every pet owner is different, so personalize your buying decision accordingly
Security: Now, a comfortable pet carrier is no use unless it's also safe and secure. Many of these purses come with integrated leashes. This allows you to attach your pooch and to limit his movement. Beyond this, you should make sure that your dog fits well in the size of purse you're considering. Placing a tiny puppy inside a bag designed to accommodate medium-sized dogs is a poor idea. He will end up with a very unsupportive structure around him. As a minimum, you should ensure that any purses on your shortlist can close completely giving your dog some privacy when it's needed
Ventilation: If you plan on leaving your dog inside a purse for any length of time, you should ensure it's well-ventilated and highly breathable. Most of the time, these purses are only used for short trips so this factor is not so crucial. If you know you'll be making longer trips, especially by plane, take the time to establish that the bags on your shortlist are breathable enough for the purpose
Airline-approved: Thinking of planes, if you know you'll be taking Rover on your next flight, it's key that the bags you're considering are airline-approved. We draw your attention to this in our reviews so you can more easily select the most appropriate bag for your requirements
Handles: Never underestimate the importance of comfortable and solidly-built handles. If you plan to carry your dog for lengthy spells, cheap and poorly-constructed handles will give you an uncomfortable experience. Beyond this, if the handles give way and your dog falls out on a crowded street with traffic around, he could end having a painful accident. Look for padded handles that are built to last
Ease of cleaning: Any pet carrier purse needs to be easy to clean or you'll end up leaving it in the closet in disgust. All the bags we review today are made from materials that are easy to wipe down and keep clean with no effort required. The inside of a good dog carrier should be water-resistant so you don't end up with a soggy mess
OK, now you have a clear idea what to consider when you're looking for the best dog carrier purses.
To help you with the next stage, we'll now guide you through the top 10 purses in a range of styles and at varying price points. Whether you have a teacup breed you want to carry around the store or you have a medium-sized dog you need to take onboard a plane, we've got something for everyone today, so read on!
Barkva.org is reader-supported. When you buy via the links on our site, we may earn an affiliate commission at no cost to you.
The 10 Best Dog Carrier Purses
1.

Our #1 Pick:

 PetsHome Dog Carrier
Features
PU leather
Maximum load: 6 pounds
7 x 7.9 x 9.5 inches
If you're looking for an effective dog carrier purse that comes in a broad palette of colors, PetsHome hits a home run here.
The supple PU leather gives you elegant aesthetics and easy care. This bag will ensure your pooch is comfy and well-supported, and you'll find it very easy to carry your teacup breed around thanks to the padded handles of this tote.
You can attach the carrier to your bike and remove it with ease. The whole bag folds down when it's not in use, too. This is ideal if your house already seems overrun with dog equipment and accessories.
Most users seem highly satisfied with this purse, but a common flashpoint appears to be the zippers. We would advise unzipping this bag with caution as a few users have complained about it separating.
Overall, though, you'll get a breathable and functional carrier that easily slips under plane seats. While this purse isn't cheap, we would argue you get exceptional value for money.
Things We Like
Soft and supple yet hardwearing
Detachable and foldable
Fits under most airline seats
Things We Dislike
---
2. Sleepypod Atom Pet Carrier
Features
Nylon and polyester
Maximum load: 12 pounds
17 x 8.5 x 10.5 inches
The Sleepypod Store serves up this voluminous messenger bag that's perfect for carrying your pooch when you're out and about.
The maximum weight capacity of this carrier is 12 pounds making it a smooth fit for medium-sized dogs.
Choose from 5 bright colorways with rugged build quality and impressive lifespan. The outside of the bag is made from luggage-grade nylon. Inside, you get a plush and soft polyester guaranteeing your hound a comfy ride.
You can access your pup from the top or the sides so he won't get lonely.
Whether you want to use this bag on your car seat, or when you're walking around town, you get a versatile and hardwearing dog carrier purse that's comfortable enough to carry for extended periods while providing your furball with a cushioned and padded experience along with plenty of interaction. If you fly regularly, you may want to consider another carrier as this one doesn't fit neatly under airline seats.
Things We Like
Several striking colorways
Machine washable
Super-padded shoulder strap
Things We Dislike
Doesn't fit under airline seats
---
3. MG Collection Quilted Pet Travel Bag
Features
Nylon
Maximum load: 9 pounds
16 x 7.5 x 11.75 inches
The MG Collection consists of some eye-catching and delicate luggage for pet owners, this two-tone quilted travel bag being a particularly fine example. Is it a case of form triumphing over function, though?
Fortunately not! The soft exterior of this bag feels relaxed against the body and it's super-simple to keep clean. The nylon finish is also remarkably durable, so you should get years of service from this bag.
The plastic flap can be covered with an additional quilted flap for added privacy when you're on a plane or in the car and your furball needs some time out. Ventilation is superb.
Each side of the bag comes equipped with a large pocket. Velcro closures streamline entry. The drawback of these closures is that your pet won't be firmly secured inside.
The bottom of the bag has studs to help it keep its shape, and to keep the bottom of the bag dirt-free if you set it down at any stage.
Things We Like
Elegant aesthetics
Efficient ventilation
Protective mesh flap
Things We Dislike
Velcro on safety flaps is insecure
---
4. Petparty Dog Carrier
Features
Plastic and cotton
Maximum load: 16 pounds
6 x 11.5 x 8.5 inches
If you're shopping dog carrier purses based mainly on the appearance, this is likely not the best choice. If, however, you prize functionality first and foremost and you're also shopping on a tighter budget, this Petparty dog carrier is a flawed gem.
The principal drawback is that you only get a single size. This caters for pups to 16 pounds, so you get a great deal of latitude at the upper end. If you have a smaller dog, though, you may find this carrier unnecessarily bulky.
The plastic and cotton build means this is not the most attractive pet carrier, but you get great durability and a very low-maintenance purse that's a cinch to keep clean.
The primary use case of this purse is for outdoor activities like hiking. If that sounds like it fits the bill, you'll be amazed at just how little this bag costs.
Things We Like
Perfect for outdoor activities
Hardwearing and long-lasting
Simple to clean after use
Things We Dislike
---
5. Django Dog Carrier Bag
Features
Cotton canvas and nylon
Maximum load: 15 pounds
5 x 8 x 12.5 inches
If you're looking for a cheap dog carrier purse, this Django bag is not for you. If, on the other hand, you have deeper pockets and you're looking to give your pooch a treat, read on…
The maximum weight capacity of this spacious tote is generous at 15 pounds. This gives you the scope to carry medium-sized dogs without them feeling restricted.
The waxed finish is perfect for repelling the rain if you get caught in a shower with Fido. Choose from olive green, black, or blue and enjoy muted elegance.
Inside the bag, your dog gets a silky and water-resistant fabric so he gets a cushioned ride.
There are 4 pockets inside and outside so you can keep your dog's treats, wipes, and poop bags separated. You also benefit from credit card slots so you can leave your purse at home and go out with everything you need in one place.
Things We Like
Works well for medium-sized dogs
Weather-resistant, waxed material
Several secure compartments
Things We Dislike
Doesn't make a good fit for puppies
---
6. Hubulk Dog Carrier
Features
Oxford cloth
Maximum load: 9 pounds
7 x 7 x 10 inches
Are you looking for a dog carrier purse that resembles a standard tote bag? If so, this serviceable and rugged Oxford cloth model from the inimitable Hubulk is a must.
Choose from a small or large bag to suit, This smaller version is ideal for pets to 9 pounds making it a great choice if you have a small breed. Step things up to the bigger bag if you have a medium-sized dog at home.
As with all the best dog carrier purses, this one is super-simple to keep clean. Wipe it down and that's about the extent of the upkeep required.
Multiple ventilation holes guarantee your hound enough air for his needs.
Protective feet on the bottom elevate this purse from the dirt allowing you to pop it down on the floor without soiling it.
While this is not the most attractive purse out there, it performs strongly and it's priced well within anyone's budget.
Things We Like
Comes in 2 sizes to suit
Couldn't be easier to clean
Sleek and stylish design
Things We Dislike
Build quality could be improved
---
7. Kenox Dog Carrier
Features
Cotton canvas
Maximum load: 8 pounds
7 x 11 x 7.5 inches
Kenox delivers a traditional tote bag that makes a great solution for pet owners on the go. What do you get for your money, then?
Firstly, this small bag is best for little dog weighing up to 8 pounds. If you have a medium-sized furball at home, we'd suggest one of the roomier carriers on our shortlist. If you have a small breed, you're in luck and so is your hound.
The soft interior of this purse provides your pooch with a welcoming environment. After all, if you expect him to behave himself, you need to make it worth his while.
The bag is rugged enough to stand up to some serious punishment, but it's also delicate and easy on the eye.
If you plan on some vigorous outdoor activity, this is probably not the best carrier for your needs. If you intend to stroll around town with your teacup breed, though, the Kenox purse is cost-effective and won't look out of place in a nice hotel. See what you think.
Things We Like
Slim and compact
Ideal for smaller breeds
Hardwearing handle
Things We Dislike
Not the sturdiest pet carrier
---
8. Petego-Bitty Soft Padded Pet Carrier Bag
Features
Suede
Maximum load: 8 pounds
16 x 9.75 x 10.75 inches
As we edge to the end of our quest for the best dog carrier purses, we have a very slick soft bag from Petego.
The Bitty is designed by an Italian, Emanuele Bianchi, and that European styling shines through. The subtle brown bag is accented with orange, bringing the famous Hermes to mind. Both you and your pooch will benefit from comfort as well as style.
The shoulder strap is robustly padded so you can carry your pup for lengthy walks without straining yourself and without the strap biting into your shoulder.
The leash built in gives you welcome added security.
The lining is easy to clean and water-resistant, too.
If you're comparing dog carrier purses based mainly on the bottom line, you have plenty of cheaper options on our shortlist performing broadly similar functions. If you're looking for a winning combination of style, durability, and comfort, though, you can't do better than the Petego Bitty.
Things We Like
Commanding design
Integrated leash
Soft and supple lining
Things We Dislike
Not the most breathable bag
---
9. I IHAYNER Pet Carrier
Features
PU leather
Maximum load: 8 pounds
15 x 11.8 x 7.9 inches
We've tried to include a variety of styles of purse for you here today, and this pet carrier from I IHAYNER resembles a classic briefcase.
Finished in PU leather, you get the benefits of the real thing without the intensive maintenance required to keep leather looking great. This synthetic version is also much longer-lasting.
This carrier comes airline-approved so makes a smart choice if you're a frequent flyer and you often take Fido on your travels.
The inbuilt leash makes sure your pooch stays safely tucked inside the bag even if he's prone to wriggling around and trying to escape. Let's face it, what dog's aren't?
Although there's a pocket at the back, we would like to see more separate compartments on this pet purse.
Breathability is outstanding making this bag a good option if your pet spends extended spells inside a carrier purse and you want to ensure he is comfortable throughout.
The mesh inside is designed to withstand clawing and the finish is impeccable.
For a smart alternative to the multitude of soft pet carriers flooding the market, give this nifty bag a try.
Things We Like
Airline-approved bag
Highly breathable
Fixed leash for added security
Things We Dislike
Not great for bigger dogs
---
10. BETOP HOUSE Pet Carrier
Features
Faux-leather
Maximum load: 5.5 pounds
3 x 12.2 x 2.1 inches
Last in line today is a pocket-friendly pet purse from BETOP HOUSE, so how does this bag shape up?
The slick black faux-leather is accented with flashes of pink. If you prefer an even more feminine look for your chihuahua, the bag also comes with these colors reversed.
Mesh windows on the sides can be covered over for protection while still offering ample ventilation.
Anyone taking their dog out for the day will doubtless be laden with snacks and accessories. This purse comes with a spacious zippered pocket so you can keep any treats close to hand.
While your pooch should be very comfy inside this purse, you might not find it quite such a comfortable experience. If you're prepared to make a sacrifice for your dog, though, he'll thank you for it once he clambers inside.
This is a smaller purse that works best with very small dogs and teacup breeds. The maximum load is just 5.5 pounds. So, if you have a small bundle of joy and you want some hands-free transportation, try your luck with this pet carrier purse in shocking pink.
Things We Like
Highly polished surface
Works well with smaller dogs
Ventilation on both sides
Things We Dislike
Not the comfiest bag to carry
---
Conclusion
Well, if you fancy getting out and about more with Rover, finding the best dog carrier purse is key.
Think closely about your intended use, particularly if you intend to take your dog on a plane. If you're a frequent flyer, make sure any purses on your shortlist conform to airline regulations. We draw your attention to these carriers in our reviews.
If you're traveling in a car, a dog crate usually works better than a purse. If you're heading out on your scooter with Fido, a motorcycle dog carrier is your best bet.
All that counts here is finding the right transportation solution for your needs. Explore out site for more inspiration.
Before you head off purse shopping, bookmark BarkVA. Rather than trying to appeal to all pet owners, we stay focuses on Fido here. Pop back any time you want some impartial advice on the best dog gear, training tips, or any other aspect of dog care. We've got you covered every step of the way!