Whether you ride a bicycle to work, you enjoy cycling in your spare time, or you occasionally like to rent a bicycle when you're on vacation, what would make a bike ride even better?
How about taking your dog with you on the road?
Luckily, you can find a wide range of suitable carrier systems so you can do that easily and, more importantly, safely as well.
Type of dog basket: Dog baskets come in various different forms, so we would suggest exploring a variety of these, including those with domed tops, and then assessing which you feel would make the best fit for your pup. There's no right or wrong answer here, and no one-size-fits-all solution. All that counts is finding what's best for your dog
Weight limit: Dog bike baskets are not designed for large dogs. A big hound would be too destabilizing when you're riding if they were positioned on the handlebars. Instead, consider a dog trailer. For most reasonable purposes, these baskets are ideal for dogs no heavier than 14 pounds With some, the maximum weight capacity is considerably lower. Make sure any basket you're looking at is large enough to handle your dog
Materials: Look for weatherproof materials like nylon and polyester, and make sure that any basket on your shortlist is built securely and that it will give you sufficient lifespan. There's no point investing in a cheap dog bike basket if it ends up letting you down a few months later
Ease of installation and removal: Ensure that the basket has a removable liner. This will help you to keep your dog basket clean with ease
Cleaning: Make sure the baskets on your shortlist have no negative feedback from customers when it comes to cleaning and upkeep. Most are super-simple to clean.
OK, now you know what to look out for on the buying trail, we'll review the best dog bike baskets out there, so dive right in!
Barkva.org is reader-supported. When you buy via the links on our site, we may earn an affiliate commission at no cost to you.
The 14 Best Dog Bike Baskets
1.

Our #1 Pick:

 PetSafe Happy Ride Wicker Basket
Features
Weight limit: 13 pounds
15 x 11 x 9.5 inches
4 pounds
Our overall favorite in our search for the best dog bike baskets comes from the legendary PetSafe in the form of this rigid and durable wicker basket.
The rattan is covered with resin and provides a stable and comfortable den for your pup when you're heading across town on your bicycle. The basket is lined with supple sheepskin. You can easily remove this fleece liner so you can wash it in the machine and keep your hound's environment spotless.
The other advantage of the wicker build beyond lifespan is the fact this material is highly breathable.
You can attach this basket to your bike using the safety straps and brackets provided. Installation is quick and easy, something we can't say for all the baskets on our shortlist. We draw your attention to any that fall short in this area, but the PetSafe is not among them.
With a removable sunshade, you have everything you need to keep your furball cossetted when you're out riding your bike.
Things We Like
Breathable wicker build
Sheepskin liner for added comfort
Removable sunshade
Things We Dislike
Straps could be more fully reinforced
---
2.

Runner-Up:

 Barkbay Pet Carrier
Features
Weight limit: 19 pounds
11 x 12 x 14.5 inches
4 pounds
A close runner-up in our curated shortlist of the best dog bike baskets comes from Barkbay, so what do you get for your money?
Firstly, this pet carrier is ideal for bigger dogs up to 19 pounds. No dog baskets work well with really bulky and unwieldy pups so use your discretion if your dog is larger.
This is a versatile carrying solution that converts to a car booster seat and a shoulder bag giving you plenty of options if your dog doesn't want to walk.
The mesh venting encourages robust airflow and keeps your dog nicely ventilated.
Inside, you get a plush sheepskin liner so your dog feels pampered when he's being chauffeured around town.
The only real complaint we could find among a wealth of positive user testimony concerns the side walls. A few disgruntled users have complained about these coming away from the basket.
With all the storage pockets you need and the build quality to return years of happy use, what are you waiting for? Liven up your dog's outing the easy way.
Things We Like
Works well for bigger dogs
Mesh venting with rollable window
Floor board slides out for easy cleaning
Things We Dislike
Side walls dislodge quite easily
---
3.

Best Budget:

 ANZOME Bike Basket
Features
Weight limit: 11 pounds
14 x 12.4 x 4.1 inches
2 pounds
Next up we have something for all you bargain hunters out there. This ANZHOME bike basket couldn't be easier to use and keep clean, and it's priced well within every pet owner's budget. How does this thing shape up, then?
The super-light basket allows you to enjoy an outing with your pooch without overburdening your bicycle. This 2-pound gem slots easily into place thanks to a quick-release mount on the handlebars. You'll need no tools and no hardware, and you can detach your basket once you arrive without standing on ceremony.
The dense nylon is hardwearing and also waterproof.
You can remove the basket to streamline cleaning, too, so there's no reason not to keep your pup's little lair immaculate.
Unlike some cheap dog bike baskets, this pocket-friendly model feels nicely stable once it's installed.
For a great all-rounder suitable for smaller dogs to 11 pounds, this is one of the best cheap dog bike baskets out there.
Things We Like
Basket is removable and foldable
Waterproof and super-simple to clean
Rugged and hardwearing
Things We Dislike
Not designed for bigger pooches
---
4. Travelin K9 Pet Basket
Features
Weight limit: 13 pounds
15 x 12.5 x 8.5 inches
4 pounds
If you have a medium-sized dog weighing up to 13 pounds, this Travelin K9 dog bike basket means you won't need to leave him behind again.
Inside, there's a dual-pointed safety leash that hooks up directly to your dog harness. The harness doesn't come included, though, so make sure you have one in place.
Installation couldn't be easier so this makes a great choice of basket if you dislike DIY or practical tasks.
Design is rigid and stable so you can pedal along without the trademark swaying that accompanies many poorly designed dog baskets.
If you ride an e-bike, you should check closely for compatibility before committing to purchase.
Airflow is first-class so your dog won't feel stuffy or restless even if you're heading out on a longer ride.
The top edge of the basket is robustly padded, too, so you won't have any concerns about safety issues as long as your pup behaves himself.
Things We Like
2-point safety leash attaches to harness
Quick and straightforward installation
Designed to minimize swaying
Things We Dislike
Not compatible with all e-bikes
---
5. Walky Basket
Features
Weight limit: 15 pounds
15 x 10 x 10 inches
2 pounds
Next up is the Walky basket which gives you the freedom to carry bulkier pups up to 15 pounds when you're out and about on your bicycle.
Despite the generous maximum weight capacity, you'll find this basket is super-light at just 2 pounds. This comes in handy if you want to detach the basket and take it with you when you arrive at your destination.
Inside, there's a short leash. You attach this to your canine's collar and you're ready to hit the road.
When you're pedaling, even at higher speeds, this basket feels solid and stable. You won't feel weighed down, and you won't be plagued with the swaying issues that plague ineffective dog bike baskets either.
A few dissatisfied customers suggest that the leash inside the basket allows your dog a little too much leeway. As with all baskets, don't even consider taking your dog out with you on your bicycle until you're confident he'll be able to behave and control himself.
Things We Like
Disconnects from bike so use as pet carrier
Zippered front storage pocket
Weight supported by wire cable
Things We Dislike
Harness strap offers too much freedom
---
6. Snoozer Pet Rider Bicycle Basket
Features
Weight limit: 24 pounds
19 x 16 x 10 inches
5 pounds
What can you do if you have a larger dog, but he's very well behaved and you like the idea of taking him out on your next bike ride? Well, this basket from Snoozer accommodates hounds to 24 pounds, giving you all the freedom you need for medium-sized pups.
You can take the cover off to simplify washing, but this takes a little fussing around so make sure you're comfortable with practical tasks.
You also need a rack to install this basket onto so make certain that's in hand or you'll be disappointed when you open your package.
The triple-pointed safety strap ensures your pup stays safe and sound inside the basket even if you're riding at high speed.
The back of the basket is emblazoned with reflective striping giving you a safe night-time transportation system for you and your hound. Just make sure you also have lights on your bicycle, of course.
Build quality should be more than fit for most purposes, and this basket is covered by a 1-year limited warranty for your peace of mind.
Things We Like
Machine washable for easy care
Reflective tape makes night riding safer
Installs easily on rear bike rack
Things We Dislike
Quite awkward to disassemble
---
7. Petsfit Dog Bike Basket
Features
Weight limit: 10 pounds
8 x 12.8 x 9.1 inches
5 pounds
If you want to take your small dog out for a joyride, this dog bike basket from Petsfit makes that the easiest thing in the world.
The upper weight limit of this basket is 10 pounds, so check this is sufficient for your furball.
Unlike the fiddly basket above, this model slips on and off your bicycle in seconds flat. If you often get on and off your bike, and you want to take the whole assembly with you each time you dismount, this is one of the best models at your disposal.
The mesh top works well for all seasons, ensuring your dog doesn't overheat, and that he doesn't feel too stuffy either.
Side pockets offer ample storage for all your dog accessories.
There's a removable mat inside the basket. This makes a nice touch if you plan to stop off at a dog-friendly eaterie on your travels. Take it inside and there's more chance your dog will relax and behave himself.
We would like to see some adjustability on the strap to guarantee a snug fit for more dogs.
As an added kicker, this basket folds down when not in use so it won't eat up too much storage space.
Things We Like
Basket disconnects from bike with ease
Spacious side storage pockets
Removable mat inside
Things We Dislike
---
8. Snoozer Buddy Bike Basket
Features
Weight limit: 14 pounds
10 x 13 x 10 inches
4 pounds
Snoozer serves up a subtle and understated bike basket that looks more like a messenger bag and works well for smaller dogs to 14 pounds.
Now, a handful of users have pointed out that this system feels weighty and unwieldy. Think about your intended use and consider whether you'll be regularly removing and reinstalling the basket. If so, you might want to explore some other options.
You won't need much time or trouble to install this basket, and you won't require any tools or hardware either.
Inside, you get a padded chin rest for your pup. There's also a removable inner pad so you can tailor the environment to suit your dog, and you can easily keep everything clean, too.
You get ample inside storage for your leash and any other dog accessories you need for your bike ride.
Overall build quality is pretty impressive and you should get years of faithful service from this dog bike basket.
Things We Like
Easy assembly needs no tools or hardware
Inner pad and chin rest are removable
Great variety of storage pockets
Things We Dislike
Feels quite heavy and awkward for some users
---
9. DoggyRide Cocoon Bike Basket
Features
Weight limit: 15 pounds
5 x 10 x 10 inches
5 pounds
Next up is a dog bike basket with a difference and the structure of a cocoon. If you think your dog would appreciate an extra-cozy and stimulating environment when you're riding your bicycle, read on…
The outside of this basket is made from rugged polyester capable of withstanding harsh weather conditions. Inside, you get easy-care nylon.
This basket has multiple use cases from a car seat to a travel bed to a bike basket. This makes a great choice if you often take your pet out by a variety of methods of transportation, but you don't want to invest in multiple different solutions.
There's a safety leash inside to keep even more energetic and adventurous pups safely contained. If you struggle to control your dog, though, you may want to rethink taking them out on a bicycle. It's potentially highly dangerous if your dog manages to escape his basket.
Things We Like
Interior safety leash included
Works for larger dogs
Soft and cushioned ride for your canine
Things We Dislike
---
10. PetSafe Happy Ride Bicycle Basket
Features
Weight limit: 13 pounds
5 x 10 x 10.5 inches
25 pounds
Next up in our collection of the best dog bike baskets comes a detachable carrier that comes with a highly effective shoulder strap.
This is best used for smaller dogs, and the upper weight limit is 13 pounds. As with all these carriers, this should be considered an absolute maximum. If your dog is this kind of weight, you might want to investigate some of the more spacious baskets we review.
Finished in pale grey nylon, this carrier transforms into an oversized messenger bag when you remove it from your bicycle. Use the provided shoulder strap to carry your dog along busy city streets if you don't want to risk him walking out into traffic or mixing with other pedestrians.
A removable sun shield gives your pup protection against those piercing rays.
The only real gripe we could find with this basket concerns relatively tasky installation. This set aside, you get a secure and comfortable basket capable of livening up your dog's day.
Things We Like
Brackets and safety straps bundled
Removable sun shield
Detachable shoulder strap
Things We Dislike
---
11. Pet-Pilot Original Bike Basket
Features
Weight limit: 13 pounds
25 x 10.85 x 9.65 inches
3 pounds
Pet-Pilot serves up a lightweight and portable dog bike basket ideal for most bicycles, but not all e-bikes. The 2-inch space between the handlebar clamps is not enough to clear the electronics on all of these bikes. Check closely before you commit to this basket if you ride an electronic bicycle.
This is a smaller carrier than many on our shortlist today, suitable for pets no heavier than 8 pounds. If you need something larger, this brand also sells a Max basket for bigger pups.
All you'll need is a screwdriver to get this basket mounted onto the front of your bicycle. Once in place, you should suffer no swaying, and the lightweight nature of the assembly means you'll ride unencumbered while giving your pup the treat of his life.
The basket is available in a number of colorways so you can easily find something to suit.
Venting guarantees a comfy ride for your dog even if it's hot and stuffy.
Aside from the potential incompatibility with some e-bikes, this an excellent all-rounder from a brand you can trust.
Things We Like
Lightweight and convenient traveling solution
Attaches securely with no wobbling
Vented for maximum airflow
Things We Dislike
Doesn't work with all e-bikes
---
12. Snoozer Pet Bicycle Basket
Features
Weight limit: 14 pounds
10 x 10 x 13 inches
4 pounds
Snoozer offers this dog bike basket in a trio of vibrant color schemes to set off the design of your bicycle. While many baskets seem like burdensome add-ons, this model complements your bike rather than detracting from it.
The upper weight limit of this set-up is 14 pounds, ideal for small and medium-sized dogs.
The basket packs down flat when not in use, so you can stash it away in a small space.
Made from rugged microfiber, the basket is easy to wipe clean. Inside, you get a fully removable inner pad leaving you no concerns about keeping this basket spotless.
Easy to set up and just as easy to remove, this is a convenient and cost-effective dog bike basket from a brand you can rely on. What are you waiting for?
Things We Like
Simple to install and remove without hardware
Wide range of storage pockets
Rain cover included
Things We Dislike
Not the most stable set-up
---
13. Petall Dog Bicycle Carrier
Features
Weight limit: 11 pounds
8 x 10.6 x 10.2 inches
6 pounds
If you have a smaller dog you fancy taking out when you go for a bike ride, this lightweight assembly makes that possible.
Made from an aluminum frame covered with polyester, you get that lightweight nature without needing to compromise on longevity.
If you find DIY and assembly to be difficult, you might want to look at one of the other baskets on our list that are a little easier to install. Once you have this basket in place, though, the effort is worthwhile.
Your dog will not only remain safe and secure, but he'll also feel very comfortable.
The basket is waterproof so you don't need to panic if you get caught out in a random downpour.
As long as you have 12 inches of clearance between your handlebars and tire, this basket should slot neatly onto just about any bike.
Choose from an array of colorways to match with your bicycle and congratulate yourself on choosing one of the best cheap dog bike baskets.
Things We Like
Super-lightweight solution
Responsive customer care
Rugged aluminum and polyester build
Things We Dislike
Some issues with installation
---
14. PetSafe Happy Ride Bicycle Basket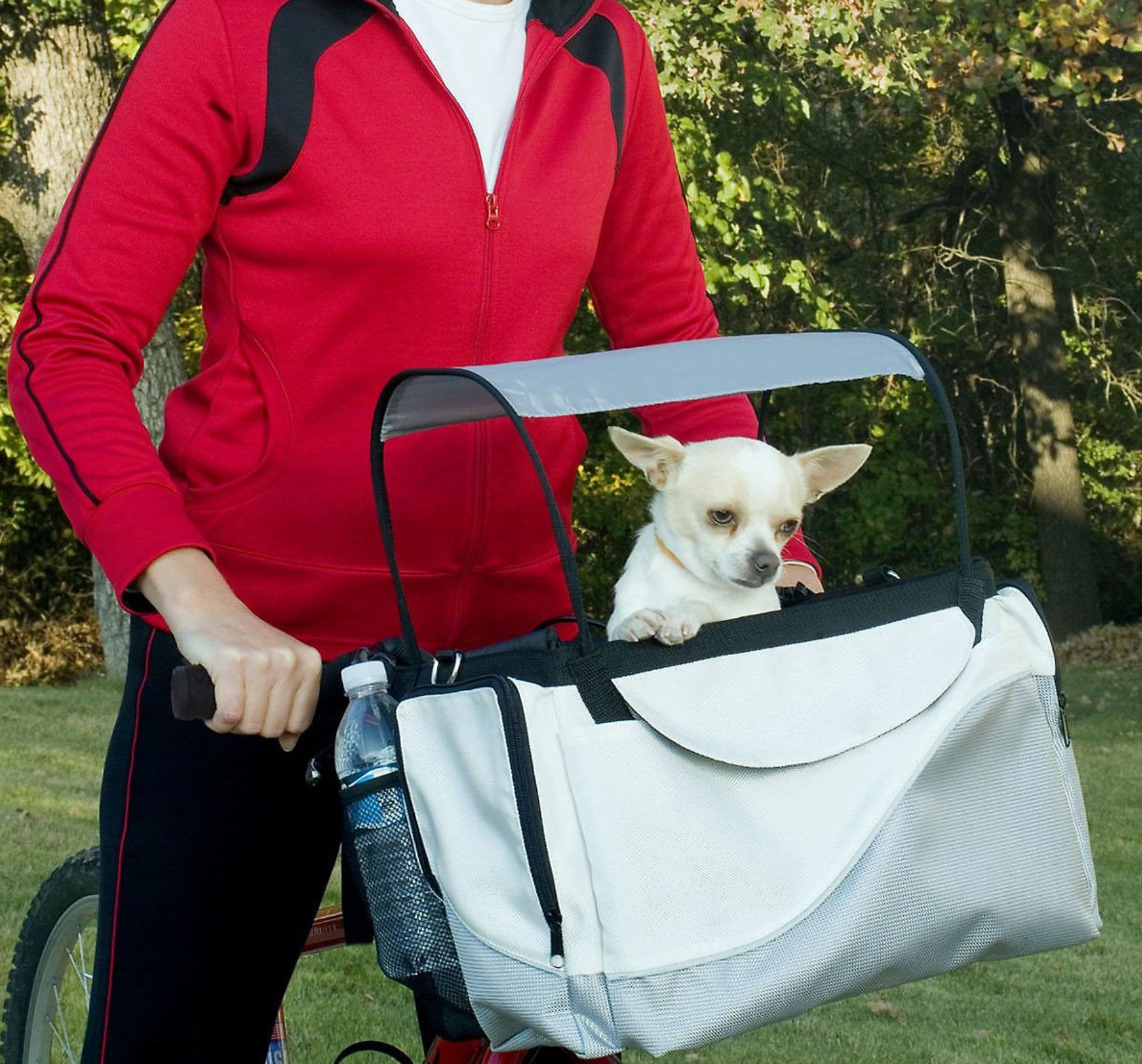 Features
Weight limit: 13 pounds
5 x 10 x 10.5 inches
25 pounds
Last but by no means least, this nifty detachable dog carrier from PetSafe is well worth popping on your shortlist.
Ideal for smaller dogs, this carrier has a maximum upper weight limit of 13 pounds. If you have a mid-sized dog at this sort of weight, you might be more comfortable with a larger basket so he doesn't feel too cramped.
The detachable carrier has a shoulder strap allowing you to continue transporting your beloved pup once you dismount from your bicycle.
If you're out in the sun, there's a sunshade to stop your pup from being dazzled.
Although this basket is perhaps not the easiest model to install, once you have it set up, you'll be delighted you made the investment.
Things We Like
Safety straps and brackets included
Sun shield is removable
Shoulder strap for added versatility
Things We Dislike
---
Conclusion
OK, with our comprehensive collection of the best dog bike baskets reviewed, you should now easily find the most suitable carrier system for your purposes.
If you ride an e-bike, you might run into problems with many of the baskets we review. Due to the electronic assembly on the handlebars of these electronic bikes, you may find that some baskets simply don't fit. Be careful before buying a basket online if you ride one of these bikes
For most other bike owners, though, all these bike baskets should slot neatly into place on your bike rack or handlebars. The difficulty of installation varies, so we've drawn your attention to this in each of our reviews. Many slip into place with no tools, hardware, or effort required.
Now, assuming you have chosen the best dog bike basket for your needs, take a moment to bookmark BarkVA. We'll be bringing you more fresh content daily, so pop back soon for more impartial advice on all things canine!