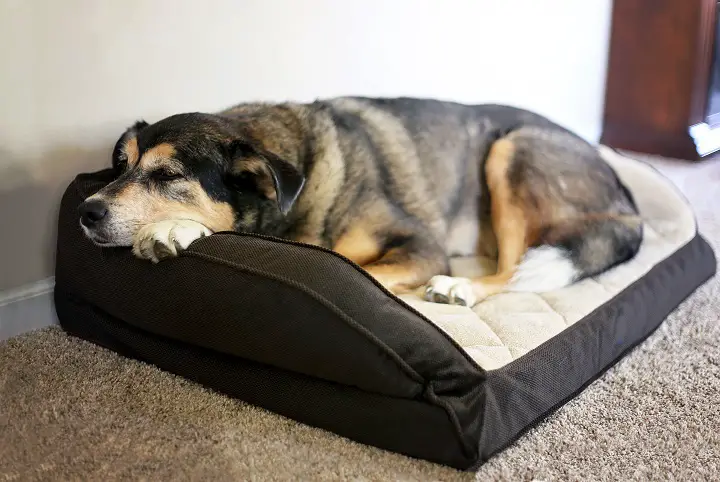 It's not easy watching your dog get older, but you can certainly do your part to help him get the very most from those golden years.
Treating your hound to an orthopedic bed is the best solution to an age-old problem, so how do these beds work?
Well, an orthopedic bed is designed with joint health uppermost. Memory foam ensures that aching joints are soothed and that pressure is relieved from the sorest areas. These beds are also designed so that dogs with mobility issues find no problem getting in and out of bed.
Just like when you're choosing a bed for yourself, there are a range of factors you'll need to consider on the buying trail.
Focus on these pointers to find the right bed the easy way:
Size: The first thing to focus on when you're comparing beds for arthritic dogs is the size. Check the charts provided by the manufacturer. Also, explore user reviews to make sure that this sizing is accurate
Memory foam: Most of the best orthopedic beds come stuffed with memory foam, a perfect match for elderly canines with arthritis. If your dog is suffering from aching joints, a memory foam bed should help ease the pain. The foam is stiff, too, so your dog will have no problem getting up after his nap, even if his joints are long past their prime
Materials: Most dog beds come finished in microfiber, plush fabric, or a synthetic suede. Pay attention to user reviews so you can get a feel for overall build quality. You need a bed that's built to last
Liquid-resistant: As your furball ages, so bladder accidents become more common. You should ideally get a waterproof bed, although many of the leading models are not fully waterproofed. At minimum, look for a bed that's resistant to both stains and liquids or your bed will end up a mess in no time
Easy care: The best dog bed is useless if it's a grind to keep clean. Look out for beds that have removable and machine-washable covers. Keep maintenance to an absolute minimum
Right then, if you keep an eye out for the above pointers, you should quite easily find the right bed for your dog.
We'll get down to business now with our impartial reviews of the 15 finest orthopedic beds perfect if you have an elderly pooch, or a dog with arthritis.
Barkva.org is reader-supported. When you buy via the links on our site, we may earn an affiliate commission at no cost to you.
The 15 Best Dog Beds for Arthritic Dogs
1.

Our #1 Pick:

 Big Barker Orthopedic Bed
Features
For large breeds
Microfiber
52 x 36 x 7 inches
Our overall favorite orthopedic dog bed by some distance comes from the legendary Big Barker stable. How does this model differentiate itself from the competition, then?
Off the bat, you get a bed rather than simply a dog bed. This therapeutic mattress has been designed from the ground up to provide larger arthritic dogs with the joint support they need to thrive in later life.
A University of Pennsylvania study showed that joint pain was decreased and stiffness improved after dogs used this bed for just a month.
The microsuede cover is machine-washable so you can always keep Fido's bed spotless. Everything is hand-made in the US, so you're getting a luxe bed to really give your pooch a treat.
While we could find very few faults with the bed itself, a few disgruntled customers have complained about less than helpful customer care.
Backed by a 10-year warranty, you can buy this orthopedic dog bed with complete confidence. It's not cheap, but the best things in life seldom are.
Things We Like
Clinically-proven results
Reduces pain in your dog
Improves mobility
Things We Dislike
Customer service is lacking
---
2.

Budget Pick:

 Furhaven Pet Orthopedic Foam Mattress
Features
For large breeds
Eggcrate foam
44 x 35 x 4 inches
Furhaven has a deep bench of pet beds priced firmly in budget territory, but are they any good?
Absolutely! You're first faced with a choice of a bewildering array of colors so you can easily find a bed to match your existing decor.
You can then choose from several configurations. This model has regular orthopedic foam, hence the bargain basement pricing. You could also opt for memory foam or cooling gel foam depending on the needs of your dog.
The traditional open design of the mattress allows Fido to stretch out in any position he feels like.
This bed is sized to support larger dogs, but Furhaven has a range of other sizes if you have a smaller pup.
As you might expect from a budget bed, this mattress doesn't wash or wear as well as some of its pricier opposition. When you consider how little you're paying, though, you need to keep your expectations reasonable.
If you're shopping for dog beds for an arthritic dog on a tight budget Furhaven should be your first port of call.
Things We Like
Huge choice of colors
Plush sleep surface
Offers robust support
Things We Dislike
---
3. BarkBox Memory Foam Platform
Features
For medium breeds
Plush fabric and memory foam
29 x 18 x 3 inches
BarkBox produces a wide range of highly effective memory foam pet beds. Among the many sizes at your disposal is this model intended for medium breeds.
Made from a soft, plush fabric, your pooch will find this bed a pleasure to snuggle up on.
The bed is stuffed with gel memory foam that brings with it many benefits for arthritic dogs. As well as relieving pressure points and soothing joint pain triggered by arthritis, the firmness of this platform makes it easy for your furball to get in and out of bed.
The bed is very straightforward in terms of maintenance. Machine-washable, you can keep it immaculate without lifting a finger. Just remove the cover and you're all good. We would suggest handling the zipper with care, though. A few customers have complained about this being poorly-constructed.
This mattress arrives just like a conventional bed-in-a-box you'd buy for yourself. Vacuum-packed, just unfurl it upon arrival and you're ready to roll.
Things We Like
Comes vacuum packed in a box
Waterproof
Machine-washable
Things We Dislike
---
4. Furhaven Orthopedic  Couch Dog Bed
Features
For medium breeds
Polyester
30 x 20 x 6.25 inches
If you have a small or medium breed getting on in years and struggling with degenerative conditions like arthritis, you have our sympathy. You also have our assistance in the form of this couch dog bed from Furhaven. How does it shape up?
The polyester is soft and encourages your pooch to snuggle up. It's also remarkably hardwearing, essential when it's getting some canine action.
Choose from a varied palette and opt for a plain or patterned bed depending on your décor and the temperament of your dog.
The bed is quilted and padded so Rover gets a comfy sleep. The orthopedic foam stuffed inside helps to relieve pressure from sore joints and also helps to tamp down the pain your aging dog feels as his joints become less fluid.
While most users were impressed with this bed, we found some isolated complaints about the base cracking. Make your own mind up on this score.
If you're shopping for orthopedic dog beds on a budget, you can buy from Furhaven with complete confidence.
Things We Like
Quilted and comfortable
Great airflow
Orthopedic foam
Things We Dislike
---
5. PetFusion Ultimate Dog Bed
Features
For large breeds
Polyester and cotton
40 x 13 x 13 inches
PetFusion don't make cheap products for your dogs at home, but they are among the finest manufacturers if you appreciate quality and don't mind paying for the privilege.
This spacious bed is the largest in a sprawling range. This is the strongest bed on our shortlist with a maximum load-bearing capacity of over 200 pounds. Almost all larger dogs should get a comfy sleep on this bed.
How about if your pooch has arthritic joints, though? Well, the high-grade memory foam keeps pressure away from those joints, and should also make it simple for your mutt to climb in and out of bed. You get a full 6 inches of this foam, roughly comparable with what you'd expect to find on a mattress for humans.
You can buy a pet blanket separately that's designed to coordinate with the bed. Why not give your best friend a treat as he edges to the end of his life?
Things We Like
6 inches of memory foam
Holds dogs to 200 pounds
Non-marking bottom
Things We Dislike
---
6. Brindle Waterproof Memory Foam Dog Bed
Features
For large breeds
Microfiber and memory foam
46 x 28 x 4 inches
As dogs age, it's inevitable that they have more bladder accidents than normal. It's worth taking sensible precautions if your dog has reached this life stage and investing in a waterproof bed. Brindle serves up a classic example with this memory foam bed ideal for older, arthritic dogs.
This bed comes in 3 sizes with this model ideal for larger breeds.
The cover is made from microfiber. This gives you a winning combination of comfort and durability.
This mattress is 4 inches thick, an even split of memory foam and a high-density support foam ensuring your dog a pain-free sleep. The firmness is designed to support dogs with hip dysplasia or aching joints.
The material is hypoallergenic making this mattress a smart bet if your dog has sensitivities or allergies.
Guaranteed for 3 years, we feel this is one of the best dog beds on the market targeted at arthritic dogs. See what you feel.
Things We Like
Relieves pressure points
Conforms closely
Suitable for dogs with allergies
Things We Dislike
Overall build quality could be better
---
7. BarksBar Orthopedic Dog Bed
Features
For large breeds
Polyester, cotton, rubber, wood
40 x 10 x 30 inches
BarksBar understands that larger breeds need suitably big beds. While this doesn't offer quite the capacity of the PetFusion, dogs weighing up to 100 pounds are in luck here.
Things get off to a strong start with the non-slip bottom, so you won't see Rover sliding around even if you have wooden flooring.
The base is solid and stable offering plenty of support for heavy dogs with arthritis.
4 inches of memory foam is crammed into the base, promoting great pressure relief and conforming closely to your pup's body.
The bed is easy to spot-clean in the event of minor spillages or accidents. You can also remove the cover and pop this in the washing machine on a cold cycle to streamline upkeep wonderfully.
A few customers complained about the build quality of the bolster, although the vast bulk of consumers were delighted with this highly effective and supportive dog bed.
Things We Like
Ideal for dogs to 100 pounds
Orthopedic foam highly supportive
Comfortable foam base
Things We Dislike
Bolster could be improved
---
8. The Dog's Bed Orthopedic Dog Bed
Features
For large breeds
Synthetic fur and polyester
40 x 25 x 6 inches
The Dog's Bed might not be the most imaginative brand name, but this bulky bed is the ideal solution if you have an older dog who also happens to be heavy and suffering from arthritis. This combination is not as uncommon as it sounds, so what do you get for your money?
You're spoiled for choice with sizes. This is the large bed measuring up at 40 x 25 x 6 inches and it falls at the lower end of the line in terms of dimensions.
The fully waterproof nature of this bed comes in handy if your older dog is starting to lose control of his bladder more often. This, like arthritis, is an almost inevitable part of aging for dogs.
The mattress was designed to relieve pressure in aching joints and to provide a supportive sleeping surface for elderly dogs. Priced in mid-territory, this dog bed is well worth popping on your shortlist.
Things We Like
Fully waterproof
Remarkably supportive
Relieves pressure on joints
Things We Dislike
Unpleasant off-gassing smell
---
9. Milliard Quilted Orthopedic Bed
Features
For large breeds
Microfiber and eggcrate foam
47 x 29 x 4 inches
Milliard is a solid presence in the dog space with a hard-won reputation for peddling great gear on a budget. How does this bed stack up, then?
This version is the largest of 3 sizes and suitable for bigger breeds looking for a highly supportive sleeping surface.
Stuffed with eggcrate orthopedic foam, your dog shouldn't experience any stabbing pains from his joints with the pressure being removed efficiently. The foam hugs your dog's body tightly and distributes his weight evenly, helping him to enjoy a restful and rejuvenating sleep.
One key advantage of this bed is the way it's designed to slide easily inside a standard 48-inch crate. This gives you the added versatility of using this to make your dog's travels more comfortable, too.
When it's time to change your dog's bedding, unzip the cover and throw it in the washing machine.
If you're not totally satisfied with this dog bed, Milliard offers you the chance of a no-quibbles refund or replacement. What more could you ask for?
Things We Like
Fits inside a standard 48-inch crate
Easy care and machine-washable
100% satisfaction guarantee
Things We Dislike
Bare foam would merit covering
---
10. Dogbed4less Memory Foam Dog Bed
Features
For large breeds
Microfiber, suede, and memory foam
40 x 35 x 4 inches
Dogbed4less might be quite a mouthful, but how does this bed perform?
If you have a bigger dog that's advancing in years and struggling with mobility, you owe it to Rover to upgrade his bed. Just like humans suffering from arthritis, dogs benefit from a helping hand in the form of memory foam. How does this help, exactly, though?
Well, the foam inside this mattress helps to take the pressure away from your dog's joints as he sleeps. His weight will be efficiently and evenly distributed. When he wakes, he should feel less sore and, ultimately, more mobile. We can't overstate the importance of giving arthritic dogs the right beds to sleep on.
The one significant drawback of this mattress is the fact it's not fully waterproofed. If your furball tends to have frequent accidents, this is not the bed for him. If he more bladder control, though, this is an affordable and capable solution.
Things We Like
Washable suede cover
Memory foam insert
Heavyweight cover
Things We Dislike
---
11. Sealy Lux Orthopedic Dog Bed with Cooling Gel
Features
For large breeds
Linen
37 x 11 x 11 inches
Sealy caters for owners of large and older dogs suffering from sore joints with this fantastic orthopedic dog bed.
This mattress is infused with cooling gel so your pooch gets a restful night's sleep with his joints protected from pressure points as he slumbers. The foam is multilayered so your pup gets all the support he needs, even if he is heavier and a larger breed.
The base of this base is designed to offer firm support for larger dogs without inflaming joint pain and without creating pressure points.
One serious flaw here is the lack of waterproofing. For owners of dogs prone to accidents, this is a serious disincentive. If your dog has arthritis but has full command of his bladder, this makes a neat choice.
Things We Like
Easy to clean
Supportive sleeping surface
Super-stable base
Things We Dislike
---
12. The Dog's Bed Orthopedic Dog Bed
Features
For large breeds
Plush fabric and memory foam
37 x 11 x 11 inches
Another entry from the inimitable The Dog's Bed next, this model ideally suited for larger hounds.
All dogs with impaired mobility and joint pain need some extra help when it comes to their sleeping arrangements. You owe it to your mutt to provide him with a supportive place to sleep and a bed that won't inflame his painful joint condition. Luckily, this memory foam bed takes care of all those elements so you don't need to worry about a thing.
The bed comes in a wide range of colors so you can easily match it to your existing décor.
The machine-washable cover ensures you don't have any messy clean-up to worry about. You can also take advantage of the waterproof mattress protector if your pooch has a tendency to have accidents in the night.
For a supportive, durable, and comfortable dog bed from a brand you can rely on, check out The Dog's Bed.
Things We Like
Relieves pressure points
Conforms to your dog's body
Ideal for dog's with reduced mobility
Things We Dislike
Foam not as thick as advertised
---
13. Oscar Orthopedic Dog Bed
Features
For medium breeds
Cotton and foam
42 x 30 x 4 inches
Do you have a medium-sized dog? Is he aging and does he suffer from arthritis? If so, the Oscar Orthopedic Dog Bed will address those issues head-on.
The reversible design gives you double the value as you can prolong the lifespan of the bed considerably. It also allows you to ring the changes for Rover.
Shaped like a regular mattress, your medium breed should sprawl out comfortably. The microfiber fabric will feel soft against his skin, but it's also built to last.
This is a supportive bed relieving your older dogs pressure points as he sleeps and ensuring he wakes up feeling invigorated and able to slip out of bed rather than seized up from the pain of persistently tender joints.
You'll need to be patient for the first few days as the foam inside the mattress expands fully. From this point forth, your dog will be eager to snuggle up in this bed.
Things We Like
Reversible for prolonged lifespan
Rugged build
Machine-washable cover
Things We Dislike
Take a few days to expand fully
---
14. K&H Pet Products Bolster Sleeper Bed
Features
For medium breeds
Microsuede and plush
40 x 33 x 9.5 inches
K&H Pet products may not be a name that immediately springs to mind when you're thinking about pet products, but for anyone willing to take a chance on a lesser-known brand, what can you expect?
There are only 2 sizes to choose from here, with this large version measuring 40 inches across. This makes it most suitable for small or medium breeds.
The microsuede material is super-soft and ensures your hound feels at home in his new lair. He'll be further cossetted by the bolsters all around, neatly padded and also nicely supportive for smaller dogs.
The medical-grade orthopedic foam used is close-conforming and also offers robust pressure relief.
The cover and liner of this bed are machine-washable, saving you from getting your hands dirty.
Aside from a pretty limited choice of colors, this is a first-class budget buy if you're looking for a cheap dog bed that won't let you down.
Things We Like
Comfy overfilled bolsters
Removable liner and cover
Machine-washable
Things We Dislike
Padding can clump slightly
---
15. Bali Futon Dog Bed
For large breeds
Microvelvet and memory foam
26 x 36 x 4 inches
We saved something slightly different for last with this elegant futon from Bali.
Many pet owners with minimalist homes find most mainstream dog gear is garish, cluttered, and looks entirely out of place. Why not introduce this sleek futon to your utilitarian loft and improve your dog's life at the same time?
The low-slung design offers more than just lean good looks, though. Dogs with arthritis understandably find it challenging to climb in and out of bed. With this futon skimming the floor, clambering into bed couldn't be easier.
When the bed needs a clean, you can remove the cover. This is machine-washable and you can also dry it on a cool setting rendering maintenance effectively nil.
The memory foam stuffed inside ensures that pressure-relief effectively soothes your dog's sleep. He'll wake up and slide out of bed with ease feeling well-rested and with his joints aching less than normal. What price can you put on that?
Things We Like
Sleek and minimalist design
Perfect for dogs with impaired mobility
Generous memory foam stuffing
Things We Dislike
Certainly not the cheapest dog bed
---
Conclusion
You may have stumbled across BarkVA today with no idea whether orthopedic beds really work. Well, these beds have been shown in studies to help soothe sore joints and to relieve pressure points in arthritic dogs.
Think of it this way: would you shortchange yourself with a low-quality bed? Of course not. You'd buy the best you could reasonably afford. Apply the same principle to your dog, since he doesn't have the option of helping himself.
Lukcily, choosing a bed for Rover is easier than picking one for yourself. Follow our simple introductory guidance and you should find the right fit with ease. Stick with any of the models we review and you know exactly what you'll be getting, warts and all.
Treating Fido to one of these orthopedic beds could truly make a difference to those valuable years at the end of his life. You'll enjoy walkies for longer, and he should remain comfortable right through to the bitter end.
Bookmark our blog before you go. We're here to be your go-resource for all things canine. Whether you're looking to compare the best dog gear, to learn more about dog training, or just for some entertainment, we do our best to bring something for everyone. We'll see you soon!
As an Amazon Associate, we earn from qualifying purchases - at no cost to you, allowing us to continue our work.