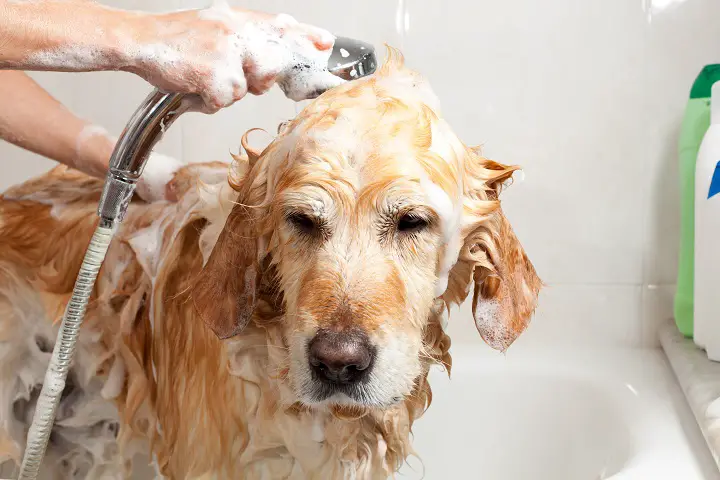 If you're a dog owner, you don't need anyone telling you how much mess canines generate.
While you can try your best with dog doormats, sometimes you need to go the extra mile.
Now, the last thing you need on top of food, accessories, and vet bills is the added expense of a weekly trip to the dog groomers.
Luckily, you can avoid this by comparing the best dog bath tubs and finding the right one for your furball.
While you might imagine that buying a bath tub for your pup is pretty straightforward, there are a few pointers to consider to make your life much easier.
Materials: Think about your needs when you're considering materials. Do you have several dogs at home? Are you planning to bathe your mutts regularly? If so, you should probably consider a metal tub. You'll end up getting a much longer lifespan than from a plastic alternative, even if you need to pay a little more for the privilege.
Sizing: Pay close attention to the dimensions of the bath tub and make sure you have space to accommodate. Also, make certain your dog weighs less than the maximum weight of the tub. We've listed both size and weight for each tub so you can readily compare them like-for-like
Attachments: Some of the best dog bath tubs come with hooks you can securely attach to your dog's leash. If your furball isn't too keen on bath time, this adds an extra layer of convenience, and you won't need to worry about Fido pulling a Houdini act
Floor: Check that the floor of the tub is sturdy and non-slip. You'll want to make every element of your dog's bath time as stress-free as possible
Adjustability: Height-adjustable tubs are ideal if you have smaller breeds. They also ensure you won't end up straining yourself by bending too much when you're bathing your dogs
Product holders: While holders for your bottles of dog shampoo might not qualify as an essential, they certainly make life smoother when you're bathing Rover, especially if he tends to get skittish in the water
Plugs and hoses: If you intend to wash your dog outdoors, look out for tubs with detachable plugs and hoses. A draining plug makes a huge difference when bath time is over. Save yourself from upending a full tub and choose one with a draining plug included
OK, if you think carefully about these simple pointers, you should have no trouble finding the best bath tub for your dog the easy way.
To streamline things further for you, we're reviewed all the strongest models on the market so you can find the right one fuss-free.
Dive in!
Barkva.org is reader-supported. When you buy via the links on our site, we may earn an affiliate commission at no cost to you.
The 9 Best Dog Bath Tubs for Spotless Home Grooming
1.

Our #1 Pick:

Flying Pig Portable Pet Bath
Features
Plastic and stainless steel
Maximum weight: 150 pounds
5 x 19.5 x 35.5 inches
Our favorite pet bath from the cross-section we explored comes from the inimitable Flying Pig.  How does this things shape up, then?
The first thing we would draw your attention to is the upper weight limit. While the manufacturer claims this is 150 pounds, we wouldn't suggest attempting to bathe dogs that large inside this tub. We feel it's a much smoother fit for small and medium dogs so we would reconsider if you have a beefier hound.
The heavy-grade plastic build won't give you the same lifespan as metal, but you should still get plenty of faithful service from this tub.
You can access your pooch from all angles making bath time easier if your furball is prone to wriggling around.
Do you have an uneven floor in your bathroom? If so, this tub comes with a stand and a leveling function to ensure you get a strong and stable base.
The other advantage of this tub is the way it's also designed to slot inside a regular bath tub giving you great flexibility.
While most users are remarkably satisfied with their purchase, a few have complained about the plumbing attachments not being standard fittings. You should do your own due diligence here.
Overall, you'll get a durable and versatile pet tub perfect for small or medium breeds at a price you'll love.
Things We Like
Perfect for small and medium dogs
Full 360-degree access
Fits standard bath tubs
Things We Dislike
Plumbing attachments non-standard
---
2. Booster Bath Elevated Pet Bath
Features
Polypropylene
Maximum weight: 125 pounds
45 x 21.25 x 15 inches
Next up we have an understated, durable, and highly convenient bath time solution so you can keep your furniture and carpets spotless even if you have several messy dogs at home.
This tub for pets is designed from the ground up to address the usual flash points accompanying bathing your best friend. How is this achieved, then?
Well, once you snap the two pieces of this tub together, you can take advantage of the restraint system baked in. Keep even energetic dogs conveniently in place while you spruce them up.
Inside the tub, there's a non-slip rubberized mat so you won't have any fun and games with your panicking pup sliding around.
Use the shampoo caddy to stash all your dog supplies close at hand and put paid to chasing bottles of shampoo while trying to restrain your dog. Everything runs smoothly with this tub installed.
If you feel the need for a higher tub, there's an optional pedestal kit. This allows you to raise the tub by a full 4 inches.
An adjustable nozzle lets you manipulate the water flow to suit your pooch. Rinse with a gentle stream after blasting Rover with a much firmer flush.
Weatherproofed if you need to store the tub outdoors when not in use, this is one of the most adaptable and efficient bathing solutions for your pet from a brand you can trust.
Things We Like
Several subtle pastel colorways
Easy to access from all angles
Weatherproofed for storing outdoors
Things We Dislike
---
3. Furesh Elevated Folding Pet Bath
Features
PVC and aluminum
Maximum weight: 40 pounds
5 x 21.6 x 35.5 inches
Furesh serves up an innovative solution if you need to bathe your dog at home but you're struggling for space. For anyone living in an apartment or operating with space constraints, this foldable tub lets you take care of business then pop the folded down bath away.
The nature of the set-up means this bath is best-suited for smaller dogs. This tub is super-lightweight and you'll be able to unfold it one-handed. When you're finished bathing Fido, wipe the tub down and yank on the handle in the middle. The bath then neatly breaks down from 32 inches to less than 8 inches wide. You can then remove the legs as well if you need to store the tub in a small closet.
Bath time itself should run swimmingly. The tub is elevated so you won't be stooped down straining your back when it's time to scour Rover.
A pair of side pockets are perfect for organizing all your shampoo and supplies to streamline bathing wonderfully.
The basin is constructed from marine-grade PVC. This provides great lifespan and a highly secure tub.
As long as you don't have a larger or more feisty dog, this innovative foldable pet bath is well worth popping on your shortlist.
Things We Like
Good fit for small and medium mutts
Lightweight and foldable
Complete 360-degree access
Things We Dislike
---
4. Rubbermaid Commercial Pet Bath
Features
Foam
Maximum weight: 200 pounds
25 x 69 x 12.1 inches
If you have larger dogs at home, especially if you have more than one, we empathize with the problems you experience keeping them clean. Make things easier on yourself with this commercial-grade pet bath from Rubbermaid that's designed for bigger breeds. How does it stack up, then?
Off the bat, you get a bath capable of holding dogs of 200 pounds so you should find it a good fit for your pit bulls, rottweilers, or German shepherds. This is the smallest of the line, too, so if you have a giant breed, you could invest in one of the larger baths.
The 50-gallon capacity is enough for most reasonable purposes although, as mentioned, you have even more substantial options up for grabs.
The seamless foam build is rugged enough to withstand some serious punishment and lifespan is exceptional.
The large drainage plug makes it easy to clean up once you've bathed your pups.
As long as you don't object to the fact this is not the most eye-catching bath, you'll get outstanding value for money and your furball will get the bath of his life.
Things We Like
Generous 50-gallon capacity
Many other sizes available to suit
Oversized drain plug
Things We Dislike
Not the most elegant bath
---
5. Flying Pig Portable Pet Bath
Features
Plastic and stainless steel
Maximum weight: 150 pounds
5 x 19.5 x 35.5 inches
Flying Pig pops up once more with this portable pet bath perfect for bulkier pups to around 150 pounds. Does this sound like a good match? If so, read on…
Despite being made from plastic, this tub is hardwearing and benefits from stainless steel legs for stability and durability.
The tub comes recommended for small and medium sized dogs to 65 pounds.
You get 360-degree access just like with all the best dog bath tubs so you can stay connected with Fido, and you won't be stretching and bending too much.
The tub stands at a suitable height for most users. It also comes with a leveler so you don't need to worry if you're setting the tub up on uneven floor.
A handful of users have complained about receiving damaged packages, so we would suggest checking your delivery closely given this weak quality control.
Overall, though, you should find this tub makes bath time with your hounds easier and much more enjoyable. You won't need to pay too dearly for the privilege either.
Things We Like
Stainless steel legs
Rugged build
Great brand heritage
Things We Dislike
Quality control is lacking
---
6. Booster Bath Medium Elevated Pet Bath
Features
Plastic and stainless steel
Maximum weight: 75 pounds
33 x 17 x 33 inches
Another entry from the mighty Booster Bath next with this tub expressly designed for medium-sized dogs.
As you would expect from this brand, you get enviable build quality matched to impressive ease of use. While not the cheapest dog bath tubs out there, we feel you're getting excellent overall value. This, after all, is much more important than the bottom line when you're comparing pet products.
Despite the roomy capacity of this tub, it won't eat up too much real estate indoors.
The single-piece seamless build ensures your dog won't get pinched or snagged, and the tub will last for years.
The restraint system helps you to clip energetic dogs into place so you should find it much easier to keep him where you want him.
With a non-slip surface and an adjustable water flow, you can create a comfortable and rewarding experience for Rover at bath time so he will look forward to water instead of running a mile.
Access your dog from all around the tub so you'll find washing and drying him couldn't be much easier. You won't need to pick up a stiff tab at the dog groomers either so what's not to love?
Things We Like
Integrated drain hose
Small footprint but oversized capacity
Single-piece build
Things We Dislike
Instructions could be improved
---
7. Booster Bath X-Large Elevated Pet Bath
Features
Plastic and stainless steel
Maximum weight: 175 pounds
50 x 21.25 x 15 inches
We have a final offering from Booster Bath next in the form of this extra-large iteration of their popular and bestselling pet bath.
This version has a maximum weight capacity of 175 pounds making it a smart bet if you have large breeds and need to keep them clean without constantly calling in the professionals.
The quick-snap legs make it straightforward to set up or take down this bath. Once in place, they provide a strong and stable foundation for the tub. They screw into place for your peace of mind.
Your dog will be presented at just the right height so you can bathe him without cricking your neck or straining your back.
The tub has a non-slip surface so Fido won't end up slipping and sliding.
There's a shampoo caddy so you can keep all those supplies in close reach and eliminate much of the fussing around that comes from disorganized bathing.
Even if you have a giant breed like a mastiff or a Great Dane, you should find no problem when it comes to bathing if you treat yourself to this oversized tub from Booster Bath.
Things We Like
Quick-snap legs
Easy access
Sturdy, one-piece tub
Things We Dislike
---
8. Mustee Big Pet Tub
Features
Polypropylene
Maximum weight: 150 pounds
24 x 40 x 34 inches
Mustee delivers a one-piece tub that promises excellent lifespan while making bath time with Rover a pleasure rather than a chore.
The generous weight capacity makes this tub a good choice if you have a larger breed in the house.
The legs are made from steel and come with a leveler ideal if you bathe your dog outside or in a garage where the flooring is not completely level.
The spacious back shelf is designed to drain automatically with the water running into the tub. Small touches like this make the difference between a good and a bad pet bath tub.
All components are stain-resistant and also ward off the mold and mildew that can beleaguer neglected bath tubs.
If you have big dogs and you want to keep them clean with ease, we can't recommend this bath highly enough.
Things We Like
Strong and stable tub
Great for larger breeds
Rugged and built to last
Things We Dislike
Some reported issues with drainage
---
9. Master Equipment Dog Groomer's Tub
Features
Plastic and stainless steel
Maximum weight: 40 pounds
5 x 19.5 x 35.5 inches
Last but certainly not least in our collection of the best dog bath tubs comes from Master Equipment.
We should state right off the bat that this only makes a good choice if you have a smaller dog. For any pups under 40 pounds, this makes a compact and highly effective bath tub. If you have a larger dog at home, browse some of the more substantial baths on our shortlist.
Assuming you have a more delicate dog, what do you get for your money?
The build is acceptable if not class-leading. You get stainless steel along with a heavy-duty plastic. While this won't return the same lifespan as an all-metal tub, you'll nevertheless find it's built to endure.
The open design makes access super-simple. You can get at your pup from all angles without needing to contort yourself.
With a drain hose included, cleaning up after bath time won't involve physically upending the tub.
The legs raise this tub to the optimum height. Sidestep the bending and backache that accompanies bathing your pooch in a cheap and ineffective bath, and invest in this first-class solution from a reliable brand. The best thing? This is also priced firmly in budget territory, so what are you waiting for?
Things We Like
Great fit for smaller dogs
Lightweight solution
Drain hose included
Things We Dislike
Not good for bulkier pups
---
Conclusion
If you arrived here today with no idea about how to find the best dog bath tubs among so many options, that should have changed by now.
Given the number of variables, we've included a comprehensive guide on how to choose a pet bath the easy way.  We're here to save you time so, as always, we keep this guide brief and to-the-point.
If you stick to any of the tubs we review today, you're in safe hands and you can buy knowing just what you'll be getting for your money. If you happen to encounter a tub not on our shortlist, use our guide to help you establish whether it will be a neat solution to your problem or a complete waste of money.
Before you head off today, take a moment to bookmark BarkVA. We're here to guide you through all the pitfalls of choosing pet gear with our impartial reviews offering something for all taste and budgets. We throw in plenty of training tips, too, so pop back any time you need some guidance or inspiration. We'll see you soon and good luck finding the right tub for Fido.
As an Amazon Associate, we earn from qualifying purchases - at no cost to you, allowing us to continue our work.