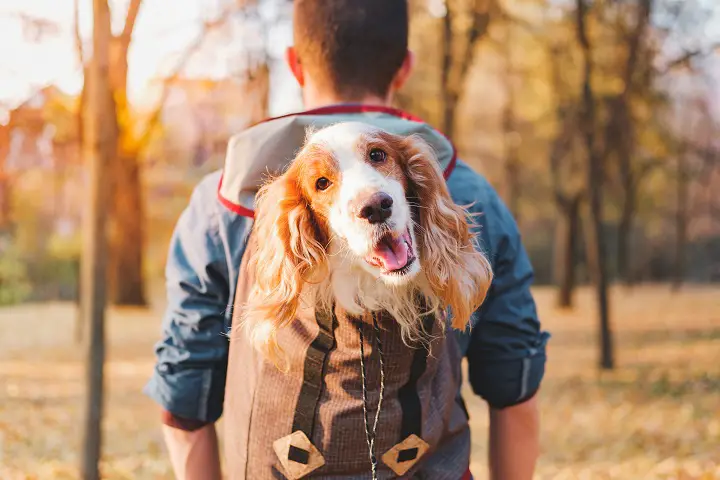 One of the most enjoyable and invigorating aspects of owning a dog is taking him out for walkies.
What can you do, though, if you have a smaller breed who gets easily tired?
How about walking on busy city streets where you dog might feel overwhelmed?
For these situations and more, investing in the best dog backpack carriers is the easy solution.
Now, we understand that if you've never considered pet transportation before, you may have no idea how to get started.
Luckily, we're here to address that issue for you today. We'll be reviewing 15 of the finest transportation solutions tailored to small and medium breeds.
Before that, though, what should you look out for when you're buying one of these backpacks?
Well, fortunately, this is not one of the most challenging buying decisions you'll encounter as a pet owner. Focus on these basics and you'll secure a suitable backpack carrier without too much time or trouble.
Size: The first thing to consider with a backpack is the overall dimensions. We listed all these for you so you can compare them at a glance. Make sure you can carry this without feeling like you're overloaded.
Weight limit: Make sure your dog weighs a few pounds less than the quoted upper maximum weight limit. You should also, of course, ensure that you can comfortably carry your dog without feeling overburdened.
Design and materials: In many ways, how the bag looks will influence your decision more than most other factors. Like any luggage, you need to like the appearance as you'll be spending a lot of time carrying it. Look also for durable materials that are easy to clean
Ventilation: The viewing windows in place of these backpacks do more than keep your pup connected with his surroundings. These also provide ventilation, so make sure your furball has all the air he needs when you're on the road
Right, with that simple framework in place, you have all you need to know in order to accurately compare the many options up for grabs.
We'll make things even easier for you right now with our impartial reviews enabling you to readily compare these backpacks like-for-like.
Dive in!
Barkva.org is reader-supported. When you buy via the links on our site, we may earn an affiliate commission at no cost to you.
The 15 Best Dog Backpack Carriers
1.

Our #1 Pick:

K9 Sport Sack
Features
Weight limit: 30 pounds
Canvas
22 x 11 x 4 inches
Our overall favorite dog backpack carrier from the impressive haul we reviewed comes from K9 in the form of this sport sack.
The weight limit is generous at 30 pounds giving you more latitude than most of these backpacks designed for teacup and toy breeds.
Choose from an array of colors to suit the temperament of your pooch and benefit from a robust canvas build that should give you and Fido plenty of faithful service.
Ventilation is well-designed so you can ensure your furball gets a comfy ride. The inside of the backpack is soft and plush, while the padded straps make certain you don't suffer for the sake of Rover.
A few disgruntled users suggest their dog feels rather warm inside this bag. If your hound is prone to overheating, you may want to consider one of the other backpack carriers on our list. If not, you'll be delighted with this affordable, durable, and high-performing bag.
This brand is US-based and you'll get outstanding customer care if anything goes amiss. Considering the build of this bag, that's highly unlikely, though. What are you waiting for?
Things We Like
Ventilated efficiently
Padded back
Cushioned straps
Things We Dislike
Not the most breathable backpack
---
2. Kurgo Dog Carrier Backpack
Features
Weight limit: 25 pounds
Polyester
13 x 21 x 10 inches
Kurgo has a solid reputation for producing a deep bench of pet products perfect for all occasions. How does this carrier backpack serve to make your life easier, then?
Off the bat, this backpack is airline-approved. It's always worth checking before you fly to confirm the airline's pet policy, but with this carrier, you should be in luck with most airlines.
Choice of colors is limited, but both the black and red backpacks look striking yet subtle.
The polyester construction is waterproof with the bottom of the carrier also fully protecting your pup.
This backpack is intended for dogs weighing up to 25 pounds, so you should be in luck with medium breeds.
While most user testimony concerning this backpack is overwhelmingly positive, a number of users have complained about the fragile nature of the clip-on strap. This minor bugbear aside, this backpack will guarantee your pooch a cushioned ride while you won't be inconvenienced or fatigued carrying him.
Things We Like
Waterproof base
TSA airline-approved
Ample storage
Things We Dislike
---
3. Pecute Pet Carrier
Features
Weight limit: 18 pounds
Oxford cloth
5 x 13.8 x 11 inches
Next up we have a more substantial and rigid pet backpack carrier perfect for smaller dogs to 18 pounds.
All sides of this carrier have windows so your furball won't get bored and stays stimulated on the road. The windows also provide efficient ventilation so your dog doesn't get stuffy and overheated when the mercury rises.
Made from rugged and highly durable Oxford cloth with mesh covering those windows, you should enjoy years of service from this dog carrier.
The innovative foldable and expandable design allows you to get all the advantages of a hard and more supportive carrier without needing too much space for storage.
Lock-style zippers should prevent your pooch from making his way outside the bag. That said, you still need to train your dog so he stays safely inside instead of attempting a Houdini act.
A handful of dissatisfied customers claim they received damaged packages, so we would suggest checking your delivery closely as quality control is lacking.
Overall, though, this is one of our favorite dog carriers, and it's also one of the most versatile and secure. See what you think.
Things We Like
Windows on 4 sides
Brisk ventilation
Zip openings for easy access
Things We Dislike
Some snags with quality control
---
4. Casual Canine Ultimate Backpack
Features
Weight limit: 22 pounds
Polyester
17 x 11.5 x 18 inches
Casual Canine serves up an easy-care backpack capable of providing your pet with a soft and cushioned ride while allowing you to keep both your hands free.
The upper weight limit of this dog carrier is 22 pounds. This gives you slightly more scope than most of these backpacks. The core purpose for dog backpacks is for carrying smaller breeds for shorter distances. This model, though, lets you carry medium-sized dogs as long as you can handle the weight.
The foldable design streamlines storage while maximizing space when the backpack is set up.
Made from 100% polyester, you get a weatherproofed and stain-resistant backpack that's a cinch to keep clean. You can easily spot-clean this bag and then allow it to dry naturally.
The side storage pockets let you stash all the treats you need along with your dog leash and any other accessories you need when you're on the road.
A few customers have complained about this bag losing its structure somewhat, but this is about the only gripe we could find in a sea of positive user reviews.
Things We Like
Fold-out design
Easy to spot clean
Spacious side pockets
Things We Dislike
---
5. Mogoko Dog Carrier Backpack
Features
Weight limit: 7 pounds
Polyester and mesh
6 x 13 x 6.3 inches
Many dog backpack carriers have a cheap and garish appearance, but this Mogoko model is understated enough not to jar with your outfit. Finished in a palette of colors to suit, this backpack is also priced reasonably considering the fit and finish.
Padding is more than fit for purpose. Your pooch will get a cushioned experience, while you won't find the straps digging into your back or shoulders.
The peephole let's your pup poke his whole face out while remaining safe and secure inside the carrier.
The only notable drawback here concerns a lack of robustness underneath this carrier. We would advise against setting it down too often.
This is the smallest model in the line, although it's sized as medium. The backpack has an upper weight limit of just 7 pounds making this suitable exclusively for much smaller dogs.
Things We Like
Breathable and durable
Generously padded
Viewing peephole
Things We Dislike
---
6. PetAmi Dog Backpack
Features
Weight limit: 18 pounds
Polyester
5 x 10.2 x 16.3 inches
As we edge on through our dog backpack carrier reviews, we have a roomy model suitable for all dogs to 18 pounds. If you have a small or medium breed, this carrier should give you the easy ability to take them out when they need to be carried rather than walked. Whether that's in the city center or strolling around your neighborhood, you're in safe hands here and so is your furball.
The choice of colors is wide so you can easily find a backpack to suit your tastes and your dog's temperament.
Airflow is optimized through super-efficient ventilation so your pup will stay cool and airy even if it's sticky and humid outside.
The front strap adds some welcome extra stability and helps with weight distribution, too.
Overall, this backpack for dogs is a pocket-friendly model that gives you everything you need and nothing you don't.
Things We Like
Suitable for smaller dogs
Front strap
Bedding is Sherpa-lined
Things We Dislike
Zippers are poorly constructed
---
7. Petsfit Backpack
Features
Weight limit: 15 pounds
Canvas
13 x 11 x 17 inches
Do you have a small or medium dog weighing less than 15 pounds? If so, Petsfit serves up a wonderful transportation solution.
Now, while this backpack isn't the cheapest option at your disposal, it's still quite keenly priced. Also, carrying your pet around safely is not something you want to compromise for the sake of a few bucks.
Buckles fasten around your chest and waist so you feel nice and stable even if you have a medium-sized dog who wriggles around a lot.
Windows on all sides provide your pooch with a 360-degree view, as well as ensuring the ventilation keeps him feeling fresh when it's hot and sticky outside.
The black backpack is better for hiding dirt and stains, while the neon green version makes a neat fit if you plan to head out at night and you want to stay seen.
We would like to see a slightly weightier overall feel to the backpack considering the price, but this is not the worst dog backpack carrier out there.
Things We Like
Windows on all sides
Easily visible at night
Waist and chest buckles
Things We Dislike
Build quality could be improved
---
8. Pawaboo Pet Carrier Backpack
Features
Weight limit: 5 pounds
Polyester and mesh
16 x 4.5 x 8 inches
Pawaboo produces some thoughtfully-designed and hardwearing pet gear, with this dog carrier backpack outflanking some of its much more expensive opposition.
The comfort factor on this carrier is commendable. The spongey padding in the straps gives you the latitude to stay out for hours without feeling burdened by Fido.
Your mutt will also be very well catered for here. His legs and tail can poke out of the holes in place so he doesn't feel restricted. The inside of the backpack is soft, smooth, and remarkably easy to keep clean. Made from polyester and mesh, you should get plenty of faithful service from this bag.
Wear this backpack on your back or front to suit. In all respects, you get a capable and versatile pet transportation system coming in at a scarcely believable price. If you're looking for the best cheap dog backpack carrier, look no further.
Things We Like
Highly adjustable
Super-comfortable
Legs-out and tail-out design
Things We Dislike
Sizings seem slightly off
---
9. Outward Hound PoochPouch
Features
Weight limit: 20 pounds
Nylon and mesh
22 x 11 x 4 inches
Outward Hound is a rare beast offering affordable pet products that don't skimp in terms of build quality or durability. How does the iconic PoochPouch stack up, then?
Firstly, this backpack is exclusively for smaller dogs. Although the suggested upper weight limit is 20 pounds, we feel this is slightly ambitious. We would suggest somewhere around 15 pounds is the realistic cut-off point. This model is the medium-sized option.
A spacious front zippered pocket lets you stash all those treats and any valuables when you're out and about.
When your pup slips inside this backpack, you can attach him securely to the integrated clip so he can be fixed to his harness.
Ventilation is pretty reasonable. You might find your dog gets a little warm on really long journeys.
The front-carrying configuration lets you interact with your small pup when you're out and about rather than giving him a view of your back.
The straps are well-padded, and the weight distribution won't leave you with aching shoulders even if you're out with Rover for hours.
Things We Like
Perfect for smaller breeds
Durable and well-ventilated
Excellent storage
Things We Dislike
Not remotely suitable for large dogs
---
10. Pet Gear I-GO2 Backpack
Features
Weight limit: 20 pounds
Canvas
16 x 12 x 15 inches
Pet Gear's I-GO2 backpack delivers as promised: you'll be able to take Rover wherever you go in this thing.
Unlike many pet carrier backpacks, you get a multipurpose system here. Use it as a carrier, a backpack, a car seat, a tote, or a roller bag. None of the competition can offer you such versatility of use.
The expandable design allows any dogs to 20 pounds to feel comfortable inside this thing.
Telescoping handles are ideal if you're planning to roll the bag along and they fold up just like the ones on your suitcase when not in use.
A pair of pockets on the side of this bag are perfect for keeping all your doggie accessories close at hand.
This bag is a highly flexible all-rounder and one of our favorites in a crowded field.
Things We Like
5-in-1 functionality
Expandable backpack
Telescoping handles
Things We Dislike
Not the comfiest backpack
---
11. Apollo Walker Pet Backpack
Features
Weight limit: 25 pounds
Canvas and mesh
4 x 12.6 x 16.8 inches
Apollo Walker delivers a robust and rigid pet backpack carrier so you never need to leave your dog at home again.
The canvas and mesh construction is similar to most of the opposition. This results in a backpack that's a breeze to clean and is built to last the distance. The fabric is breathable and the oversized viewing window ensures your pooch can enjoy the scenery at all times.
This backpack is oversized and ideal for dogs weighing up to 25 pounds. This means most medium breeds should be OK to jump inside.
Once in there, your dog will quickly settle down into the comfy environment. Well-ventilated and able to see what's going on, your only problem will be getting him back out again when you arrive!
Things We Like
Multiple mesh windows
Supremely padded
Ideal for long walks
Things We Dislike
Some issues with backpack collapsing
---
12. Texsens Pet Backpack
Features
Weight limit: 15 pounds
PVC and mesh
6 x 11.8 x 16.1 inches
Next up is the first of a pair of robust pet backpack carriers from Texsens.
The build of this carrier is not to everyone's liking. The PVC/pleather has a cheap and brittle feel to it, although the mess is highly effective. On the plus side, the material makes this bag a snap to keep clean, essential with any pet transportation system.
This model is intended for dogs weighing up to 15 pounds, so it's a great fit for teacup breeds or larger small-breed mutts.
The expandable nature of the back gives you a great deal of freedom to configure this carrier and give your pooch the ultimate comfort when you're out in town or heading to the store.
The removable mat inside simplifies clean-up further and ensures your pet backpack stays fresher for longer.
Despite its reasonably stiff feel, this backpack is well-designed and fulfills its core competency impressively. We'd certainly suggest scoping this pet carrier out if you're stuck for ideas.
Things We Like
Incredibly breathable
Removable mat
Rugged and built to last
Things We Dislike
---
13. Texsens Pet Backpack for Small Dogs
Features
Weight limit: 15 pounds
Canvas and mesh
13 x 11.4 x 16.7 inches
The next stellar dog backpack carrier from Texsens is a more rigid case, so what do you get for your money?
Initially, you'll be being into great brand heritage, but you don't need to dig too deep for the privilege. Build quality is impressive and the rigid feel appeals to many active dog owners who like taking their pets out hiking.
Windows on 3 sides of this carrier keep your pup connected to his environment. The mesh windows provide claw-proof security while also delivering effective ventilation. You're entirely responsible for your furball's welfare, so don't stint when it comes to investing in the best transportation solutions.
Now, if your hound tends to chew a great deal, this might not make the smartest choice. A few owners with aggressive chewers have complained that they made mincemeat of this backpack. For most well-behaved dogs, though, this carrier is a comfortable, durable, and affordable choice from a brand you can trust.
Things We Like
Rigid for added stability
Triple PVC and mesh windows
Long-lasting yet lightweight
Things We Dislike
Not great for aggressive chewers
---
14. SlowTon Pet Carrier Backpack
Features
Weight limit: 16 pounds
Oxford cloth and mesh
13 x 11.4 x 16.5 inches
This SlowTon pet backpack is a foldable carrier that's neatly designed and comes in at a very keen price point. How about the build quality, though?
Well, unlike many cheap pet backpacks, the feel of this carrier is solid and everything is very well put together.
Airline-approved, you can head off on your holidays without worrying about whether or not Fido can get on board, too.
The bag has a pair of entrances, one on top and the other at the front. You can roll up mesh windows over both of these so your pet stays ventilated and gets to see out at the same time.
This bag is ideally suited for dogs weighing between 3 and 14 pounds. For bigger pups, we review plenty of more substantial models.
The SlowTon is comfy to slip on and wear for extended periods thanks to excellent padding and intelligent design. Weight distribution means Fido won't bear heavily on you or cause pressure points even if you're out for a lengthy walk.
If you need a budget backpack to carry your dog in but you don't want to get stiffed in terms of performance, we'd strongly recommend this fine effort from SlowTon.
Things We Like
First-class storage
Outstanding weight distribution
Completely foldable
Things We Dislike
---
15. Outward Hound PoochPouch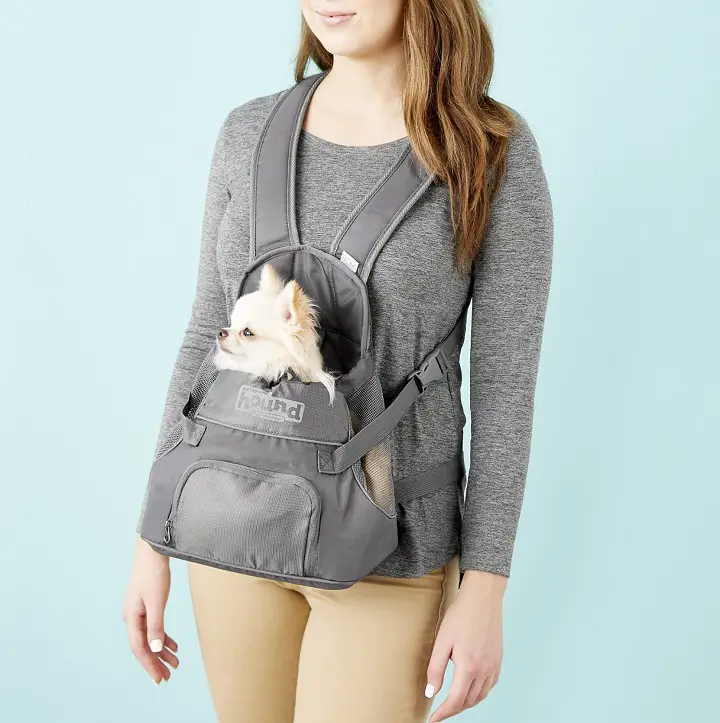 Features
Weight limit: 10 pounds
Nylon and mesh
5 x 10 x 8 inches
If you liked the look of the Outward Hound PoochPouch we reviewed above, but you have a much smaller teacup or toy breed, this is the same highly effective solution in a slightly smaller size. After all, if you have a dinky dog, placing him in a voluminous backpack will give him an insecure and uncomfortable ride.
The safety clip will keep your pup attached to his harness. This should not be considered failsafe security, but it should keep your dog in place.
The exceptional padding means this front-carrying backpack is a great choice if you spend lengthy spells out and about with your furball. You won't get tired and he won't get bored or uncomfy.
Due to the scaled-down dimensions of this nifty backpack, don't consider this model unless you have a dainty dog weighing under 8 pounds.
For a long-lasting and multipurpose pet backpack carrier from a brand you can trust, check out the PoochPouch at your earliest opportunity.
Things We Like
Safety harness attachment
Spacious storage pocket
Highly padded for all-day use
Things We Dislike
---
Conclusion
With our reviews in place, you should now have a comprehensive overview of all the best dog backpack carriers out there. We tried to include a variety of shapes, sizes, and styles today so there is something for everyone. We're also aware that everyone is shopping to a different budget, so we have included backpacks at a range of price points to reflect this.
We skipped the buying guide today as buying a backpack for short trips with your dog is really not so hard. This decision is likely to hinge more on the look and feel of the bag than anything else, assuming that you get the right size, of course.
The maximum weight limits should be viewed with caution. If your dog is tight to the upper end of the quoted threshold, we would recommend shopping for bigger backpacks. The last thing you want is for your pooch to feel too tight and constricted inside. That's a surefire invitation for him to start trying to escape.
Take a moment to bookmark BarkVA before you finalize your backpack purchase. We bring you fresh content daily so you have everything you need to streamline dog ownership in one place. From all the best equipment to make your life run smoother to handy hints on training your dog and all other aspects of dog care. Pop back soon!
As an Amazon Associate, we earn from qualifying purchases - at no cost to you, allowing us to continue our work.