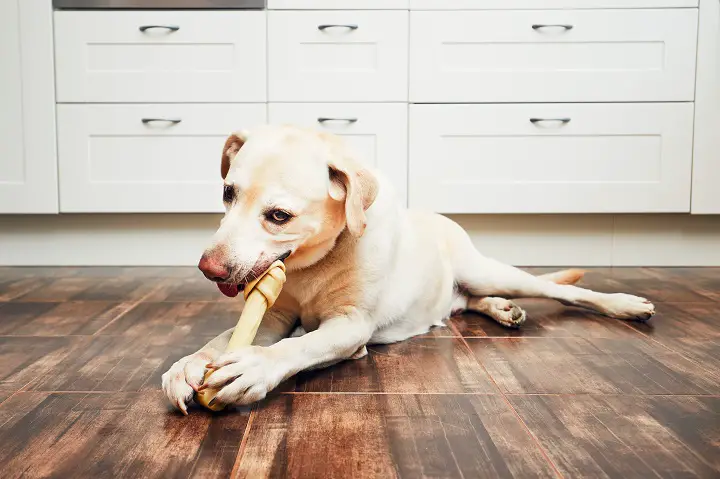 Dogs want something to chew on at all times if possible. Now, you should supply your dog with enough toys that he doesn't start attacking your furniture out of frustration.
What can you do if he still seems like he can't get enough stimulation and he's still looking for something more than his regular bone?
Well, that's where dental chews for dogs come in. 
But that's not the best thing. Sure, dog chews stop your dog from going tonto with the chairs and couch, but these treats come with additional benefits…
The best dog chews stop plaque and tartar building up on your dog's teeth meaning better overall dental health. 
And, as an added kicker, these chews will typically freshen up your dog's breath so you get blast of mint in place of doggie breath.
Now, buying the best dental dog chews is fairly straightforward. As with any buying decision, though, being informed of a few salient pointers can save you a great deal of time, money and frustration.
Here are some things you should consider when you're looking for dog treats…
Scent 
In addition to removing plaque and tartar, your dog's dental chew should also be scented. Most of these chews come with some kind of minty freshness so you can start enjoying playtime with your dog much more without being blasted with a foul odor.
Dental chew size
There are dental chews for dogs available in all shapes and sizes. Make sure you focus on finding one appropriate for your pup.
Low in fat
This might not be a huge issue, but if your dog is struggling with weight issues, look for low-fat chews.
Dog's life stage
You can find dog treats for dental hygiene for all ages. Whether you've got a young pup, an adult dog, or a senior hound, you can find dog chews to match.
Dental chew ingredients
Buy with confidence if the chews come with Veterinary Oral Hygiene Council (VOHC) certification.
Make sure you look for dental chews with all-natural ingredients. Cheap chicken by-product as a filler is a big no-no. The best dog chews are also usually wheat-free, corn-free, and soy-free.
Ok, with that basic framework in place, it's time for the main event. We'll give you some brief, no-nonsense reviews so you can compare these dog chews and see which would make the best fit for your pooch.
Let's get right down to business!
BarkVA is reader-supported. When you buy via the links on our site, we may earn an affiliate commission at no cost to you.
I. The 7 Best Dental Chews for Dogs
1.

Our #1 Pick:

Greenies Original Natural Dental Dog Treats
First up in our quest for the best dental chews for dogs are these all-natural beauties from Greenies. What do you get for your money, then?
From a small pack of 5 treats right through to bumper deals with 140 dog treats in a large box, choose what sits with your dog and your budget.
These all-natural treats are intended for adult dogs in general, and small breeds specifically. 
Backed by the VOHC (Veterinary Oral Health Council), these treats are highly recommended by vets the world over. If you didn't imagine a small dog treat could make much of a difference to your dog's dental health, take advice from the experts: these things really work.
A common issue with these dog treats is that some dogs might find them tough to digest. There's no easy answer to this. All you can do is try some out on your dog, monitor closely for any issues, and discontinue use if you find your pooch in any discomfort. In the vast bulk of cases, he'll be chowing down with no blowback at all.
Things We Like:
Choose from a wide range of sizes to suit
Specifically designed for small breeds
Come veterinary-recommended and rated by VOHC
Things We Dislike:
Some dogs might struggle to digest these treats
---
---
2. Oravet Dental Hygiene Chews for Dogs
Next up in our dog chew reviews is a neat vet-backed solution from Oravet. These dental hygiene chews perform two valuable roles…
Firstly, as your dog chews, the plaque will be dislodged from his teeth. The chews then form a barrier so the bacteria that builds up into plaque and tartar is unable to penetrate.
Designed for small dogs up to 10 pounds, add these chews into your dog's daily routine and kiss goodbye to doggie breath and dental issues without spending a fortune. Your dog will love the taste of these things, too.
The only negative feedback we unearthed concerns a few customers who report changes in their dogs stools after using these chews. If this occurs, discontinue use.
Overall, if you want to do everything you can to keep your small dog's teeth in peak condition, incorporate these chews into his feeding regime. He'd thank you for it if he could.
Things We Like:
Designed for adult dogs up to 10 pounds
Chews help to reduce plaque and bacteria
Works well to improve your dog's breath
Things We Dislike:
Some changes to stools might occur
---
3. Blue Buffalo Dental Bones
Blue Buffalo is a heavyweight in the dog food industry. Their all-natural products give your pooch a taste of the wild with no nasty additives or preservatives. While these might not be the cheapest dog treats at your disposal, they're among the very best.
So, if you have deep pockets and discerning tastes, what does your dog get for your money?
Designed so your dog can grab them easily in his paws and chew them equally easily, you can opt for small, mini, regular, or large bones to suit the size and breed of your dog. 
Free of corn, wheat, and soy, you get no cheap chicken by-product for filler either. You can rest assured your dog is taking onboard nothing but nutritious and all-natural ingredients. 
Easy to digest and packed with minerals, your dog's overall health will benefit along with his dental hygiene.
The regular size bones we're looking at here are good for dogs from 25 to 50 pounds. If this doesn't fit your dog, check out the other sizings.
If you want to treat your dog's dental hygiene holistically, you can't beat Blue Buffalo.
Things We Like:
Unbeatable brand heritage
Focus on all-natural ingredients
Suitable for adult dogs from 15 to 50 pounds
Things We Dislike:
Some users report the formula has changed
---
4. CET VeggieDents Chews
Next up in our search for the most effective dental chews for dogs come the VeggieDents Chews from CET.
These chews work to freshen up your dog's breath. There's nothing better than rolling around for some up-close fun with your furball. There's nothing worse than getting a face full of rancid dog breath, though. Acting as first line of defense against halitosis, you'll also find less plaque and tartar will build up on your dog's teeth if you continue using these chews daily.
VeggieDents are designed for all lifer stages. The ergonomic shape allows your dog to hold and chew these treats with ease.
There's one serious downer with these chews – the manufacturer continually increases the price. Our advice? Act quickly before you end up paying more for the same thing. Once you have the treats laid in, just sprinkle one a day into your dog's feeding regime and he will be well on his way to improved teeth and breath while benefiting from a tasty treat: everyone's a winner.
Things We Like:
Suitable for all life stages of dogs
A single chew daily results in less plaque
Z-shape is designed for your dog to easily grasp in his paws
Things We Dislike:
Price keeps increasing so act quickly
---
5. Purina DentaLife Mini Adult Dog Treats
Purina dog treats come in an array of sizings to suit your budget. Whether you want a smaller pack of 24 treats – roughly a one-month supply – or you fancy investing in a bumper value pack of 135 treats, there's something for everyone.
With spirulina and honey as blended active ingredients, you'll give your dog a shot of goodness while also freshening up his breath and giving him something to chew on and work out his teeth on.
You get all-natural ingredients here with no artificial colors, flavors, or preservatives. You can rest confidently knowing your dog is consuming nothing but goodness here.
Whether you intersperse these treats with your dog's food or you use them as rewards, either way his dental hygiene will improve.
The chews are small enough for your dog not to get bogged down with. 
If you're on the trail of American-based treats, you're in safe hands here. What's not to love?
Things We Like:
Attack foul canine breath at source
A unique blend including spirulina and honey
US-made for added confidence
Things We Dislike:
Some dog owners complain these treats made their dog vomit
---
6. Pedigree DENTASTIX Fresh Treats for Small Dogs
As we edge to the end of our dental chews for dogs reviews, we've got these DENTASTIX fresh treats from Pedigree. What makes them stand out, then?
These treats are intended for small and medium dogs. If you have a toy breed, there are some even smaller chews available, too.
Shaped in an X, your dog can grab and chew these things with pleasure.
The fresh and minty flavor will go down a storm with your dog while giving you a blast of mint instead of foul doggie breath. What price can you put on that?
All you need to do is give your dog one of these treats each day and you're giving his dental health a valuable extra edge.
The only real niggle we could unearth concerning these treats was some owners of very small dogs complaining that their dogs were unable to chow down on these things properly. Only you know how resilient your dog is.
Things We Like:
Assorted sizes of packs for small to medium dogs
X-shape gives your dog plenty to grab hold of
Just one treat a day can deliver powerful dental benefits
Things We Dislike:
Some small dogs might struggle to bite down on these treats
---
7. AFreschi Turkey Tendon for Dogs
Last but certainly not least, these turkey tendons are a great way to introduce some US-sourced ingredients into your dog's dental healthcare regime. These treats are great value and will genuinely benefit your furball.
Choose from a range of flavors in line with your dog's preferences.
As a natural alternative to rawhide, these chews will engage your dog and stimulate him while also delivering a boost to his dental health. With regular use, less plaque will build up on his teeth, and less tartar, too. He'll suffer from fewer dental problems and enjoy much fresher breath. On top of all this, he'll love the flavor so what are you waiting for?
Things We Like:
All ingredients US-sourced
Several flavors at your disposal
No artificial colors, flavors, or preservatives
Things We Dislike:
A few issues with dogs experiencing upset stomachs after eating these treats
---
Right, with our reviews in place, it's time to tail off in our usual style. We curate the answers to the most frequently asked questions about dental chews for dogs so you have all the information you need in one place.
Here goes…
---
II. FAQs
1) Why should I care about oral health for dogs? Wolves never brush their teeth, they have very good teeth.
Wolves have a lifespan of only about 5-6 years, less than half that of domestic dogs. Also, wolves are not exposed to the types of food dogs eat. To compare your dog with a wolf is like comparing apples with oranges. You can do it, but you won't get fair results. Do yourself a favor and pay proper, close attention to all aspects of your dog's dental hygiene. You wouldn't skip dentist appointments yourself because cavemen didn't use the dentist. 
2) Is dental chewing gum from the US better?
We have a lot of faith in dental chewable products that come from the US. You should, of course, make your own mind up whether this has any relevance for you.
3) The veterinarian prescribed my dogs a dental chew I don't know very well. Is this OK?
Vets are professionals so you should respect their advice. If you find yourself clashing with your vet, consider looking elsewhere.
4) Can I find dog treats if my dog has special dietary requirements or allergies?
You certainly can. You'll have more limited choice and you'll need to look harder. That said, you'll still find what you're looking for. You should also closely study the full list of ingredients and seek advice from your vet and then there's no reason why your dog can't enjoy treats and chews safely.
5) Why should I use dog chews for my dog?
You'll help keep your dog's breath clean. You'll also limit the build-up of plaque and tartar that can lead to canine tooth decay. As an inbuilt kicker, your dog will love chewing them, too.
---
III. Conclusion
We'll round out with one of the classic comments from pet owners who claim you don't need to put in any effort with canine dental hygiene…
"Have you seen wolves in the movies ? Their teeth are impeccable. Surely that means you don't need to do anything with your dog's teeth?"
This is simply not a fair comparison. Your dog isn't a wild animal, whatever his heritage. As a pet owner, you know your dog is part of the family. Don't leave him out when it comes to dental hygiene.
You should be clear on what to look for when you're shopping dental chews for dogs. If you stick with any of the dog chews we review today, you're guaranteed to get great results. Opt for any treats not on our list and you should refer to our buying guide so you can more easily choose the right treats for your dog's size, breed, and temperament.
Before you leave, why not bookmark BarkVA? Rather than trying to appeal to all types of pet owners, we're keeping our focus purely on your furry friend. We have a very busy content calendar right now, so we'd suggest you pop back soon!