Some breeds are inclined to burrow more than others –  beagles and dachshunds, for instance – but most canines love to forage.
Cave dog beds cater to this natural instinct and allow your dog to work his way inside and snuggle up.
Now, this sort of dog bed absolutely isn't suitable for all breeds and sizes. Most of the cave beds we review are tailored toward smaller mutts. You can find a handful designed for beefier dogs, and we cover these, too.
To determine whether or not your dog would benefit from one of these beds, think about the way he sleeps when there's a blanket nearby. If he lays on top of the blanket, chances are that a cave bed wouldn't appeal to him. If he burrows underneath and sleeps with the blanket over him, he may well find great enjoyment in a cave bed.
Some dogs use cave beds for a daytime nap, while others use them overnight. See how yours feels when his new den arrives.
A cave bed is essentially a regular dog bed with a roof. This roof tends to be sloped so your dog gets the body contact he craves while snuggling up for a snooze. This tightly enclosed space can make even anxious dogs feel safe and secure. Any dogs who like spending time in their crates would also likely enjoy a cave bed.
So, what should you consider when you're shopping for cave dog beds, then?
Size: You should look for a bed that's tailored for the precise size of your dog. Get a cave bed that's too large and you defeat the purpose of hunting out a closely-conforming structure in the first place. We break down specific sizings for each of the models we review so you can readily compare them
Materials: From nylon to fleece to microsuede, cave beds come in a range of materials. Look for the optimum combination of comfort and durability
Ease of cleaning: Make sure any cave dog beds on your shortlist have removable and machine-washable covers. They should also be easy to spot-clean
OK, now you should have a decent overview of whether or not a cave bed makes sense for your pup, and you should also know what to look out for on the buying trail.
We'll help you out further now by outlining the benefits and drawbacks of the best cave dog beds up for grabs. See which of these great lairs catches your eye.
Barkva.org is reader-supported. When you buy via the links on our site, we may earn an affiliate commission at no cost to you.
The 14 Best Cave Dog Beds
1.

Our #1 Pick:

Snoozer Luxury Cave Bed
Features
For large dogs
Microsuede
35 x 35 x 10 inches
All dogs love to burrow. It's in their nature and you should indulge them with some primal action in the form of this luxe cave bed, our overall favorite from the cross-section we review. What makes the Snoozer stand out, then?
The microsuede build makes a great asset to any room while the Sherpa interior keeps your pooch warm and cosseted inside. The fill adds a further layer of comfort as your furball is completely enveloped inside this luxury cave.
All dog beds need to be easy to clean. You can slip the Snoozer cover in the washing machine to avoid any hands-on maintenance.
You get a fantastic choice when it comes to color so choose what meshes with your existing décor from a broad palette.
This cave dog bed comes in 3 sizes, this the large model ideal for medium-sized dogs like collies or bulldogs.
If your pooch loves snuggling under the covers – and what dog doesn't? – then indulge him with the Snoozer to keep him cocooned in comfort.
Things We Like
Warm Sherpa interior
Machine washable
Massive choice of colors
Things We Dislike
Some users report allergies triggered
---
2.

Also Great:

Furhaven Pet Ergonomic Bed
Features
44-inch base
Polyester
44 x 44 x 3 inches
Furhaven Pet serves up a fully ergonomic dog cave bed in an enormous array of colorways to suit. What else do you get apart from that class-leading choice of design, then?
This is the largest bed with a 44-inch base. There are 3 smaller models if you have a more delicate breed.
The model we review comes finished with orthopedic foam. There are memory foam and cooling gel foam beds available if you want to pamper your pooch.
The sleeping surface of this bed is lined in the classic Sherpa that many of these dog beds rely on. Keep your pup warm, comfy, and satisfied year round.
The base of this bed is designed to relieve pressure points, improve airflow, and it also allows for even weight distribution.
Care is straightforward with the cover machine washable on a cold cycle.
Aside from a short warranty, there's not much else to knock about this cave dog bed with a twist from Furhaven Pet.
Things We Like
Multipurpose integrated blanket
Foam base relieves pressure points
Easily washable in machine
Things We Dislike
Warranty is short and weak
---
3. Cozy Cuddler
Features
For small dogs
Nylon
23 x 23 x 6 inches
Next up in our quest for the best dog cave beds is a small but elegant den for your toy breed. Many users report their small dog not fitting inside the Cozy Cuddler, but if you have a teacup pup, he'll be delighted with this new bedding.
The cushions and the sides of the bed are plump with stuffing. This ensures that the bed retains its shape while also offering plenty of comfort for your furball.
All materials in the nylon build are pet-friendly, and there are no contaminants to worry about, so you can rest easy even if your dog tends to chew away at his bedding.
You get a reasonable choice of colors so there should be something to complement your room even if there's not as much variety as some of the beds we review today.
Resistant to dirt, staining, and water, you should find no problem keeping this bed spotless, and it's built to last, too. See what you think of the Cozy Cuddler. It's one of our favorite cave dog beds.
Things We Like
Well-stuffed cushions and walls
Made from pet-friendly materials
Super-soft and comfy
Things We Dislike
---
4. Sleep Zone Cave Dog Bed
Features
For small dogs
Faux-suede
22 x 10 x 17 inches
Does your dog like to nap in the day, but also like a little privacy? Most do! Luckily, the Sleep Zone cave dog bed allows Rover to get comfy while enjoying some time to himself snuggled up in this den.
The suede build is super-soft and comfortable, obviously a priority in any pet bed.
As well as supreme comfort, your pooch benefits from full orthopedic support as well. Why not treat him to the same great night's sleep you get?
The materials used for this bed are all eco-friendly so you can buy with a clean conscience and a big smile knowing how much you'll be upgrading Fido's naptime.
The fill of this bed is made from recyclable materials that won't bunch up or clump.
Easy to care for and machine washable, this cave bed for dogs is one of the finest in a crowded vertical. Why not see what you think?
Things We Like
Ethically-made and pet-safe
Offers orthopedic support
Comfy yet hardwearing
Things We Dislike
One of the smaller cave beds
---
5. Portable Indoor Pet House
Features
For small dogs
Polyester
16 x 16 x 14 inches
Best Pet Supplies Store delivers a first-class and twee indoor pet house that serves as a great dog cave bed.
This is one of the smaller structures we review today and best reserved for much smaller breeds.
The fleece finish is soft yet durable. The polyfoam and polyfill give your pup ample support while also ensuring he remains cushioned and comfortable when he's trying to cuddle up and rest.
Cleaning the bed couldn't be easier. The whole thing slips in the washing machine leaving you no excuse not to keep this thing spotless.
Although most user reviews are positive, we found a number of complaints concerning the pillow seeming a little too hard for comfort.
As well as making a great cave bed at home, this functions like a soft crate when you're making a short trip in the car. What's not to love?
Things We Like
Cute design
Plush and comfy inside
Simple to clean and maintain
Things We Dislike
---
6. SPOT Cuddle Cave
Features
For very small dogs
Suede
22 x 10 x 17 inches
Do you have an anxious dog who finds it hard to settle down? Does your pup love burrowing under blankets and snuggling up? For these cases and more, SPOT's Cuddle Cave is a must.
Off the bat, you should be clear that this bed is only suitable for really small teacup and toy breeds. If you have a bulkier dog, check out one of the roomier beds we review. After all, while you want a closely-conforming structure, you still need to ensure it's not too tight a fit for Rover.
The bed is machine washable so you can keep it spotless fuss-free. The cave keeps it shape even after extended use. The bed is comfortable for sure, but it's also remarkably durable for a soft bed.
If you're still in any doubt about this superb cave bed, the 100% money-back guarantee lets you buy with literally nothing to lose. If you're not entirely satisfied, call in for a refund.
Things We Like
Rugged and built to last
Machine washable
100% money-back guarantee
Things We Dislike
Only suitable for very small dogs
---
7. Milliard Premium Pet Cave Bed
Features
For small dogs
Plush polyester
14 x 14 x 14 inches
If you want to give your small dog a shot of luxe when it's time for a nap, you could do much worse than the Milliard Premium Cave Bed.
The manufacturer suggests that "pets the size of a basketball" make a neat fit in this bed. If that sounds like it fits the ball for Fido, the Milliard is a slam dunk.
This multipurpose structure can be used a standalone cave bed. You could also use it as a super-comfy insert for your dog's travel carrier or crate.
Made from plush polyester, you should get plenty of service from the Milliard. There's nothing by the way of maintenance to worry about either. All you need to do is throw the whole bed in the washing machine on a cool cycle and your pooch gets a fresh, clean bed.
If you have cats at home, this bed also makes a smooth fit for felines.
For a classis, comfortable, and long-lasting cave bed from a highly reputable brand, you can't go wrong here.
Things We Like
Works as standalone bed or insert
Wash on cold in machine
Ideal for cats or dogs
Things We Dislike
You need to pay shipping for returns
---
8. Best Friends Cave Bed by Sheri Store
Features
For medium dogs
Polyester
27 x 27 x 8 inches
The Best Friends line from Sheri Store is designed to bring joy to the lives of dog owners the world over.
This bed is best suited for medium dogs. The polyester is soft yet remarkably durable. The faux-fur on the inside it gives your dog the feeling of his mother's coat.
If your dog prefers, he can sleep on top of the blanket. This can be useful if the weather gets very hot over the summer and your pooch gets overheated when he's snoozing.
The nylon bottom is hardwearing and water-resistant. The bed won't scratch up your hard flooring and nothing will seep through onto your carpets either.
If pushed to find fault with this cave bed, we would point to the pale colorway. We feel this is rather vulnerable for the inevitable messes that dogs create, but that's down to personal choice.
Things We Like
Blanket built in
Upholstery-grade exterior
Super-soft inside
Things We Dislike
---
9. Pet Tent Soft Bed
Features
For medium dogs
Faux-suede
16 x 16 x 14 inches
If your dog really craves privacy, why not give him what he wants? This classic tent-style dog bed gives you all the benefits of a cave with high walls and a spacious interior, even if he misses out slightly on the close fit of a regular cave bed.
The inside of this bed is spacious enough to accommodate medium-sized dogs without them feeling to cramped.
This model is made from faux-suede. You can also find linen or corduroy variants if you fancy a different fabric.
Despite comfort being uppermost in this bed, the build quality means your dog should get plenty of life out of this bed. It's machine-washable on a cold cycle, too, so you can keep it spotless the easy way.
User testimony for this bed is predominantly positive, although we found some isolated complaints about durability. Overall, we feel this makes a smart budget choice for larger dogs.
Things We Like
Tent offers great privacy
Spacious interior
Machine washable at low temperature
Things We Dislike
Quite lightweight and flimsy
---
10. Best Friends Convertible Cave Bed by Sheri Store
Features
For dogs to 12 pounds
Nylon
15 x 15 x 13 inches
The Sheri Store's Best Friends line comes up trumps yet again with this convertible cave bed. How does it shape up?
The first thing you'll need to do is navigate the wide menu of colors, so there's no reason not to get the perfect complement to your décor.
Sizing is limited to Standard or Jumbo. This is the Standard and it's good for dogs to 12 pounds. If you need a little more space, the bigger model will hit the spot.
As with all the best cave dog beds, this model is super-simple to keep clean. The insert is removable to make this even easier. This is nicely padded so your pup can slumber in comfort.
The dirt-resistant and water-resistant base will keep your dog dry and your floors safe.
While this is not the most spacious of cave beds, for smaller dogs it makes a smart bet.
Things We Like
Wide choice of neutral colors
Easy to care for
Removable padded insert
Things We Dislike
Not as good for larger dogs
---
11. Armarkat Green Pet Bed
Features
For medium dogs
Faux-suede and synthetic fur
20 x 14 x 10 inches
While this bed is marketed for larger dogs, we advise you to keep your expectations reasonable. Although it's got a little more space on offer than some of the cave beds we review, it's still better-suited for medium dogs.
The robust padding gives Fido a relaxing snooze at any time of the day or night. It's a dog's life!
The main part of the bed is made from a combination of faux-suede and synthetic fur. This ensures you get the optimum meeting point of comfort and durability. Let's face it, it's senseless providing your pooch with an ultra-soft sleeping surface if it ends up falling apart in weeks.
Machine-washable for your convenience, this cave beds gives you everything you need and nothing you don't in a first-class and highly affordable package. What are you waiting for?
Things We Like
Extra-thick padding inside
Muted colorway to mask dirt
Washable in machine
Things We Dislike
Not the most supportive bed
---
12. PLS Birdsong Cave Bed
Features
For medium dogs
Polyester and Oxford cloth
6 x 23.6 x 16.5 inches
As we edge to the end of our dog cave bed reviews, we have a great model ideal for medium breeds from PLS Birdsong.
This bed is a good fit for pups to 25 pounds giving you a little more leeway than many of the smaller caves we highlight today.
Care and maintenance are minimal, a prerequisite in any dog bed you don't want gathering dust in a closet. Machine-washable on a cold setting, all you need to do is allow this bed to air dry and your canine will be back in his element in no time.
The bed is made from a short-floss fabric and the polyfill gives Fido a relaxing rest any time he choose to snuggle up inside.
Choice of colors is limited, but in most other respects this cave bed makes a durable, affordable, and comfortable option for owners of medium breeds. Smaller dogs may not get the close contact they crave so think closely about sizing before committing to purchase. Get this right and your dog will thank you!
Things We Like
Works well for dogs to 25 pounds
Easy wash and care
Smooth filling for total comfort
Things We Dislike
Shape of cushion doesn't suit all dogs
---
13. Jobar Pet Parade Pet Cave
Features
For large dogs
Polycotton
2 x 14.2 x 11.8 inches
Jobar might not be the most recognizable brand, but if you're prepared to take a chance on an unknown, you might be pleasantly surprised with this cave bed.
This is one of the most versatile options on our shortlist. You can use this with or without the top depending on how enclosed or otherwise your dog likes to be.
The Sherpa lining delivers maximum comfort with minimum effort when it comes to maintenance. Spot-cleaning is a cinch, and you can also pop the cover into the washing machine.
The Pet Cave from Jobar is one of the roomier models on our list today, so makes a good option if you have a larger dog.
While the overall build quality of this cave bed is fit for purpose, the zippers are a let-down. Handle these with care or you could end up with them broken in no time.
This is a reasonable bed and a solid choice for bigger pups, but we feel there are better options at your disposal.
Things We Like
Sherpa lined for added comfort
Cover is machine washable
Suitable for most larger dogs
Things We Dislike
---
14. Ethical Pet Sleep Zone Cuddle Cave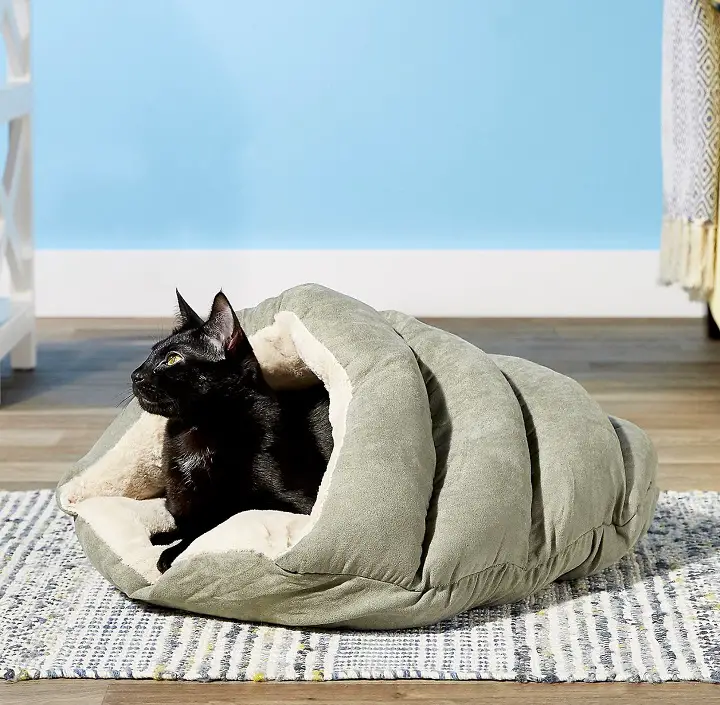 Features
For large dogs
Microfiber and faux-fur
22 x 17 x 10 inches
Ethical Pet serves up a sustainable and eco-friendly pet bed in the classic cave-style loved by committed burrowers the world over. What do you get for your money, then?
The rounded shape of this cave bed has almost universal appeal. If you get the fit right – this measures up at 22 x 17 x 10 inches – your pup will slip in and feel the body contact he loves.
The microsuede is guaranteed to deliver comfort while remaining easy to care for. The filling is recyclable and designed so it won't end up in clumps after a few siestas.
You can choose from 3 muted earth tones, all designed to mask the stains this bed will pick up from Fido. When it comes to clean-up, just pop the entire bed in the washing machine and you're good to go without lifting a finger. Spot-cleaning is also a cinch.
Overall build is impressive and you should get years of service from this bed.
Things We Like
Super-soft microsuede interior
Rounded shape suits most breeds
Recyclable and machine-washable
Things We Dislike
Tends to be out of stock frequently
---
Conclusion
Well, today's rundown of the best cave dog beds should leave you with plenty of options if you're looking to give your dog a sense of the wild at home.
Cave beds don't make the right fit for all dogs, but if you have an anxious dog, one that likes to burrow, or a dog used to spending time in a crate, the cocooned feel of a cave bed might make his day.
Stick with any of the models on our shortlist and you can buy with your eyes open. We always try to address the flaws in dog gear rather than only dwelling on the benefits.
Bookmark BarkVA before you head off today. We're here to bring you impartial reviews of the best dog gear, handy hints to train your furball the easy way, and plenty of information-packed guides helping you through every area of dog ownership. We bring you fresh content daily, so we suggest you pop back very soon!
As an Amazon Associate, we earn from qualifying purchases - at no cost to you, allowing us to continue our work.