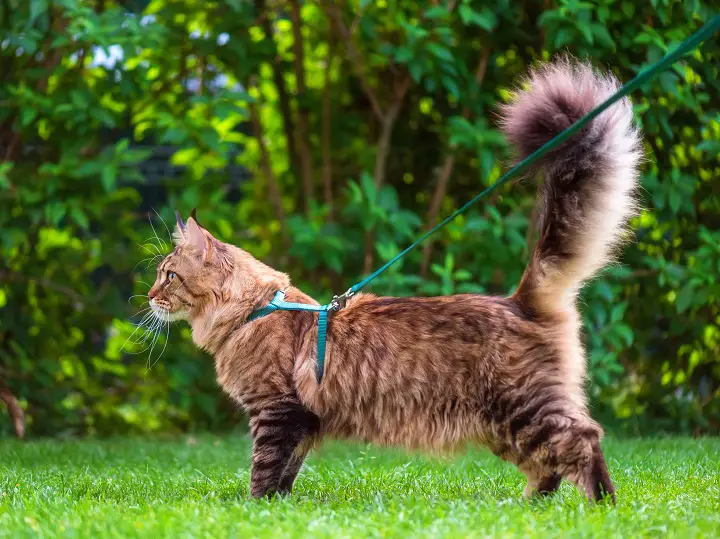 Taking your dog for a walk is a time-honored tradition, but how about walking your cat?
Despite what you might at first think, there are several instances where you may want to take kitty out on a leash, but a regular leash designed for dogs just won't cut it.
Cats have very delicate throats and necks, so you'll need a harness that takes this into account.
We understand that you may have absolutely no idea what you're looking for on the buying trail, so here are some of the most important points to consider when you're comparing the best cat harnesses.
Sizing: You'll need to measure your cat accurately before brandishing your credit card and potentially buying the wrong size. We have given the sizes for all the harnesses on our shortlist in terms of chest girth. You'll have a band of several inches, and within this you can adjust the harness to fit snugly. If the harness is too tight or too loose, it will be worse than not using one at all
Materials: Look for rugged and durable materials that will return a decent lifespan. You should also, of course, look for a harness that will be comfy for your cat to wear without causing an chafing. Stitching is the weak point, so look for double-stitched seams
Ease of use: You should ensure that any harness on your shortlist is easy to put onto your cat, and equally easy to use
Safety features: If you're planning to take your cat out for a walk at night, it's worth looking for harnesses that feature reflective strips. You should make sure that all closures and hardware are solidly constructed, too
Price/performance ratio: If you shop for cat harnesses based purely on the bottom line, you'll certainly find a cheap harness, but it's highly unlikely to be good. Instead, look for overall value. Even the best cat harnesses are not that expensive, so why shortchange yourself?
A quick note about measuring your cat for a harness. Not all harnesses fit in precisely the same way, so you should always refer to the manufacturer's instructions.
Measure your cat's chest girth as well as his neck size to guide you when you're comparing harnesses. To measure his chest girth, measure from his shoulder blades down to his elbows and armpits and then back up to his shoulder blades.
OK, with these basics in place you should have everything you need to find the most suitable harness for kitty.
Remember, don't just throw the harness on for the first time and head straight out the door. As with all new pet equipment, you should slowly introduce your cat to the harness so he feels comfortable with it. Once he is accustomed to being walked around the house, you can brave the big outdoors.
Barkva.org is reader-supported. When you buy via the links on our site, we may earn an affiliate commission at no cost to you.
The 10 Best Cat Harness
1.

Our #1 Pick:

PetSafe Come With Me Cat Harness
Features
13 to 18-inch chests
Nylon
25 x 5.25 x 8 inches
Of all the cat harnesses we review today, it's no surprise that our overall favorite comes from industry heavyweight PetSafe. This brand has been in business for decades supplying pet owners like you with great gear at reasonable prices. This cat harness continues the winning tradition.
The harness comes in 6 vibrant colors so you match it to the temperament of your feline. A pair of adjustment points allow you to get a snug fit for all cats with chests from 13 to 18 inches. This is the largest of 3 models, so you have plenty of options for smaller cats.
The leash is a flexible bungee style that's easy on your cat's neck while providing a little give so he won't experience any discomfort even while he's being restrained.
Cats need controlling differently to dogs when they're being walked. This harness is designed so that pressure is very gently applied to your cat's shoulders with no stress to the throat or neck.
Although the bulk of users seem delighted with this cat harness, we found a handful of complaints about difficulties putting the harness on. Overall, you're getting a versatile, durable, and adjustable harness from a brand you can rely on. The best thing? This harness also happens to be one of the most affordable you can find, so what are you waiting for?
Things We Like
Highly adjustable
Lightweight
Breathable
Things We Dislike
---
2. rabbitgoo Cat Harness
Features
18 to 20-inch chests
Nylon
25 x 5.25 x 8 inches
Next up in our hunt for the best cat harness comes a classic model for larger kitties from the ever-reliable rabbitgoo. How does this harness shape up, then?
There are only 2 sizes available, small and extra-small. Don't let that fool you, though, as these harnesses are intended for walking larger cats. This is the small and it's meant for cats with chests from 18 to 20 inches. You should also ensure that you cat has a head measuring at least 11 inches around, or he'll slip out of the harness like Houdini.
You'll get an enormous variety of colors to choose from, so you can inject a dose of fun into walkies with your feline.
As long as you pay attention to the sizing above, you'll get a harness that's nearly inescapable. 4 adjustable straps allow you to get a snug yet forgiving fit, with pressure kept away from your cat's delicate neck and throat.
There's a leash clip on the back of this harness and a lengthy leash that lets you take house cats outside without any fear of an accident. A couple of side buckles on this nylon harness completes a winning package from a highly reputable brand. What's not to love?
Things We Like
Reflective strips
Wide array of colors
Double ring closure
Things We Dislike
Easy to slip out of if sizing wrong
---
3. Pupteck Adjustable Cat Harness
Features
10 to 17-inch chests
Nylon
10 x 7 x 0.8 inches
If you're hunting for a simple, no-nonsense cat harness that's priced firmly in budget territory, you need to tread carefully. There are many cheap and low-quality harnesses out there if you don't know what you're looking for. Luckily, we do. Pupteck's harness is perfect for smaller cats. You could also use this harness with teacup dogs or other small breeds.
The harness has an adjustable neck to fits cats with necks from 7 to 10 inches. There's a wide degree of adjustability across the chest too, suiting cats with chests from 10 to 17 inches. Versatility is uppermost here.
There are a dozen colorways to choose from so you can personalize your harness perfectly.
This is an H-style harness, so you'll get no bells or whistles, and you won't encounter any problems putting this harness onto your cat or taking it off, either.
A 47-inch leash is bundled which should give you ample freedom of movement when you're out and about with your cat.
Made from a thick and durable nylon, the harness has a heavy-duty feel and build that belies the budget pricing. Overall, you're getting everything you need in a cat harness and nothing you don't.
Things We Like
Buckle closure
Multiple colorways
Thick and durable
Things We Dislike
---
4. DMISOCHR Cat Harness and Leash
Features
16 to 20-inch chests
Nylon
6 x 7.9 x 1.2 inches
For any cat owners who feel they might take their kitty for a walk at night, this fully reflective harness from DMISOCHR ensures that there's no danger in doing so.
There are 5 color schemes to choose from with this cyan version making a smart choice if you're prioritizing visibility at night.
There are just 2 sizes, small and medium. This is the medium harness, and it's ideal for larger cats with chests sized from 16 to 20 inches.
The lengthy 5-foot leash gives you the security of keeping your feline in check, while you'll be giving him plenty of room to wander.
Both the chest and neck of this harness feature safety buckles, so you shouldn't experience any escapology acts, even if you have a more energetic and mischievous kitten.
The soft mesh fabric is super-breathable and built to withstand plenty of sustained use.
The entire harness is covered with a reflective finish that ensures you cat is visible from a distance in gloomy conditions.
Despite a wealth of positive user reviews, we found a handful of complaints centered on the way the straps can come undone.
For a secure, comfortable, and hardwearing cat harness at a reasonable price point, we can't recommend this model strongly enough.
Things We Like
5-foot leash
Fully reflective
Breathable air mesh
Things We Dislike
---
5. Voyager Plush Step-in Dog Harness
Features
5 to 17-inch chests
Soft plush fabric
6 x 6.5 x 6 inches
Voyager's cat harness is a neat step-in model that comes in handy of you loathe the idea of fiddly harnesses and your cat is fidgety. Take all the sting out of things with the Voyager.
As with all cat harnesses, you'll need to measure up kitty before whipping out your credit card so you get the right fit. This harness sits in the middle of the range, suitable for cats with chests from 14.5 to 17 inches.
A few users have complained about stronger and more muscular cats slipping out of this harness, but for most regular cats, security is fit for purpose.
The Velcro closure is robust and also streamlines putting this harness on as well as removing it.
Rugged D-rings shouldn't degrade over time. These are complemented by a hook-and-loop fastener, as well as a buckle.
The side of the harness features reflective bands, ideal if you plan to take Felix out after dark.
The crowning glory of this highly attractive cat harness is the soft and plush fabric it's made from. This allows you to keep your cat safe and secure without in any way burdening him or chafing his skin. This is one of the best cat harnesses you'll find, which is unsurprising considering the brand heritage.
Things We Like
Strong Velcro closure
Breathable mesh
Heavy-grade D-rings
Things We Dislike
Not good for muscular cats
---
6. RC Pet Products Cat Harness
Features
11 to 15-inch chests
Nylon
25 x 5.25 x 8 inches
RC Pet Products manufactures some extremely effective gear for the modern pet owner that's intelligently designed, high-performing, and priced pretty reasonably, too. How does this cat harness fare, then?
Available in black, teal, or this striking raspberry colorway, you can match the harness to your cat's temperament.
In terms of sizing, this is the small harness, with a medium and large harness completing the range. This model is designed for cats with chests from 11 through 15 inches. As long as your cat's girth falls within this band, you'll be able to easily tweak the harness to guarantee a snug fit.
Made from a breathable air mesh fabric like many of the best cat harnesses, your cat won't feel overloaded or overheated when he's wearing this thing.
It goes unsaid you need to keep hygiene uppermost with cats, so you'll appreciate the machine washable nature of this harness, saving you from the tedium of hand-washing pet supplies.
The brand's signature label on the harness is reflective for added nighttime safety. There's also some reflective stitching so Felix stays visible when it's dark outside.
Designed with the needs of cats in mind, this is one of the most effective lightweight car harnesses you'll find.
Things We Like
Machine washable
Highly adjustable
Air mesh fabric
Things We Dislike
---
7. Red Dingo Nylon Cat Harness
Features
6 to 18.9-inch chests
Nylon webbing
5 x 6.5 x 6 inches
Red Dingo's classic cat harness is not only very keenly priced, but also currently discounted, so if you act quickly, you might steal yourself a bargain with summer on the horizon.
The nylon webbing is available in 4 finishes so you can choose the color that brings out the best in your cat's coat. This is forgiving yet durable, and complemented by a ribbon that won't abrade over time and should return years of faithful service.
The handle of this harness is softly padded so you won't end up blistered if you take your kitty out for a stroll. The ends of the harness are nicely angled so your cat won't experience any chafing or irritation.
In place of the standard-issue buckles, you get a pair of fish clips. These are not simply a case of form over function, though. They are designed to be even stronger than regular side buckles, so you shouldn't have your cat slipping the harness.
As long as your cat's chest girth falls between 10.6 and 18.9 inches, you'll be able to take advantage of the adjustable slides to get the perfect fit for Felix.
While you can find cheaper cat harnesses out there, you won't find too many that deliver the style, performance, and lifespan of this pocket-friendly offering from Red Dingo.
Things We Like
Several striking colors
Abrasion-resistant ribbon
Adjustable slides
Things We Dislike
---
8. Comfort Mesh Cat Harness
Features
11 to 14 inch chests
Nylon webbing
5 x 4.5 x 6 inches
The Comfort Soft harness for cats is ideal for smaller felines with chests sized from 11 to 14 inches. If this sounds like the perfect fit for your kitty, read on.
This is one of the cheapest cat harnesses we found that still delivers fully in terms of build quality, security, and overall performance. Indeed, this is a durable harness that should return years of service for much less than you might imagine.
Choose from 4 colorways in this nylon webbing harness that gives you the freedom to take your cat out for a walk without worrying about accidents.
Soft and lightweight, not only will this harness snugly fit smaller cats, but they won't feel burdened wearing it either.
The nylon harness is weather-resistant and it's also highly breathable. Your cat won't end up feeling too hot or too cold wearing this thing.
You can fine-tune both the neck and girth of this harness, allowing you to create a comfortable fit that ensures your kitty won't end up pulling an escapology act.
If you're shopping for cat harnesses on a budget, why take a chance of something totally unsuitable when you have options like this at your disposal? This is one of the best cat harnesses, period, not simply one of the best budget harnesses.
Things We Like
Neck and girth adjustable
Rugged nylon
Outstanding value
Things We Dislike
---
9. Kitty Holster Cat Harness
Features
13 to 18 inch chests
100% cotton
1 x 4 x 6 inches
Kitty Holster serves up a breathable and secure harness that's well worth popping on your shortlist. How does this model differentiate itself in a crowded pack?
The first thing that stands out is the cotton construction. While you can find more rugged and hardwearing harnesses out there, you won't find many that offer your cat such comfort. If you have a cossetted cat at home, why not continuing treating him as he's accustomed?
As with all harnesses, you'll need to measure your cat to make sure you get the right fit. This model is intended for cats with chests sized from 13 to 18 inches. As such, it's the extra-small model. The line boasts 3 larger harnesses if required.
Choose from several bright designs to inject some fun into walkies with your kitty.
The undyed lining of this harness is a neat touch if your cat suffers from any allergies or sensitivities.
Machine washable for your complete convenience, you're getting a harness that's not only great value, but also one of the most comfortable you'll find. Go on, give Felix a treat!
Things We Like
Remarkably breathable
Machine washable
Undyed cotton lining
Things We Dislike
---
10. Voyager Step-In Dog Harness
Features
21 to 23 inch chests
Polyester
13 x 11 x 1 inches
To round out our search for the best cat harness, we have a model that's designed with small dogs in mind, but works equally effectively with larger cats.
If you have a muscular and commanding cat you'd like to take for a restrained walk, this harness is ideal for those with chests measuring from 21 to 23 inches. If this doesn't seem like the right fit, there is a huge variety of other sizes to choose from.
The choice of colorways is unbeatable, so you have no excuse not to find a harness that matches Felix's temperament.
Constructed from a weather-resistant mesh fabric, your cat can wear this harness year-round and whatever the conditions.
Triple-layered security practically guarantees your cat won't slip his way out of this harness. A pair of D-rings give great strength and rigidity, while you'll also benefit from both a buckle and a hook-and-loop fastener. The only drawback here is that the buckle is pretty tough to undo, according to a handful of users who struggled in this area.
The prevailing sentiment of user reviews is positive, though, with satisfied customers praising the lifespan, comfort, and durability of this harness. See what you feel.
Things We Like
Huge choice of colors
Double D-rings
All-weather mesh
Things We Dislike
---
Conclusion
You may have arrived here at BarkVA today without the first idea what to look for in the best cat harness. Hopefully, that should now have changed.
Stick with one of the nifty harnesses we review today and you can buy with a clear understanding of precisely where it stands and falls. We never disguise the flaws in pet products, allowing you to buy with total confidence.
In the event of stumbling across a cat harness that didn't make our shortlist, we hope you take advantage of the buying guidance at the start of today's guide. Bear these pointers in mind and you should have no problem finding the most effective harness for Felix.
Be sure to bookmark BarkVA before you head off harness shopping. We bring you fresh content regularly on all aspects of pet ownership. We have been getting a high volume of messages from readers requesting that we expand our operation to include cats, so we've delivered as requested, and we'll be bringing you everything you need to know about kitting out kitty in style. See you soon!