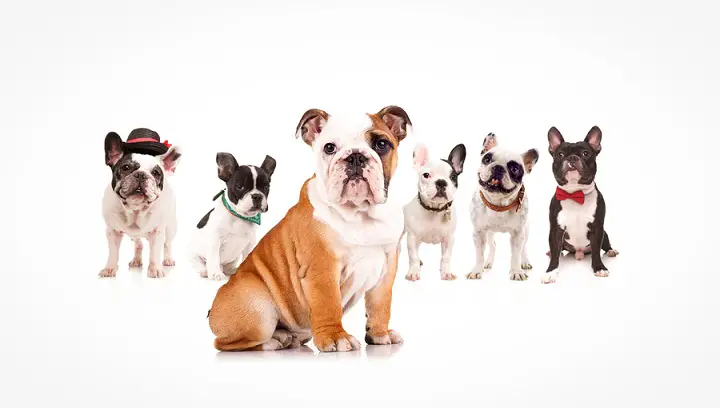 Small dogs can make an incredible amount of noise.
What can you do if your little pooch is creating mayhem when you're at work or during the night?
Well, one highly effective solution is to use a training collar so you can encourage your dog not to bark inappropriately. When used in tandem with positive reinforcement – we're thinking lots of hugs and plenty of treats – it won't take long to discourage aberrant behavior.
You can find these anti-bark collars, also called no-bark collars, in several types. Some use static shock for correction while others rely on ultrasonic beeps, pulsing vibration, or spray. There's no single type that's most effective across the board. Many collars allow you to choose between multiple training modes.
So, today we have 12 of the finest anti-bark collars for small dogs. This will save you from wading through scores of collars intended for large breeds or low-quality collars that will end up leaving you frustrated.
Before we showcase these no-bark collars, though, we'll walk you through what to look for when you're in buying mode…

BarkVA is reader-supported. When you buy via the links on our site, we may earn an affiliate commission at no cost to you.
I. Our Picks: Bark Collar for Small Dogs
Products & Features
Image & Price

Dogcare-Bark-Collar-with-Intelligent-Bark-Control

Fully adjustable collar
No remote control
Humane training modes
Long battery life
Battery warning indicator

Dog Rook Bark Collar (Pet Weight: 10 lbs to 110lbs)

Progressive correction through 6 levels
Static shock should arrest even willful dogs
Completely waterproof so train by the sea or in the rain
Great solution for when you're not at home
Works on pretty much all sizes of dog

Dog Care Dog Training Collar (Pet Weight: 15 lbs to 100lbs)

Class-leading 99 levels of correction
Train up to 9 dogs simultaneously
Multiple modes to vary correction
Ideal for stubborn dogs
Designed for small dogs but works on bigger breeds, too

PetYeah Dog Bark Collar (Pet Weight: 8 lbs to 120lbs)

Correct using static shock, beeps, or vibration
Suits a broad range of dogs including smaller pooches
5 adjustable levels of correction
Intelligent device tunes out other dogs barking
IPX67-rated waterproof

PetSafe Remote Spray Trainer (Pet Weight: 8 lbs and above)

Completely humane spray correction
Choose from citronella or unscented refills
Get up to 40 hours of runtime
Works well for correcting a range of behavior
US-based customer care

Modus Anti-Barking Device (Ultrasonic)

No static shock thanks to ultrasonic correction
Ideally suited for all breeds and sizes of dogs
Won't bother humans but should irritate your dog
Capable of delivering years of service
Striking design makes a statement

PetSafe Basic Bark Collar (Pet Weight: 8 lbs and above)

Unbeatable price/performance ratio
Flick between 6 grades of correction
Can encourage stubborn dogs to comply
Enviable build considering price point
Minimal false corrections

MODUS-Bark-Control-Device-Anti-Barking-Device


2-in-1 ultrasonic bark device
Range extends 17 feet
Works for dogs from 6 months to 8 years old
Humane correction with no shock
Fully adjustable device

PetSafe Elite Dog Bark Collar (Pet Weight: 8 lbs to 55lbs)

10 static levels of correction
Auto shut-off after 80 minutes of inactivity
Fully waterproof for all-weather training
Compact and lightweight
Rugged build quality
---
II. What Should You Look for When Buying a New Bark Collar for a Small Dog
If you're looking for a bark collar for a small dog, it's easy to become initially confused. We understand there's a lot to take on board and that's why we've broken it down into plain English for you.
Focus on the following elements when you're on the buying trail and there's no reason to spend much time or money getting a great training solution…
Type of Collar
Sizing
Weight and Comfort
Batteries and Runtime
Your Dog's Temperament
Type of Collar
The initial decision you need to get locked down concerns the type of training collar you feel would make the best fit.
Here are the most common options you'll encounter:
Ultrasonic beep collar: Dogs are able to hear much higher frequencies than we can. This can be used advantageously when training them not to bark excessively. Ultrasonic collars – also commonly available as handheld devices – hose your dog with piercingly high beeps to dissuade him from barking when he shouldn't. This type of correction is generally ineffective with aggressive or willful canines
Vibration collar: Arguably even gentler than ultrasonic collars, a vibration version delivers pulses of vibration when inappropriate barking is detected. Again, you might struggle correcting stubborn dogs with vibration collars
Spray collar: Dogs are not fond of their snouts being wet so a spray collar capitalizes on this by correcting excessive barking with a metered spray. Often, citronella spray is used since dogs hate the smell of citrus
Static shock collar: Last but not least, the most popular form of correction on the market comes in the form of a static shock collar. If your dog starts barking and won't seem to stop, he'll be subjected to a brief static shock much like those you experience yourself after walking on deep pile carpet then touching something metal. Only you can determine whether you feel this type of correction sits well with you
Note: Increasingly, you can find no-bark collars offering you multiple modes. If you're not certain how your pooch will respond to training, it's sound practice to opt for a 3-in-1 collar giving you the choice of beeps, vibration, or static correction. Find which style of training best suits your dog and stick with it.
OK, with the type of collar nailed down, it's time to focus on sizing…
Sizing
All of the collars we highlight today are tailor-made for smaller breeds. Stick with anything here and you're in safe hands.
Perhaps you spotted a different collar somewhere else, though. Check for the neck sizes the collar will accommodate. You also need to pay attention to the quoted weight limits. Most collars fit dogs with necks of 8 inches and upward. Make sure you get this part right to avoid an expensive mistake.
Weight and Comfort
As a rough guideline, you should look for collars weighing 5oz and less if you have a small dog.
For owners of medium breeds, you'll find your pooch will happily wear a collar of up to 15oz before you meet any resistance.
Pay close attention, too, to the construction and materials. As with all collars, you need to look out for something that will feel comfortable against your dog's skin without provoking any irritation.
Reading plenty of user reviews should give you a feel for whether other pet owners have run into any snags on the comfort front.
Batteries and Runtime
Does the collar you're looking at take replaceable or rechargeable batteries?
If you need to buy replacements, factor the cost of this into your budgeting. Are these proprietary batteries or can you use any brand?
The same applies if you're opting for a spray collar when you need to think about the cost of cartridges.
If the collar has rechargeable batteries onboard, how long does it take for a full burst of charge and how much runtime will you enjoy?
Think about these factors so you go in with your eyes wide open.
Your Dog's Temperament
One of the most vital factors to take into account when choosing training methods is the temperament of your dog.
If he's aggressive, do not use shock collars. While it might be tempting to assume a feisty dog would require harsher handling, using static correction on aggressive dogs can actually make the problem worse.
If your pooch is more placid and behaves with a little more decorum, using a less direct method such as a spray collar or ultrasonic device can be highly effective.
Right then…
You should now be fully equipped to tackle your buying decision knowing precisely what you're looking for in the best no-bark collar for small dogs.
We'll now break down the leading models on the market saving you yet another job.
---
III. The 12 Best Bark Collar for Small Dogs
1. Dogcare Bark Collar with Intelligent Bark Control
Are you looking to train your dog not to bark excessively? Maybe you don't like the idea of using a static shock to grab your pup's attention, so why not consider this highly adjustable collar from Dogcare?
Now, there is a static correction mode if this is something you're comfortable using on your dog. To recap, this shock is only mild and will not hurt your pooch. That said, if this is something you consider inappropriate or inhumane, use the vibrating function instead.
Specifically designed for larger canines, the collar will power down if you opt for the static setting and your dog keeps barking through all 7 levels of correction.
Unlike many collars with a steep learning curve, you'll be good to go right out the box with this unit even if you've never used a bark collar before.
The collar will pick up on your dog's unique barking tone to minimize the chance of any false positives.
Lightweight and comfortable for your dog to wear, the battery life on this collar is also impressive giving you a low-maintenance solution for stopping your dog from disturbing the neighbors.
Things We Like
Unbeatable price/performance ratio
Highly sensitive yet completely humane
Ideal for progressive training
Things We Dislike
Shock mode is sometimes triggered accidentally
---
2. Dog Rook Bark Collar (Pet Weight: 10 lbs to 110lbs)
If you don't like the idea of subjecting your beloved pooch to static shocks, you'll appreciate this humane alternative. Choose from ultrasonic beeps or vibration to show your dog how to behave without resorting to heavy-handed tactics.
Since you won't need a remote with this always-on collar, you can ensure your dog won't kick up a racket when you're out. As with all collars like this, you should never leave it in place for more than 12 straight hours.
Build quality is impressive and the price is right so why not give this collar a shot if your smaller dog is barking incessantly? You'll be buying into a brand with a solid reputation in the pet space without needing to outlay a fortune.
Things We Like
Tweak static correction through 6 levels for progressive training
Fully waterproofed collar ideal for training in the rain or by the ocean
Perfect for larger dogs with neck sizes to 28 inches
Things We Dislike
A few complaints about quality control so check the contents of your package closely upon receipt
---
3. Dog Care Dog Training Collar (Pet Weight: 15 lbs to 100lbs)
For small dog owners with more stubborn and headstrong pets, you might need the extra impetus a shock collar provides. Dog Care has a hard-won reputation in this vertical so you can buy with complete confidence.
99 levels of static shock give you all the scope you need to tailor correction to your dog's response. Start at the low end and work your way up. There's no need to jack the intensity up right out the blocks.
If you have several dogs at home, you'll be able to train up to 9 pups on a single remote. All you need to do is buy individual collars so you'll save cash and save yourself the annoyance of juggling multiple remote controls.
You can also dial things back so correction is administered by ultrasonic beep or a pulse of vibration. If you're not sure how your furball will respond to training, buying an all-purpose collar with multiple modes is a smart move.
Things We Like
Flick between different modes depending on your dog's temperament
Train up to 9 dogs with a single remote if you add extra collars
99 levels of static correction giving you class-leading flexibility
Things We Dislike
Some issues with build quality and problems developing over time
---
4. PetYeah Dog Bark Collar (Pet Weight: 8 lbs to 120lbs)
If you want a no-bark collar giving you the choice of beeps, vibration, or static shock, PetYeah serves up all three in this powerful package.
Automatic testing mode gives you the confidence of knowing the collar is always optimized for training.
The microprocessor onboard tunes out background noises and the barking of other dogs. Correction will only be delivered when your dog is barking too much.
When you're using static shocks, you can choose from 5 adjustable levels. Many competing collars give you much more scope but you've got enough wiggle room here for most purposes.
This collar is suitable for most dogs with neck sizes from 8 to 24 inches and weighing anywhere from 8 to 120 pounds.
IPX67-rated waterproof and packing rechargeable batteries, you'll get a collar cut out for all winds and weathers in a stylish green for maximum visibility.
Things We Like
Intelligent collar minimizes any chance of false triggers
Eliminate static correction if you prefer training your pooch with beeps or vibration
Fully adjustable collar ideal for dogs with necks sized 8 to 24 inches
Things We Dislike
Check closely that the collar doesn't irritate your furball's neck
---
5. PetSafe Remote Spray Trainer (Pet Weight: 8 lbs and above)
We appreciate not everyone wants to use a static shock collar for training their dog and, luckily, you have plenty of other options. Using a spray collar is often effective but what does this entail?
This spray collar fits on your furball just like a shock collar would but there's no static correction involved. Instead, there's a cartridge of metered sprays included. Choose from citronella – dogs despise the smell of citrus – or an unscented spray. When the collar picks up on excessive barking, your dog's snout gets saturated with the spray.
Rechargeable batteries take just a couple of hours to juice up then return up to 40 hours of runtime.
If you have several small dogs at home, you can train two at a time using a single remote.
As with all PetSafe collars, if anything goes amiss, you'll benefit from all-American customer service to get to the root of the problem.
Things We Like
Completely humane training method using nothing but spray to discourage your dog from barking excessively
Train two dogs simultaneously by adding in a new collar
US-based customer service is responsive and helpful
Things We Dislike
You'll need to factor in the ongoing cost of replacement cartridges
---
6. Modus Anti-Barking Device (Ultrasonic)
As we edge to the end of our search for the best anti-barking collars, we've got something slightly different. Rather than a collar, this unit is handheld complete with wrist strap. If your dog starts raising Cain, he'll be barraged by a volley of ultrasonic sound. These high frequencies are beyond the human threshold of hearing but will enervate your dog.
Use this device indoors or outdoors if your dog responds to this kind of stimulus. We would suggest you don't start out with an ultrasonic device unless you know for sure this stimulation impacts your furball. If you're not too sure, roll with a multipurpose training collar allowing to try sounds, vibration, and static shock to see which works best.
You can't beat the Modus for versatility. You can easily use the ultrasonic anti-barking device on just about any dog.
Things We Like
Works well with all sizes and breeds of dogs
Use outdoors with ease and a handy wrist-strap streamlines things for you
Humans won't be bothered by the high-frequency tones emitted
Things We Dislike
Might not be strong enough correction for stubborn dogs
---
7. PetSafe Basic Bark Collar (Pet Weight: 8 lbs and above)
If you're looking for a no-nonsense anti-bark collar delivering everything you need and nothing you don't, the PetSafe Basic Bark Collar is well worth popping on your shortlist. Stripped-down functionality means this collar is priced firmly in budget territory but you'll still get an effective training tool.
You can fine-tune static shocks through 6 intensity levels. As with all anti-bark collars, start with light shocks and see what response you get from your furball. Also, don't forget the importance of positive reinforcement when you're training. All stick and no carrot is not a sound strategy.
You won't need to worry about your dog being barraged by shocks since the collar powers down after just 80 seconds.
For a cost-effective approach to training your dog not to bark inappropriately, you can't beat this pocket-friendly gem from PetSafe.
Things We Like
Decent choice of 6 levels of static correction so start gently and see how your pooch responds before intensifying the shock
Works well with larger dogs with neck sizes to 28 inches
You shouldn't find your dog menaced by false corrections since the tech is highly sensitive
Things We Dislike
The warranty is not valid unless you buy from an authorized retailer
---
8. MODUS Bark Control Device – Anti Barking Device
If you're hunting for a cost-effective and efficient method of stopping your furball from barking inappropriately, MODUS serves up this neat solution.
Many dog owners dislike the idea of using static shock devices. We understand that and we always encourage anyone who is reluctant to use this training method not to do so. There are plenty of alternatives like this ultrasonic device you can use instead.
Unlike with a traditional bark collar, you'll benefit instead from a small handheld device. When your dog starts barking excessively, push the button and a high-frequency noise should get his attention without menacing any humans in earshot. The frequency will be too high for people to hear, but sharp enough to annoy your dog.
Highly adjustable and light enough to take with you when you head out to walk your dog, there's also a neat LED indicator so you shouldn't run out of juice unexpectedly.
As with all methods of training your dog, there's no guarantee this device will be effective. If you're uncertain about how your pup will respond, it's worth considering instead some form of multipurpose device where you can try multiple options without the same risk.
Things We Like
Ultrasonic correction is totally humane
Works indoors and outdoors
Beginner-friendly training option
Things We Dislike
Some users claim they can hear noise from device
---
9. PetSafe Elite Dog Bark Collar (Pet Weight: 8 lbs to 55lbs)
First up today, we have this no-bark collar from Petsafe ideal for small and medium dogs (8 lbs to 55lbs). With a generous range of 10 static shock levels you can push through, you should be able to teach your dog the error of his ways if he's barking too much when he shouldn't do. You don't need to worry about safety either. After 80 minutes of activity, the collar powers off.
The soft nylon collar won't irritate your dog as long as you don't leave it on for more than 12 hours straight. This is standard practice with anti-bark collars.
There's a large dog collar available, too, but this one designed for small dogs will accommodate pooches from 8 to 55 pounds with neck sizes to 16 inches.
Compact and lightweight, this is a highly versatile addition to any training armory. Put an end to that endless barking once and for all thanks to PetSafe.
Things We Like
Customize your training through 10 levels of static correction
Completely waterproofed giving you a dependable all-weather training tool
Correction stops after 80 seconds so you've got no concerns about over-correction
Things We Dislike
Not suitable for large breeds or dogs with necks over 16 inches
---
10. PetSafe Remote Training Collar
Ideal for timid small breeds
3 training modes
15 levels of static correction
For neck sizes from 6 to 23 inches
2-hour charge time
PetSafe is a specialist in this vertical and has a hard-won reputation for producing first-class products at keen prices. This remote training collar continues that winning tradition.
Firstly, this is a flexible collar offering you multiple training modes. Choose from beeps or vibrations and see if your furball responds to these more gently prompts to stop barking excessively. If this proves ineffective, you could try using the static shock mode. What does this involve, then?
All shock collars deliver a very mild shock of the same intensity as the static shocks you pick up from time to time. This shouldn't hurt your dog but should encourage him to stop barking inappropriately. Dial up through 15 levels of static correction and you should keep your dog in line.
Fast-charging and yielding up to 40 hours of action once fully primed, this is one of the best bark collars for small dogs out there, so why not give it a try for your small breed?
Things We Like
Choose from beep, vibration, or static shock
40-hour battery life
Lightweight and waterproof
Things We Dislike
Some issues with battery holding charge over time
---
11. Bousnic Shock Collar
For dogs from 8 to 120 pounds
1000-foot range
IPX7 waterproof
Fast-charging in 2 hours
Dual-channel collar
Next up comes a waterproof shock collar from Bousnic ideal not just for small dogs, but also for medium and large breeds up to 120 pounds. This gives you a great deal of latitude and makes for a great collar in multi-pet households.
The class-leading 1000-foot range gives you a superb training tool for larger outdoor spaces where your dog may bark aggressively and inappropriately.
This is a multi-mode collar allowing to flick between beep, vibration, and safe shock mode to suit the temperament and obedience levels of your furball.
One drawback of this collar is the way the buttons are positioned on the side of the control. If you engage static shock mode, this design flaw makes it easy to ratchet up the intensity unwittingly.
As a dual-channel device, you can add an extra collar to train 2 dogs at the same time.
Rechargeable, you won't need to worry about the ongoing expense of replacement batteries.
The collar is fully waterproof and rated IPX7.
Overall, this is one of the best bark collars for small dogs, medium dogs, and larger breeds, making it the most effective all-rounder on our shortlist.
Things We Like
Supports two dog collars
Charge using your phone adapter
Class-leading range of 1000 feet
Things We Dislike
Design of buttons could be improved
---
12. Laptom Smart Dog Bark Collar
2 vibration modes
5 sensitivity levels
USB-rechargeable
Reflective stripes
10 days of battery life
With Laptom's bark collar, you get a 2-pack giving you maximum value for money. Are the collars any good, though?
Firstly, you get a completely humane training solution here. The dual modes each offer varying intensity of vibration, so you can keep your dog from barking aberrantly without resorting to static shocks.
This always-on collar is great for use when you're away from home. The collar will respond to your dog's vocal chords moving when he barks and deliver the vibration that should encourage him to stop. A smart chip onboard allows the device to tune out the barking of other dogs and minimize false triggers.
The reflective collar helps your furball stay seen at night.
Lightweight, rechargeable, and extremely user-friendly, this is one of the best humane bark collars for small dogs.
Things We Like
2-pack of collars for great value
Totally humane collar
Great visibility at night
Things We Dislike
Some issues with consistency
OK…
Before we wrap up today, we collected the most frequently asked questions about anti-bark collars for small dogs so you have everything you need at a glance.
---
IV. FAQ
1) Is it safe and humane to use a static correction collar?
To address safety first, absolutely. The degree of shock transmitted to your dog is slight and all decent collars come with auto shut-off. If your dog barks for more than a minute straight, the collar powers down. This removes any risk of over-correction. When it comes to the issue of whether or not static shock collars are humane, that's down to your interpretation. While undeniably the least humane of the methods we outline today, most pet owners don't view these devices as cruel.
2) Do spray collars really work?
They certainly can stop some dogs from barking, yes. Not only do dogs dislike their noses getting wet, they hate the smell of citrus, too. That being the case, most spray collars deploy citronella spray. A few doses of that and your dog won't be keen for more.
3) What's the most important thing to consider when I'm buying a bark collar for a small dog?
The weight of the collar is crucial. If you have s dinky dog, don't overload her with a collar designed for bigger pets. If we had to isolate a single factor to focus on, it's the type of collar. If you're in any element of doubt here, play it safe. Opt for a multipurpose collar allowing for ultrasonic, vibration, and static shock correction. Once you find which style of correction yields greatest dividends, stick with it.
4) Can I leave an always-on collar in place when I go out and leave my dog unattended?
You certainly can. Indeed, this is the core purpose of a collar like this. Your dog will receive correction even if you're not at home while auto shut-off prevents the collar over-correcting. The proviso with all always-on collars is that you shouldn't leave them on for more than 12 consecutive hours.
5) Can I only use one of these collars to correct excessive barking?
No. While this is the primary purpose, you can also use these collars for general training purposes.
---
V. Conclusion
Now, with a solid understanding of anti-bark collars and the specifics of buying one for a smaller dog, all that remains is deciding on which type to try.
As we mentioned several times today, you should consider a multipurpose collar unless you're sure how your furball will respond to correction. Investing in an ultrasonic device only to find your dog is resistant to those noises is a crushing blow. Instead, roll with a beep/vibrate/shock collar so you can road test a variety of correction.
We'd also like to reiterate that you should never overlook the importance of positive reinforcement when you're trying to stop your dog from barking. Punitive measures alone might be effective in the short-term but this approach to training is cruel and doesn't yield the best long-term results. Intersperse a blast from the collar with plenty of hugs and treats when your dog complies with correction. You need to make it worth her while to behave.
Bookmark BarkVA as we're aggressively building out our site with one simple goal in mind: to become your one-stop shop for all things dog-related. We have a very busy content calendar lined up so come back soon!
As an Amazon Associate, we earn from qualifying purchases - at no cost to you, allowing us to continue our work.