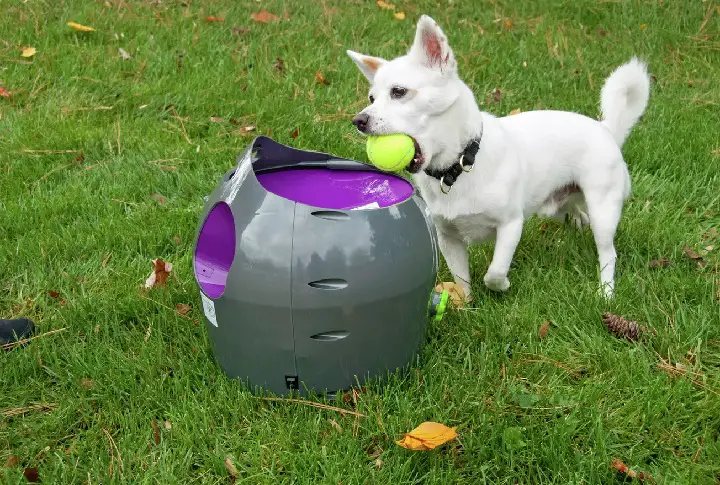 Throwing a ball for your dog to tirelessly fetch and return may be one of Fido's favorite pastimes.
How about when you're trying to relax in the yard with a good book, though?
Or, what about when you're out at work all day and your dog is left behind feeling unstimulated?
Well, you can find many tech-laden machines that can take the sting out of playing fetch and catch without depriving your furball of his beloved activity.
Now, we understand that finding the best automatic fetch machines can be challenging. After all, there are so many weak machines out there that simply don't deliver as promised, so it's natural to be wary.
To make your life easier, we've compiled a shortlist of the 8 strongest interactive fetch machines in this vertical. We'll outline the benefits of these machines without hiding the drawbacks. By the end of today, you'll be perfectly placed to find the right machine so you can make your life easier or compensate for your absence when you're not around. Either way, Rover can continue playing fetch to his heart's content.
Perhaps you don't have any idea what you should consider when you're comparing automatic fetch machines, so we'll summarize the most important pointers to think about on the buying trail.
Interactive features: If you're looking to buy a tech-driven alternative to the analog game of fetch and catch, you may as well look for as many bells and whistles as possible within your price range. This is doubly important if you have a smart dog who is easily bored. It's also valuable to have greater interactivity if your pooch spends long spells unattended. Even if you're at home with Rover, being forced to constantly load or monitor the machine defeats the purpose of buying it. Make independent playtime a possibility with an interactive experience for your furball
Type of ball: Some machines take any standard-sizes tennis balls. Others lock you into their proprietary mini-sized balls. The former gives you far more flexibility, although regular tennis balls don't make a smooth fit for aggressive chewers
Indoor or outdoor use: If you plan to let Fido play fetch with himself inside and out in the yard, look for a versatile fetch machine that permits this
Size of dog: Not all machine are intended for all breeds. We draw your attention to this throughout our reviews so you can make the right choice the easy way
Distance balls thrown: Most of the best automatic fetch machines throw the balls at varying angles and across multiple distances. Mix things up to keep Fido stimulated
Right, if you keep your eyes out for these pointers, you should find it relatively straightforward to compare the interactive ball machines on our shortlist.
Explore the finest automatic fetch machine out there!
Barkva.org is reader-supported. When you buy via the links on our site, we may earn an affiliate commission at no cost to you.
The 8 Best Automatic Fetch Machines
1.

Our #1 Pick:

 iFetch Too Interactive Ball Launcher
Features
10, 25, or 40 feet
4 pounds
14 x 13 x 12 inches
First up and our overall favorite automatic fetch machine comes from iFetch.
This is an award-winning machine, winning first prizes at SuperZoo, the world's largest pet trade show. What makes this unit stand out in a glutted field, then?
Firstly, the iFetch Too is a good fit for bigger breeds. Many of these machines are unfit for purpose with larger pups.
The machine runs on an inbuilt rechargeable battery, saving you from the ongoing expense of consumables.
This fetcher is suitable for both indoor and outdoor use.
Using this machine couldn't be easier. It accepts all standard-sized tennis balls. This means you won't be locked into buying expensive proprietary balls, a common bugbear with these machines. Anyway, pop your ball in the top of your machine and punch a button so it's thrown either 10, 25, or 40 feet to suit. Dial it up or down depending on the size and temperament of your dog, and whether you're using the machine indoors or outdoors.
We like the random feature on this machine, and so will Fido if he's easily bored. Keep him on his toes and guessing where the next ball will land.
Most users seem extremely satisfied with this automatic ball fetcher, and it continues to fly off shelves worldwide. The isolated complaints mention the lack of a safety sensor, but setting this aside, user testimony is overwhelmingly positive.
Throughout your buying experience, you'll benefit from dealing with a family-run firm placing a firm focus on customer care. The best news? This machine is so slickly designed, there's little chance you'll be needing to call in for assistance.
Things We Like
Perfect for bigger breeds
Integrated rechargeable battery
Family-run firm with great customer care
Things We Dislike
---
2. PetSafe Automatic Dog Toy Launcher
Features
8 to 30 feet
8 pounds
14 x 14 x 14 inches
PetSafe is a household name in the pet space. This multinational has been selling great pet products for 30 years now, and you'll benefit from all of that experience if you invest in this automatic fetch machine.
This highly interactive machine is also one of the safest solutions out there, so protect your pup while keeping him mentally stimulated, even if you're away from home all day.
You can set this machine up indoors or outdoors. There's a plug included if you want to use it inside your home, and the machine runs on 6 x D batteries when you're using it away from a power outlet.
Unlike many cheaper or less comprehensive machines, this one comes equipped with a sensor. If any humans or canines step closer than 7 feet from the machine, no balls will be launched. This protects kiddies and pups from getting an unexpected ball in the face.
You're spoiled for choice when it comes to distances and angles on this model. Choose from 9 distances between 8 and 30 feet to stretch your dog and keep him guessing. There are also 6 angle settings to introduce further variety to playtime.
If you've never attempted using an automatic ball catcher before, you'll appreciate the training video bundled. Give this a few minutes of your time and the machine will do the rest.
After 15 minutes of playing fetch, the machine automatically powers down for 15 minutes. While some pet owners find this restrictive, it's a great protective measure if you leave Fido unattended, as he won't be able to tire himself out too much.
Regular tennis balls work most effectively in this machine, although you can slip in some smaller balls if they make a better fit for your pooch.
For versatility, affordability, and a hard-hitting interactive fetch toy, PetSafe hits a homer as usual.
Things We Like
For indoor and outdoor use
Useful training video
Motion sensor
Things We Dislike
15-minute timer too short
---
3. Franklin Pet Supply Automatic Fetch Machine
Features
10 or 25 feet
8 pounds
75 x 14.25 x 12 inches
Franklin Pet Supply serves up a scaled-down fetch machine that's ideal for use in smaller spaces, and with smaller breeds. If this sounds like a neat fit, read on.
The first thing to bear in mind is that this is a budget automatic fetch machine that isn't cut out for sustained and heavy use with bigger and more energetic dogs.
You'll be unrestricted when it comes to loading the machine with all standard tennis balls fitting inside.
While you won't be getting too many bells and whistles here, this makes the machine remarkably simple to use. It's plug-and-play simplicity at its finest.
The machine runs on 8 x D batteries, and these are not supplied, so make provision separately if you want to get going right out the box. The bonus is that you won't need a power supply, so you can just as easily use the machine outdoors as inside.
Choose from 3 angles and see the balls fired either 10 feet or 25 feet to suit the situation.
You'll get a single tennis ball included with the machine, so we would advise buying yourself some balls so you have a steady supply.
You can engage safety mode if you feel the need. This provides your pooch with an audible warning when the machine is about to fire a ball. Only you know whether this would be a valuable extra or would spoil the fun for your furball.
There really isn't too much to knock about this machine considering the price point. As long as you don't have a large or especially energetic dog, this is a solid option well worth your further consideration.
Things We Like
Takes standard-sized tennis balls
Fires balls at 3 angles
Optional safety mode
Things We Dislike
Best for smaller spaces and dogs
---
4. Felix and Fido's Playball
Features
Up to 20 feet
6 pounds
8 x 11.3 x 10.1 inches
Felix and Fido's Playball is a superb example of an automatic fetch machine marrying ease of use with enough variety to keep your hound entertained. How does it shape up?
The compact machine is also lightweight, so you'll have no problem carrying it out into the yard if you want to give your pup some alfresco fun.
Running on 6 x C batteries – these are not supplied so make provision – when you're outside, or on mains electricity when you're indoors, you have all bases covered here.
Now, this machine is only intended for smaller dogs, so if you have a bigger mutt, you'll need to scope out some of the beefier machines we reviews.
Choose from 3 different launch settings up to a maximum distance of 20 feet. This is by no means the strongest performer in this area, but then the machine is not designed for bigger dogs or bigger spaces.
Unlike many of the machines we review that accept all standard-sized tennis balls, you'll need to feed this unit with the proprietary small balls provided, but not available separately. These balls are smooth and resistant to saliva, providing the best all-round experience for Rover.
Perhaps the key selling point of this machine is the way your dog can use it independently. Train him how to load a ball in the top of the machine and then run to fetch it as it's thrown out up to 20 feet away. Your dog would thank you if he could!
Things We Like
Trio of distance settings
Your dog can use this alone
Ideal for use indoors or outdoors
Things We Dislike
Takes special mini-sized balls
---
5. iDogmate Automatic Dog Ball Thrower
Features
10, 20, 25, or 35 feet
5 pounds
9 x 7.9 x 6.3 inches
Next we have the first of a pair of models from the reputable firm iDogmate, so how does this automatic fetch machine stand and fall?
Firstly, this is another machine that's expressly meant for smaller breeds. If you have a larger dog to keep entertained, we would suggest the bigger brother from this stable just below. For small breed owners, what do you get for your money?
As you would expect, this is a compact and extremely lightweight machine. You'll be able to store it away easily, and you'll be free to carry it into the garden without straining yourself.
The machine is available in either white or blue. You can also buy a version of this machine that's suitable for bigger breeds.
You'll need 6 x C batteries. These don't come bundled so make sure you buy a few packs in advance. When you're indoors, of course, simply plug the machine into an electrical outlet and you're good to go all day long.
You can take charge of the machine using the remote control, something many more expensive machines lack.
The small balls bundled won't cope with the demands of aggressive chewers. There are some extra-durable balls available, as well as the bigger model we mentioned.
Tweak the ball launching distance from 10 to 35 feet in 4 different increments so you can vary playtime for Fido.
If you have a teacup breed or a small dog in need of stimulation when you're not around to play fetch, this smart machine is one of the best solutions at your disposal.
Things We Like
Perfect for small breeds
Remote control
Rugged, arced wheels
Things We Dislike
Balls not robust enough for power chewers
---
6. Dporticus Automatic Interactive Dog Ball Launcher
Features
10, 20, or 30 feet
3 pounds
6 x 10.2 x 0.3 inches
Dporticus may not be the most recognizable name in the dog vertical, but if you're prepared to take a chance on an unknown, you might be pleasantly surprised.
Like all the best automatic fetch machines, you get the option of using this indoors via mains power, or outside with batteries. An adapter is included, but the 6 x C batteries you need don't come bundled. Make sure you grab some in advance if you don't already have these batteries at the ready.
The lightweight and portable machine is a cinch to store in small spaces, and simple to carry in and out of the garden. It weighs just 8 pounds.
Choose from 3 launch distances to suit (10, 20, and 30 feet).
All your dog needs to do is pop the ball in the front of the machine – it won't take long to train him to do this – and then the ball will fire out for him to fetch.
3 tennis balls are included with the machine, and it accommodates all regular-sized balls allowing you to buy cheap replacement balls as required instead of the costly proprietary balls offered by some manufacturers.
Unless you expressly require bigger balls, this is a great automatic fetch machine for smaller and medium breeds.
Things We Like
Automatic launching
Lightweight and portable
For use anywhere indoors or out
Things We Dislike
---
7. iDogmate Automatic Dog Ball Launcher
Features
10, 20, 30, or 35 feet
2 pounds
8 x 8.3 x 8 inches
As we edge to the end of our automatic fetch machine reviews, here's another model from the inimitable iDogmate. This is intended for smaller dogs, so steer clear if you have a beefier pup at home. The manufacturer does offer this machine in a version for big breeds as well.
Tweak the distances the balls are launched between 10, 20, 30, and 40 feet so your pooch is always kept on his toes when he's playing. If you have a smart and engaged pup, try random mode so he will be scurrying all over the place while you relax with a good book.
There's an adapter included for mains power, or you can take advantage of the integrated lithium-ion battery. This is rechargeable to cut down on your ongoing running expenses.
There's an oversized funnel for Fido to insert the balls into. These balls are hard and chewy so you shouldn't find them destroyed and discarded when you come home from work.
This machine is designed to work equally well indoors or out in the yard. As mentioned, you'll have a power source to suit either application.
For a no-nonsense and pocket-friendly approach to automatic fetch machines, iDogmate is a brand you can trust.
Things We Like
Good choice of distances
Rechargeable battery
Hard and chewy balls
Things We Dislike
Build quality could be improved
---
8. iFetch Frenzy
Features
6 to 12 feet
3 pounds
12 x 12 x 12 inches
Last but not least in our quest for the best automatic fetch machines comes a versatile and affordable model from iFetch in the form of the Frenzy. How does it differentiate itself, then?
Well, this is a launcher with a difference: it's more like a game, really. After teaching your pooch how to use the machine, he'll be free to play alone. Show him how to place a ball in the top of the machine, and then watch as it's rolled at random. Distances from 6 to 12 feet will keep Rover on his toes indoors or out in the yard.
And yes, you read that right, the balls roll out rather than being launched. This means you won't need a power supply, and you won't need any batteries either. Take this machine with you when you head out for a road trip, or take it to the campsite or out in the RV to keep Fido occupied at all times.
If your dog isn't the sharpest tool in the box, you may find he struggles with this toy. If, on the other hand, he's inquisitive and always eager for stimulation, he'll love it.
You'll get 3 non-abrasive balls thrown in so you have everything you need to get going right out the box. If you treat your pup to this engaging game, you'll wonder why you didn't buy it sooner.
Produced by a small US family-run firm, you'll get responsive customer care and a superb solution to playing catch with Rover when you don't have the time or inclination to play along yourself.
Things We Like
For small and medium dogs
Rolls balls randomly
Worry-free 1-year warranty
Things We Dislike
---
Conclusion
Navigating the best automatic fetch machine should now be well within your grasp after today's guide.
Comparing these machines really isn't that tough once you whittle down the models appropriate for your size of dog. If you stick with any of the machines we review above, you can buy them knowing exactly what you're getting.
If you find a fetch machine we don't review, we hope you find our buying guidance above comes in handy when you're trying to work out if it's any good for you.
Before you go, bookmark BarkVA and be sure to come back soon. We have lots of entertaining content coming your way over the months ahead, so we'll see you soon!